The energy sector continues to show strength in the market today outperforming the overall market again in trading. The sector has doubled the performance of the S&P over the last month (See chart). I think this outperformance will continue as the sector has underperformed the market over the last year and we are still in the early innings of becoming energy independent in the United States. I also expect M&A activity to pick up in 2013 due to cheap financing in the credit markets and as major players try to buy some of their growth on Wall Street. Here are two energy concerns with impressive operating cash flow growth and that have picked up positive analyst comments so far this month.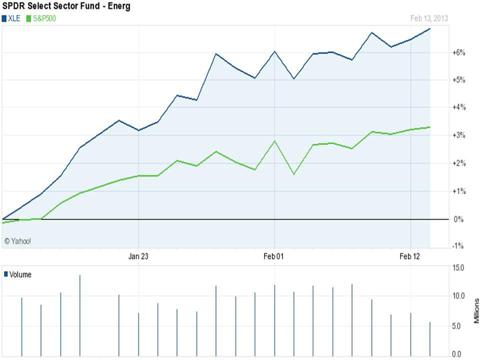 Whiting Petroleum Corporation (NYSE:WLL) is an independent oil and gas company that produces oil & gas primarily in the Permian Basin, Rocky Mountains, Mid-Continent, Gulf Coast, and Michigan regions of the United States. It has a market capitalization of around $6B.
4 reasons WLL can go higher from $50 a share:
BMO Capital upgraded the shares to "Outperform" from "Market Perform" today. Howard Weill initiated the shares as "Outperform" in early January and Jim Cramer listed Whiting as a Bakken producer he could see getting bought out on RealMoney Pro yesterday.
The company is growing revenues in the low double digits and has a five-year projected PEG near 1 (1.15).
The company has tripled its operating cash flow since the end of FY2009.
The stock is selling in the bottom quarter of its five-year valuation range based on P/B, P/E, P/CF and P/S.
Superior Energy Services (NYSE:SPN) provides specialized oilfield services and equipment to serve the production and drilling-related needs of oil and gas companies. It operates through three segments: Subsea and Well Enhancement, Drilling Products and Services, and Marine. It has a market capitalization of around $4B.
4 reasons SPN is undervalued at $27 a share:
Credit Suisse initiated the shares as "Outperform" to begin the month. This follows RBC Capital's decision to upgrade the shares to move the shares to "Outperform" from "Sector Perform" in January.
The company grew revenues by over 100% in FY2012 on the back of a $3.5B acquisition. Analysts expect mid-digit sales increases in FY2013. The stock has a five year projected PEG of under 1 (.54).
The stock is cheap at around 5x operating cash flow and just 99% of book value.
Like Whiting, the company has also tripled its operating cash flow over the past three years.
Disclosure: I am long SPN. I wrote this article myself, and it expresses my own opinions. I am not receiving compensation for it (other than from Seeking Alpha). I have no business relationship with any company whose stock is mentioned in this article.