What will make consumers purchase a kindle fire over another equally priced tablet? Apps. Developers flock to where the money is and virtual coins are coming soon to the Kindle Fire. Amazon (NASDAQ:AMZN) is planning on giving its tablet users virtual coins to spend in its AppStore. In this article, I will explain the importance of virtual coins and why they mean increased profits for Amazon.
According to Amazon's press release when it announced the coins, it plans to give tens of millions worth of coins to Kindle Fire owners. The developers who want to benefit from this influx of money will want to quickly put their apps in Amazon's AppStore. The more important part is that the rules stay the same "Amazon AppStore developers will earn their standard 70 percent revenue share when customers make purchases using Amazon Coins." Developers will still make the same percentage but their customers will have free money sitting on the sidelines.
Amazon makes money from the AppStore by taking 30% of all money or coins spent in its store, which is a general rule for other app stores. So for every $1 it gives away to Kindle Fire owners, Amazon is really giving $.70. The goal from Amazon's point of view is to attract the most developers and apps possible. It is similar to running an ad campaign to attract developers but instead of purchasing advertisements, the money is given directly to the consumer. Amazon is saying to developers, the consumers on our platform have money to spend. If that doesn't bring in developers along with the rising market share of the Kindle Fire, nothing will.
Amazon recently announced a good quarter and that caused the stock to open near all-time highs but those gains did not last the whole day. One reason for this strong open was that gross margins improved Y/Y and beat Wall Street expectations. AppStore purchases carry a high margin and the plethora of new apps that will be available by May 2013 should really help to keep the margins high. Kindle Fire customers will be using the AppStore with these virtual coins and the goal is to lock them in after the virtual coin promotion is over. This big move into virtual currency could position Amazon to have a larger app store to equip all of the new Kindle Fires. Amazon already has a large amount of content outside of the AppStore and the addition of new apps could help funnel purchases to movie and book content.
We know that this move will benefit Amazon but it is important to know when to buy shares to capitalize on this marketing strategy. The recent quarter caused a lot of analysts to adjust their price targets and it shows Amazon is moving in the right direction. J.P. Morgan Securities raised its price target to $333 from $245, also Baird and BofA Merrill Lynch increased to $325 and $315 respectively. This means that the price of shares could rise to around $300 by the middle of the year, which is exactly why I want to highlight the July 20,2013 Calls. July 13 270C are trading around $21 at the time the article is being written. If the analysts are correct and this stock can get to $300 by mid-year than those options could be worth about $30 by the time they expire. The breakeven point would be $291 on this trade. Below is a chart from OptionsExpress.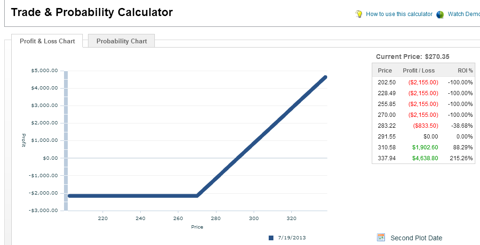 Amazon is also continuously locking in content deals that are available through Amazon Prime (extended content licensing with CBS this week). With these virtual coins, Amazon could potentially use them toward helping to increase Amazon Prime subscriptions. It can run deals like getting 500 virtual coins for signing up for Amazon Prime. This would be a $5 discount to the consumer but really only a $3.50 charge to Amazon. Adding virtual coins to other content purchases when it only costs Amazon $.70 on the dollar could keep people using Amazon services and devices. This would be a way to further monetize all of that content it is acquiring and storing up. If it could get that link together and also expand its family of tablets outside of the United States, it will continue to do well. 89% of Amazon's tablets are in the United States, imagine if it starts building a presence in other countries.
Disclosure: I have no positions in any stocks mentioned, and no plans to initiate any positions within the next 72 hours. I wrote this article myself, and it expresses my own opinions. I am not receiving compensation for it (other than from Seeking Alpha). I have no business relationship with any company whose stock is mentioned in this article.