The Bakken Shale in North Dakota has been one of the best-producing oil fields over the last decade, with no signs of slowing down. This means the M&A market is heating up for companies looking to get into the area before production tops out. Major pipeline companies, including TransCanada, Oneok and Kinder Morgan have plans to put in pipelines for transporting oil/gas out of the Bakken, which should make the E&P companies in the area even more attractive and lead to higher valuations. So which companies are the best players in the area?
A couple pure plays (having the majority of their assets in the Bakken) on the shale includes Kodiak Oil & Gas (NYSE:KOG) and Oasis Petroleum (NYSE:OAS). As far as acquirers, the big oil and gas majors could be looking to get into the market, of which, Hess, ConocoPhillips Statoil and Marathon are already in the Bakken and could be interested in spreading their footprint.
Bakken Past. The three biggest tight oil shale plays in the oil and gas industry includes Bakken, Eagle Ford and Niobrara. The Niobrara shale has been steadily increasing for the past few years, while the Bakken has really accelerated production over the past few years. One of the most underappreciated shale plays is the Eagle Ford shale, really only coming into the tight-oil scene over the past couple years, but proving very fruitful.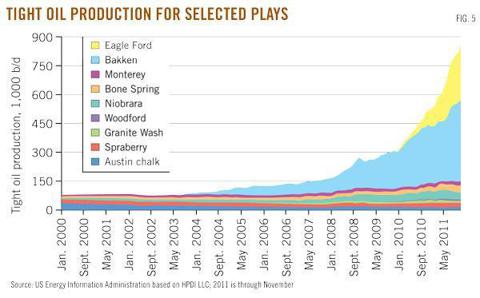 The Bakken has been so productive, in part, thanks to new developments in oil and gas extraction, namely marked achievements in fracking. Back in 2006, North Dakota was ninth in the U.S. with regards to oil production. Come 2010 they were up to fourth, and then in mid-2012 North Dakota became the second largest producer behind Texas.
The Bakken also has the possibility of becoming one of only six oil fields that have reached the one million barrels per day mark. The Bakken as a whole is producing some 750,000 barrels of oil per day.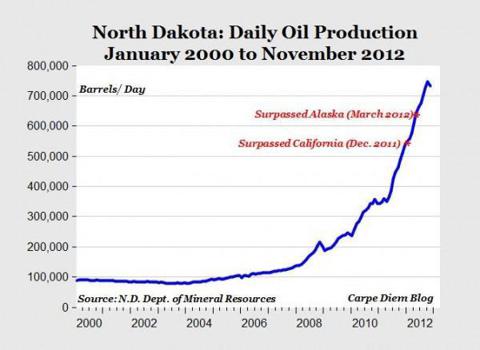 Source AEI
Bakken Future. The Bakken appears to be one of the best plays on oil and gas in the U.S., with output expected to double by 2015. There's speculation that when drilling companies do finish buying up all the land, it will still take some twenty years to develop the over 35,000 wells to fully exploit shale. However, for some reason the Bakken operators trade on the cheap side of the industry when compared to other oil and gas companies operating in other shale plays.
Beyond Kodiak and Oasis. I would be unfair if I failed to touch on one of the top Bakken operators, Whiting Petroleum (NYSE:WLL). Whiting is one of the compelling plays that is sometimes overshadowed by the takeover hype that Kodiak and Oasis draw. Whitney has some 700,000 acres in the fast growing Bakken Shale, but also operates in the other quick growing Niobrara Shale. The oil and gas company is one of the top three oil producers in the market and recently put itself on the market as a takeover candidate, hiring Merrill Lynch to find a potential acquirer.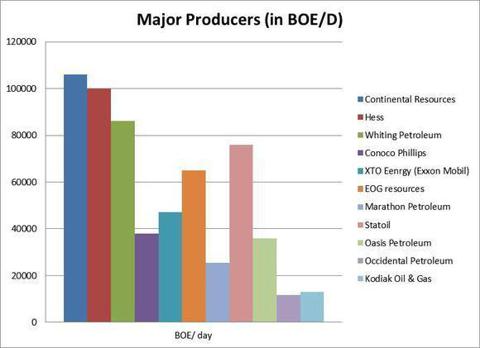 Source: Motley Fool
EOG Resources (NYSE:EOG) is another one of the big players, along with Continental Resources (NYSE:CLR). Although these companies are less likely to be acquired, both with market caps in excess of $15 billion, they are great ways to get exposure to the Bakken. What's more is that EOG has exposure to all three of the fastest growing shale plays, and Continental two of them.
| | | | |
| --- | --- | --- | --- |
| | Bakken | Eagle Ford | Niobrara |
| EOG | Yes | Yes | Ye |
| Continental | Yes | No | Yes |
Analysts expected EOG to grow earnings at an impressive 25%, but Continental wins out with a five year expected annual earnings growth rate of 38%.
Kodiak or Oasis? As far as breaking down which pure Bakken player, Kodiak versus Oasis, might be the better player, how do their acreages stack up?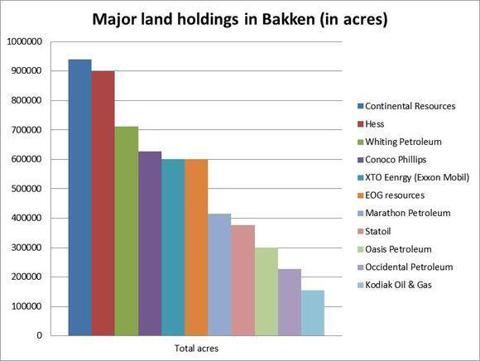 Source: Motley Fool
Both oil & gas companies are near the bottom on a total acreage basis, but the pricing of these acres, on a gross acre basis compared to market cap, suggests that Kodiak is the better value. It appears that the Bakken acres are being valued as follows: Kodiak $12,000 per gross acre, and Oasis $16,000 per gross acre. This is especially unfair when you look at how the production stacks up. Oasis has double the acreage when compared to Kodiak, but its production is double that Kodiak as well; however, Kodiak's gross acre value is priced at 75% of Oasis'.
As far as hedge fund interest, Kodiak appears to lead in that respect as well, with three billionaires as its top three hedge fund owners (check out all the hedge funds):
| | |
| --- | --- |
| Hedge Fund - 3rd Quarter | Shares (in millions) |
| Ken Griffin - Citadel Investment | 6.9 |
| Israel Englander - Millennium | 3.8 |
| Steve Cohen - SAC Capital | 2.8 |
Oasis' top hedge funds include lesser known names John Scully of SPO Advisory and Donald Chiboucis of Columbus Circle (see all Oasis' hedge fund owners). For Whiting's hedge fund interest, billionaire Steve Cohen and Ken Griffin were two of the top fund owners and each upped their stake over 1000% during the third quarter (check out all the hedge fund owning Whiting).
Valuations. Even with the growth the Bakken has seen, the major operators are valued on the cheap side when compared to other oil and gas exploration and production companies. These cheap valuations have led to speculation that the Bakken operators could be appealing takeover targets.
The forward price to earnings multiple of Kodiak and Oasis is around 75% that those operating in the Eagle Ford and Niobrara (including Bill Barrett, Forest Oil, Plains Exploration and Swift Energy).
What's more is that Kodiak is trading at a significant discount to Oasis on a price to earnings ratio, at 12.8 compared to Oasis' 16. Is that fair? The acreage comparison from above might not be a full apples-to-apples comparison given the companies have inherently different acreage, location, flow rates, etc., so let's look at margins and debt. Both companies have an EBITDA margin around 70%, but Kodiak wins out on balance sheet health, with a long-term debt-to-equity of 92%, compared to Oasis' 160%.
Overall, Kodiak appears to be one of the best Bakken plays and ripe for a takeover, trading at only a $2.4 billion market value, below Oasis' $3.6 billion, but don't forget Whiting when taking a deeper look into the Bakken.
Disclosure: I have no positions in any stocks mentioned, and no plans to initiate any positions within the next 72 hours. I wrote this article myself, and it expresses my own opinions. I am not receiving compensation for it (other than from Seeking Alpha). I have no business relationship with any company whose stock is mentioned in this article.