Earlier today, the World Gold Council (WGC) released their Gold Demand Trends - Full Year 2012 report, which also contained new data for the fourth quarter.
There are a plethora of accounts about its contents with headlines ranging from "Gold Demand Falls In 2012 For First Time In Three Years" to "2012 Gold Demand Hits Record Value Level" and also "Central Banks Bought Most Gold in Nearly 50 Years" and "India's Gold Demand Dips By 12% in 2012".
As I've been saying for years, rather than reading the stories that others write about this report, it's best to just go read the report itself, as it's jam-packed with information about who's buying gold and how much.
That's what I just did, and I came away with these two important takeaways:
Central bank buying continues to be a major source of support for this market, and it's currently understated due to China's central bank accumulating more gold but not reporting it.
Despite lower imports in 2012, demand in India remains strong, and it too may currently be understated due to the rise in smuggling that came in response to government import duty hikes.
Central Bank Buying
Central bank buying rose 29 percent in the fourth quarter from the same period a year earlier and, for all of 2012, official sector net purchases totaled 535 tonnes, the highest since 1964.
The dramatic change in central bank gold buying can be seen in the lead graphic from the WGC report below and, during a time of waning investor interest (at least in the West), official sector purchases have provided a key support for the gold price.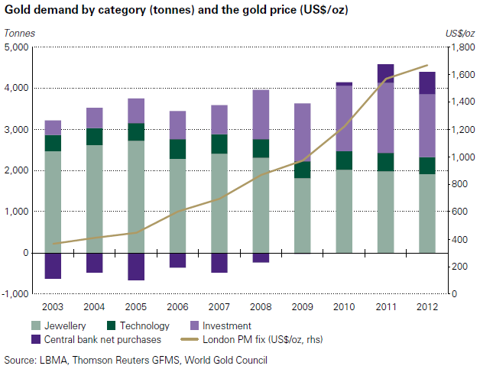 Since becoming net gold purchasers in 2009, central banks have added over 1,000 tonnes to their reserves, nearly reversing the net gold sales of the prior three years under the European Central Bank Gold Agreement.
As Western central banks' gold sales have ground to a halt, as shown in this item earlier today, emerging market central bank purchases have accelerated. More than anything else, this is an acknowledgement that gold has an increasingly important role to play in the current monetary system that is dominated by paper money from the West.
Many nations are in the process of selling currencies such as the U.S. dollar and the euro while adding gold reserves, and no one knows how much gold China's central bank is buying because they're not telling anybody.
Including China, central bank gold purchases in 2012 could have been 800 tonnes, 1,000 tonnes, or more, and when China finally tells the world just how much gold they've been buying -- as they did in 2009 when they announced a doubling of their reserves -- the gold price will certainly move much higher.
Gold Buying In India
Gold demand in India, still the world's number one gold buyer, was thwarted by two factors in 2012 -- higher gold import duties and a weakening currency (the rupee), both of which made gold more expensive.
The world's most cost-sensitive buyers pulled back earlier in the year, but demand surged in the fourth quarter as investment and jewelry demand reached their highest level since early 2011, rising 41 percent from the same period a year earlier, as shown below.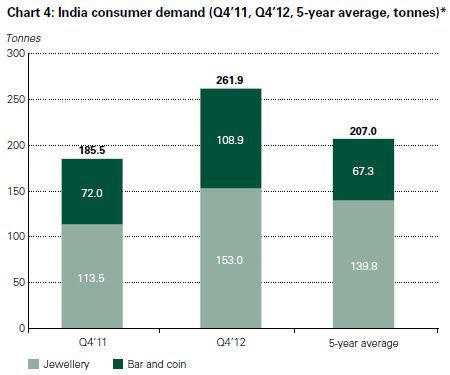 For all of 2012, gold demand in India fell 12 percent to 846 tonnes (surpassing Greater China's official total of 818 tonnes), but this came at a time when the average gold price in rupee terms rose 21 percent, with import duties adding another 3 percent.
As noted in the WGC report, "this result is all the more remarkable and serves to emphasize the importance of gold to Indian consumers."
It is truly remarkable what has been going on in India in recent years as the government and central bank have launched a concerted effort to stem gold demand in order to lower their trade deficit, as detailed here earlier in the month.
It was reported last week that up to 25 percent of Indian gold imports are now occurring via "unofficial channels" and, as a result, the latest WGC data could be understating demand in India (there is no mention of gold smuggling or its impact in their report).
Why This All Matters
Despite the recent price weakness, demand for gold remains strong in Asia and other parts of the world, a world that is now awash in paper money with more of the stuff gushing from Western central banks every month.
Emerging market central banks are trading in their dollars and euros to buy gold, and the people of India, China, and other developing nations continue to invest in gold at near record levels.
This is not going to change. What is going to change someday is the attitude toward the yellow metal in the West, where, aside from recurring financial crises and market panics, gold demand has yet to make substantive gains.
It is highly unlikely that policymakers in the U.S., U.K., Europe, and Japan will be able to undo the many years of money printing and deficit spending without creating either a high inflation environment or a financial crisis even bigger than the last one.
When that time comes, gold demand in the West will play a key role in pushing the long-term gold bull market toward its final, manic phase that includes much higher prices.
Until that time, emerging market central banks will continue to buy gold, as will the people of India and China.
Given what's going on in the rest of the world, that's a pretty smart thing to do.
U.S. investors could be just as smart by taking advantage of recently lower prices to purchase physical gold in coin or bar form, or entering or adding to positions in the SPDR Gold Shares ETF (NYSEARCA:GLD) or the iShares Gold Trust (NYSEARCA:IAU) at current levels.
Disclosure: I am long GLD, and I also own gold coins. I wrote this article myself, and it expresses my own opinions. I am not receiving compensation for it (other than from Seeking Alpha). I have no business relationship with any company whose stock is mentioned in this article.