Walgreen Company (WAG) is the nation's largest retail pharmacy with 8,524 locations in the United States. WAG went ex-dividend on February 13, 2013 with a cash dividend of $0.275 per share, payable on March 12, 2013. WAG had gained 12% YTD as of February 13, 2013. In this article, recent developments will be updated for WAG and the current options play will be reviewed.
Recent Highlights
Strategic growth drivers: As stated by WAG's president and CEO, Greg Wasson, Walgreen is focused on creating a complete Well Experience for its customers and transforming the role played by community pharmacy in healthcare. The combination of Walgreen and Alliance Boots will accelerate WAG's core strategies. Wasson also outlined fiscal 2016 financial goals (assuming a full combination with Alliance Boots) to have sales of $130B or greater, adjusted operating income of $9-$9.5B or $8.5-$9B on a GAAP basis, $1B in combined synergies, and operating cash flow of $8B or more.
Increasing sales: WAG had January sales of $6.15B, an increase of 6.3 percent from $5.78B for the same month in fiscal 2012. The percentage of Express Scripts (NASDAQ:ESRX) customers filling prescriptions in WAG's pharmacies continued to increase in January. Pharmacy sales in January increased by 8.7 percent while comparable store pharmacy sales increased 6.2 percent. Registration for Balance Rewards loyalty program totaled nearly 55 million.
Possible UK listing in 2014: Following WAG's purchase of a 45 percent stake in Alliance Boots, WAG is keen to establish a dual listing in the UK and the US. According to the report from Mail Online, "Sources say the company had initially hoped to list its shares this year, but decided to wait and embark on a charm offensive to attract more shareholders first." A Walgreen listing would mean a return to the stock market for Alliance Boots, which left the public share markets in 2007.
Analyst's upgrade: Mizuho upgraded WAG citing upcoming catalysts that include easier front-end monthly comps and earnings acceleration. Mizuho increased the price target to $46 from $39.
Competitions
Rite Aid Corporation (NYSE:RAD)'s same-store sales for the four weeks ended January 26, 2013 inched up 0.3% due to increase in front-end comps, offset by a decline in pharmacy comps. However, RAD's January sales declined 0.5% from the year-ago level of $1.923 billion. On February 6, 2013, CVS Caremark Corporation (NYSE:CVS) reported a 7 percent increase in profit for Q4, 2012, reflecting higher revenues at both its retail pharmacy and pharmacy service segments. Adjusted EPS from continuing operations were $0.97, compared to $0.89 per share in the year-ago quarter. Excluding the loss on early extinguishment of debt, adjusted earnings per share were $1.14, beating analysts' estimate of $1.10 according to Thomson Reuters. CVS maintained its outlook for reported EPS from continuing operations of $0.71-$0.74 and adjusted EPS from continuing operations of $0.77-$0.80, where analysts expect CVS to earn $0.79 per share for the year.
Key Stats and Valuation
WAG has an enterprise value of $44.18B with a market cap of $39.20B. WAG has a total cash of $1.85B with a total debt of $6.38B. WAG generates an operating cash flow of $4.22B with a levered free cash flow of $2.35B. WAG has a lower revenue growth (3-year average) of 4.2, as compared to the industry average of 5.5. WAG has a lower operating margin of 4.6%, ttm, comparing to the average of 5.2. WAG's net margin of 2.8%, ttm, is the same as the industry average. WAG generates higher ROE of 12.0, as compared to the average of 11.3. WAG's P/E of 18.9 is higher than the industry average of 18.5 and WAG's 5-year average of 14.9. WAG's forward P/E of 12.3 is lower than S&P 500's average of 14.0.
Technical Analysis
WAG closed at $41.48 with 0.47% loss on February 13, 2013. WAG had been trading in the range of $28.53-$41.95 in the past 52 weeks. WAG has a beta of 1.00. The MACD (12, 26, 9) indicator is showing a slightly bullish trend. The momentum indicator, RSI (14), is indicating a strong buying momentum at 75.28, where above 70 is considered as overbought. WAG is currently trading above its 50-day MA of $38.12 and 200-day MA of $34.34. The next resistance is $42.08, the R2 pivot point, as seen from the chart below.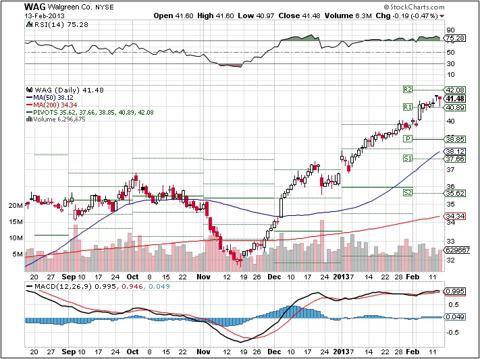 Source: StockCharts.com
Reviewing Options
The last reviewed credit put spread of April 20, 2013 $30/$32 put is currently yielding 12.72% return on margin, achieving 81.51% of the maximum gain of 15.6%. Investors can wait until options expiration on April 20, 2013 to gain the full profit or consider taking the profit after the recent run-up. A new credit put spread of April 20, 2013 $35/$37 can be reviewed if WAG pulls back to $38/$39 price range.
Note: All prices are quoted from the closing of February 13, 2013 and all calculations are before fees and expenses. Investors and traders are recommended to do their own due diligence and research before making any trading/investing decisions.
Disclosure: I have no positions in any stocks mentioned, but may initiate a long position in WAG over the next 72 hours. I wrote this article myself, and it expresses my own opinions. I am not receiving compensation for it (other than from Seeking Alpha). I have no business relationship with any company whose stock is mentioned in this article.