One of Benjamin Graham's core themes for investing was the concept of buying with a "Margin of Safety". The idea here is that it is important to buy an investment at a price below what you ultimately think it will be worth to give yourself some room for error. Finding these undervalued investments can be difficult and take some time and patience. However, when you find one and watch it perform, the results can be very satisfying
On August 28, 2012, I introduced readers to a newly listed stock, Healthcare Trust of America, Inc. (NYSE:HTA), in a Seeking Alpha article titled Just What The Doctor Ordered: A Medical Office REIT Paying A Healthy 6.3% Dividend. HTA is a $3.4 billion REIT that invests in medical office buildings, a real estate sector that is expected to grow as a result of current healthcare trends and the new Affordable Care Act. It provides a stable yield to investors and the opportunity for additional growth - attributes that belong in every sleep well at night portfolio.
At the time, the Company was new to the publicly traded marketplace. It flew under the radar of many investors because it did not follow the traditional IPO route, opting instead to list its shares on the NYSE on June 6, 2012 because it already had low leverage and did not want to dilute existing shareholders. As a result, it received very limited institutional attention and was covered by very few research analysts.
Fast forward a mere 6 months, and the story has started gaining traction with investors. In fact, on February 14, 2013, it closed at a new all-time high of $11.24 per share. Since that original article was published, the stock has returned approximately 26% to investors, including dividends, in a short 6 month period. While I primarily focus on income and principal preservation in my stock picks (HTA still sports a healthy 5.1% dividend yield at today's price), this principal appreciate is like a cherry on top of the sundae.
As we look at this performance, it is important to understand what has happened to move the stock forward. This performance largely reflects a stock that was deeply undervalued originally. However, there have been a few more drivers that have moved the stock forward, including the following:
Relative Value - At the time of my initial article, HTA was paying a dividend yield of 6.2%. This compared favorably to an average dividend yield of 4.8% for other healthcare REITs or 3.4% for other office REITs. As a stable company with favorable demographic tailwinds, it made sense that the stock should increase in value until the yields became comparable. While the difference in these yields has compressed, the 5.1% dividend yield at today's pricing is still higher than its peers in the healthcare and especially the office sectors.
Increased Institutional Exposure - Equity research coverage has diminished greatly since the early 2000's. This is unfortunate for companies that try to come public, as research analysts (similar to financial reporters) play an important role in educating investors about new companies and opportunities that might otherwise get overlooked. Given HTA's listing process, there was only one equity research analyst that covered the company for the first several months as a public company. That has started to change, with 4 analysts now covering the company and an expectation that more analysts will cover the company over the coming months. This should continue to raise HTA's profile in the investment community.
Share liquidity - The basic laws of supply and demand tell us that the buying and selling of large investors can have an impact on a stock's price, especially when there are very few shares traded on a daily basis. While this might not matter to smaller investors such as myself, it is something that the big guys think about when they make their investment decision. They are afraid to invest in companies with limited share liquidity because their buying will greatly increase the price and their selling will greatly reduce it and steer clear. This was the case for HTA back in August when it was trading less than 200 thousand shares on a daily basis. Since then, this daily trading volume has increased to approximately 1.2 million shares a day - a level that allows the institutional investor to invest in the company with some peace of mind.
Index Inclusion / Institutional Ownership - Most investors have heard of the S&P 500 and the Dow Jones Industrial. These are examples of funds that invest in companies based on a broad-based index, rather than individual stock fundamentals. As a company gets bigger, or added to an index, these investors must increase their investment in these companies. Interestingly, many active investment advisors are measured against these indexes and view a company's inclusion as a signal to pay attention to them.
When HTA went public, it was not owned by any institution or included in any index, limiting its investment appeal. That has changed significantly since then. Last fall, the Company's stock was added to several REIT indexes, including the MSCI US REIT Index and the Wilshire Real Estate Index. Institutional shareholders have also taken note, and increased their overall ownership stake in the company. The company is expected to be added to several more indexes over the next year which should further increase investor interest in HTA's stock.
Investor focus on pure play Companies - Diversification is a theme that most good investors follow. Some investors prefer it when a company provides that diversification for them, by investing in multiple industries or real estate sectors. That has been the case within healthcare real estate, where the larger REITs have invested in all types of real estate - from skilled nursing facilities, to assisted living, and medical office buildings. This does provide some protection from the risks, such as government reimbursement, that could significantly impact any one specific sub-sector. However, many investors prefer to create their own investment portfolio and diversify on their own. For them, investors can invest in REITs that focus on only one sector. That seems to be taking hold now within the healthcare real estate space, as focused companies like HTA, Medical Properties Trust (NYSE:MPW), and Omega Healthcare Investors (NYSE:OHI) have outperformed the diversified healthcare REITS over the last 6 months.
Diversify, Diversify, Diversify - In an article earlier this week I wrote about finding the right level of diversification:
Ladies and Gentlemen: REITs should be a part of every investment portfolio. The value proposition is plain and simple: consistent income. By owning just one REIT (like Realty Income), a portfolio of REITs, a mutual fund, or an ETF, an investor is benefiting from the broad diversification fundamentals while, at the same time, building a durable dividend record rooted in stability and consistency.
Healthcare Trust of America is one egg that I would recommend adding to your basket. The company has a current market capitalization of $2.410 billion and a current dividend yield of 5.12%. I expect the Scottsdale-based REIT to continue to achieve double digit annualized earnings growth and sustain and grow its dividend yield. Clearly, this is a bird that is beginning to turn into a beautiful SWAN (sleep well at night).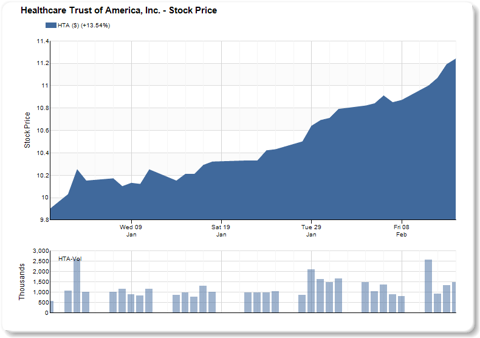 Disclosure: I have no positions in any stocks mentioned, and no plans to initiate any positions within the next 72 hours. I wrote this article myself, and it expresses my own opinions. I am not receiving compensation for it (other than from Seeking Alpha). I have no business relationship with any company whose stock is mentioned in this article.