Kohlberg Capital Corporation (NASDAQ:KCAP) is a regulated investment company which has paid a healthy dividend, ranging from 17 cents to 42 cents a quarter, every quarter, since 2007. They have not missed a quarter ever. This is key, as they are currently maintaining a yield of roughly 10.8%, up from the 2011 yield of 10%.
Additionally, the yield of this stock has held steady between 8-14% every quarter from 2010 to the current day.
KCAP Financial maintains a diversified portfolio across a broad spectrum of industries.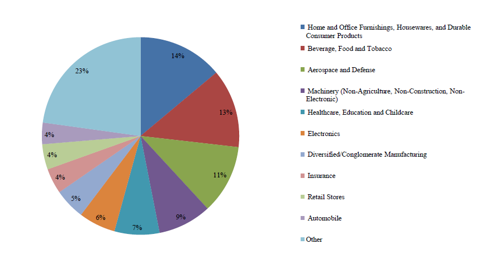 (Image from kcapfinancial.com)
The biggest news to come out of KCAP recently was its issuing of 4.75 million new shares at $9.75/share. The offering was announced February 5 and closed on February 8. The aim of the offering was for investing in portfolio companies and loan obligation funds. As you would expect, the stock sharply fell down to the $9.75 mark after the announcement but has since returned to above the $10.25 mark.
The institutional investors back this stock as well, with nasdaq.com showing 27% of all shares held by institutional holders. Analysts rate this stock from a hold to a strong buy. The earnings per share forecasts for 2013 give a low of 0.97 to a high of 1.08, with the consensus being 1.02 per share. As 3Q 2012 had an EPS of $0.39, 2Q 2012 had an EPS of $0.36, and 1Q 2012 had an EPS of $0.26, this is hardly a difficult goal for this stock to hit.

Can this stock be expected to continue to hit its goal of quality dividends every quarter? There is little evidence to expect otherwise at this point. Despite the dilution one would expect from adding nearly five million new shares to the stock, the price of the stock has almost entirely rebounded back to its price prior to the offering on February 5. That's because investors expect this stock to continue to perform and provide the dividends that it has done in the past.
While it is certainly possible that the dividend per share will decrease from the $0.24/share distribution given in the previous quarter, I wouldn't expect it to slide much lower than the $0.18 distribution, last seen in 1Q 2012. This is because the EPS steadily grew throughout 2012, from $0.28 per share in the first quarter, $0.36 per share in the second quarter, to $0.39 per share in the third quarter.
KCAP has performed consistently and reliably since it started paying dividends in 2007. An investment company that can see its way through the mess that was 2008-2009 and then provide 10-11% yields in 2010-2012 is definitely one a savvy investor should consider picking up, if they're looking for a respectable dividend every quarter.
Disclosure: I have no positions in any stocks mentioned, and no plans to initiate any positions within the next 72 hours. I wrote this article myself, and it expresses my own opinions. I am not receiving compensation for it (other than from Seeking Alpha). I have no business relationship with any company whose stock is mentioned in this article.