When I recently was asked my opinion on Vietnam by a reporter from the nation's leading investment daily, I knew its stock market must have some mojo. Why? Nobody ever asks me my opinion about a country's stock market unless it is on a hot streak.
Sure enough, during the month of December 2012, Vietnam's market was up 9.6% and over the last month, the Market Vectors Vietnam ETF (NYSEARCA:VNM) is up over 20%.
Vietnam is a volatile market where you can make and lose a lot of money in a short time. In a moment, I am going to offer you a simple approach that I learned from the legendary global investor Sir John Templeton that will maximize your upside potential and limit downside risk.
First, let's take a quick look at Vietnam's fundamentals.
Not a Democracy by a Long Shot
Vietnam's political system can be described as a command and control authoritarian state. It is a one party system. The Communist Party of Vietnam has control over the executive branch and exercises control through the 150-member Central Committee.
Stock Market Highly Concentrated
Financials, largely state-owned banks, account for roughly 50% of its market. Strict rules limit foreign ownership of stocks to 49% and foreign investors can own only 30% of the financials. There are 827 stocks in the exchange, however liquidity in the bottom 600 of this list is minimal.
Banking, Currency, Corruption and Inflation are Key Risks
Vietnam's economy suffers from reoccurring bouts of hyperinflation and a weak and volatile currency, the Dong. Recently, the official inflation rate has been brought down to 5% and interest rates have been cut.
The banking system is not very transparent with a lot of crony loans going to firms with political ties and used to speculate in real estate projects. The banks are undercapitalized and the percent of non-performing loans is anybody's guess though the government estimates it at 10% of total loans. Like all governments that pick winners and losers, corruption is a big problem.
The Main Attractions: the People & Underground Market Economy
Vietnam's entrepreneurial and youthful population of 90 million and counting is the key reason to invest in Vietnam.
The country offers good value as it evolves into one of Asia's lowest cost-manufacturing hubs with wages less than third that of China. With a 97% literacy rate and ample natural resources, Vietnam has a vibrant market underground economy that produces most of its economic growth. In short, Vietnam offers investors huge potential if its government will only get out of the way.
A Smart Strategy for Frontier Markets
Given Vietnam's high profile, and the fact that many of the concerns I have already listed will be with us for a long time, VNM volatility is inevitable.
Turn it to your advantage by buying markets like Vietnam when they are down and out, not when they are surging. As Templeton put it to me; to score big gains with low risk in emerging markets, invest only when
things look "absolutely miserable".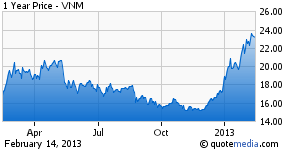 As you can see from the chart to the right, Vietnam has surged since early December. This momentum may carry on for a while since 50% spikes are not uncommon, but if you jump on board now, a trailing stop loss is a must.
A smarter strategy is to wait until absolutely no one is calling me or talking about markets Vietnam, and then build a position and wait for the inevitable turn.
Disclosure: None