As markets began this year, proving almost as unpredictable as they were in the last, the iShares MSCI Japan fund (NYSEARCA:EWJ) held steady in the No. 6 position of our Sector Momentum Tracker throughout the month of January. EWJ's momentum has increased steadily in recent months, moving slowly up our top-ten rankings, where the fund has placed since September 9, 2008. Despite precipitous drops in production abroad and a pending economic package at home, EWJ has remained an International Portfolio holding, proving to be one of the "best of the worst" in a difficult global climate.
EWJ's underlying index seeks to measure the performance of the Japanese equity market, with a capitalization-weighted methodology that aims to capture 85% of the total market capitalization. To avoid the pitfalls and restrictions of investing abroad, the fund also takes into account limitations concerning foreign shareholding and unavailable holdings. The fund, launched in early 1996, fell 29.39% for the year ending December 31, 2008.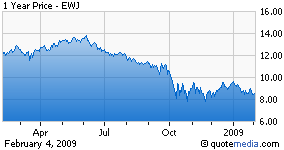 EWJ investors avoid many drawbacks of investing abroad in foreign listed securities that have caused trading and liquidity problems in other foreign funds. In addition to its 12-year track record—which harkens back to a time when ETFs were just getting off the ground—the fund's size and liquidity make it a safer choice for Japan investors. As of December 31, 2008, EWJ had $5.64 billion in assets, a number that should assure investors that the fund remains viable as other fund families shutter their funds for lack of interest. Over the past three months, the fund has traded more than 7 million shares per day, a volume that helps to keep spreads tighter and executions closer to NAV.
The number of securities in EWJ's underlying index should also help ease those investors concerned about the failure of a large Japanese company crushing their investments. EWJ's basket includes 335 equities, with the largest holding, Toyota Motor Corp. (NYSE:TM), constituting only 4.47% of the index. Together, the top ten holdings compose less than 22% of the portfolio, and EWJ's investors are subjected to only the broad scope of equity, rather than to a specialized sector.
The news coming from Japan, as from other regions of the globe, has been gloomy in recent weeks. Forecasts for continued malaise have set off some large options orders against this ETF, as the relative strength of the yen takes its toll on imports and exports across the globe. In Q4 of 2008, Japan's unemployment jumped from 3.9% to 4.4% as consumption fell 4.6%. Reflecting relative currency values and ongoing chaos in exports, the factory output numbers for December are perhaps the most telling—falling 9.6% for the month. Japan's economic performance is linked inextricably to consumer sentiment, a factor that has been particularly detrimental in the global meltdown. As consumers abroad, particularly in developed countries such as the U.S., pull back on consumer spending, Japan's population is unable to consume enough to soften the blow. Worries about deflation, which has been an ongoing concern for Japan's economy and investors, have only made tough economic data worse.
Taking the current and upcoming economic data into consideration, it is still valuable to view Japan in a larger global economic context—where many countries are suffering much, much worse fates. It is also important to evaluate the composition of EWJ, as well as the performance of the top components, before dismissing this fund along with dismal global news. Looking at EWJ's portfolio, 18.39% comprises financials, 17.73% is in industrials and 16.10% is in consumer discretionary. Consumer staples compose 6.66% of the assets in the portfolio.
The top component in EWJ's lineup, Toyota Motor Corp. gained more than 8.5% from December 4, 2008, to February 2, 2009, after a tough second half of 2008. Toyota released earnings this past Friday, January 30, revealing predictions of the worst year for Toyota's Camry since its introduction seven decades ago. In a linked global economy, however—where each report is important in its relative context—Toyota is holding up better than some of its peers. Last year Toyota claimed the top position for global auto sales, as former No. 1 GM faced imminent demise and bailout plans. While projections for Toyota's first quarter in 2009 are already down, last year's performance relative to that of GM has helped Toyota maintain its momentum among other auto companies. In 2008, Toyota sold 8.792 million vehicles, a 4% drop from 2007, while GM's sales dropped 11% globally.
It is extremely important for ETF investors to do their homework before investing capital abroad. Now, more than ever, it is important to analyze size, liquidity and exposure when choosing an international fund from an ever-growing sea of options. For investors looking abroad for economic turnaround, it is important to keep news from any particular country in relative perspective. When picking the "best among the worst" to position a portfolio for recovery, funds like EWJ may be the best bet.