A couple of weeks ago after doing some research, I took a firm stand against the BlackBerry (NASDAQ:BBRY) 10 being the eventual savior for its company. I cited five concrete reasons why I felt the company was past its prime and unable to be saved:
BlackBerry Missed its

Prime Time for Phone Release

Wall Street's Big Money is Showing No Confidence
The Price Point is Horrendous
There Are Not Enough Apps for BlackBerry 10
Complete and Total Mobile Domination by Apple and Android
I wrote that article when BlackBerry was trading around the $13-$14 range and BlackBerry's after market close Thursday was $15.54.
I learned two major things after digging my heels in bearish against BlackBerry in my last article:
Apparently, judging by the 200+ comments I got telling me repeatedly how I wrong I was (about everything I had written), there's more than 200 people that actually still use a BlackBerry. I would have never put the number that high. (It's a joke, stop freaking out, Thorsten Heins and your 199 closest friends and family members).
This stock has a cult-like following to it, whether it's from real BlackBerry enthusiasts or people who have been "averaging down" (read: flushing money down a Home Depot-esque display of various toilet bowls) from the hundreds to now. Sorry, there's no nice way to put that. Anyway, it doesn't matter -- BlackBerry supporters are a ferocious group, and for that I respect them.
Below you'll find how BlackBerry has fared lately. The RSI looks healthy and the moving averages are still in a bullish trend after the 50 day rocketed through the 200 day in mid-December. The $10 line is going to start to become a huge line in the sand; not only due to the psychological impact of the share price being in (or not being in) double digits, but the 200 day moving average has found itself riding along the $10 line like a monorail riding its tracks. As you can see, we tested the 50 DMA Thursday and quickly bounced off of it. That's a bullish sign, but if we test it again before week's end or next week will we get the same result?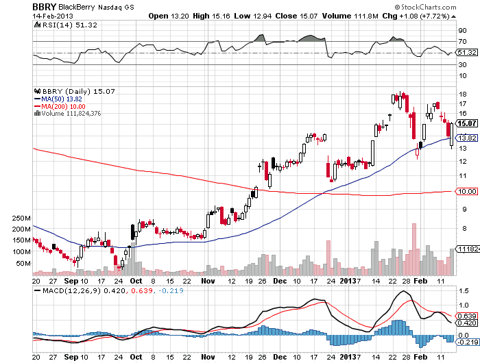 Click to enlarge
(Click to enlarge)
Thursday it was pointed out by several news organizations that former BlackBerry CEO Jim Balsillie had fully sold off his 26.8 million share position in the company. It was reported :
In a regulatory filing on Thursday, Balsillie said that by the end of last year he had sold his entire stake in the company. Balsillie, who stepped down as CEO a year ago, owned about 26.8 million shares, or a roughly 5 percent stake in the company, as of December 31, 2011
Shares dipped at market open Thursday, but quickly rebounded, closing up about 7% before continuing to surge after-hours. "Sour grapes" is the story that most BlackBerry longs have been blogging/posting about with regards to his selling. It seems the investment community going long on BlackBerry thinks that Balsillie is cranky he's not in charge anymore and is taking his money to his other interests -- namely acquiring sports franchises, as noted here:
However, as RIM's fortunes waned in the face of rising competition, product delays and declining margins, Mr. Balsillie faced hard criticism over several unsuccessful attempts to purchase a National Hockey League franchise, a side project which some detractors believed diverted his attention from RIM at a time when new competitors - namely the iPhone - were beginning to gain traction with consumers.
Really, though, sour grapes? This is the worst excuse to cover up something bad happening to a stock you're over-emotionally invested in since the day I convinced myself to ignore the 900,000 share bidwhacking bonanza sale done at market on Celsion (NASDAQ:CLSN) two weeks before they would announce news that would eventually cripple the company.
See the Sign. And Let it Open Up Your Eyes.
In my article "My Definitive 17 Cardinal Rules For Investing Success", I write about how important it is to notice little blips of information that may slip under the radar. I write about how following signals can often lead to success. The old adage, "where there's smoke, there's fire" often holds true in the world of investing -- sometimes I abbreviate it to simply: "There are no coincidences." From my article:
In a previous article, I pointed out two "coincidences" on stocks I had been following; Celsion) and Knight Capital Group (KCG).
In regards to Celsion, I spoke about how ahead of a binary event, I watched what appeared to be a massive sell-off and ignored my instincts, remaining long. It cost me. I commented:
A 900k share order goes off at market, destroying the bid and causing a halt. Could this have been someone wanting to make their exit quickly? With the pending class action investigation now taking place, I'd be interested to see the results of a full investigation of when the company actually had the data in hand in comparison to the analyst downgrades and "bear raid". I hate that I'm even writing that, as someone who truly believes in the integrity of the company and executives; and their mission. But sometimes, if it walks like a duck and talks like a duck...again, "there are no coincidences".
On Knight, I commented about the day of their fund-crippling algorithm error:
I knew something was wrong at Knight Capital the day of their algorithm error, because the stock was getting crushed down to $9 on massive volume almost an hour before the story ever even hit the newswire. After investing long enough, I've started to learn, "there are no coincidences". I was able to trade the Knight disaster accordingly just by watching the volume. I took my short position, they released the news, the rest is history. The pre-news trading tipped me off. If you don't think there were insiders that dumped into that news, then I have some real estate in rural Alaska to sell you.
As I state above, these were two massive signs; one I followed and made some substantial money, one I ignored and lost money on. The market is chaos, this is true, but there is a cause and an effect to everything that happens in the stock market. Pay attention to these "coincidences" and follow in the direction they lead you.
"Great", you'll say to me, "but what does all this copy and paste article-filler mean right now for my investment in BlackBerry?" It means that a former insider, who is probably still just as informed as any insider at the company dumped his entire stake in the company leading up to a binary event.
Ask yourself what you'd do if the current CEO of BlackBerry "coincidentally" decided to unload his entire stake in the company leading up the release of the make or break product that is going to save or crush the entire company singlehandedly? You'd probably pay attention to that, right? In that case, if you're still long, you now have the Everest-climbing sized task of convincing yourself that the former CEO has zero information on the upcoming release of Blackberry 10. If you've been in the public company corporate world, you know that there's certain people that get inside information, and the founder of the company would qualify. If you haven't been in the public company corporate world, I have something to tell you:
There's certain people that get inside information, and the founder of the company would qualify as one of those people.
Flex your common sense a bit, you know it makes perfect sense.
Someone, who more than likely has inside information on the BlackBerry 10, did not wait until after its release to sell his shares.
Now, how do you convince yourself to ignore that? That's a mighty tough pretzel to twist.
Added Prize Inside: BlackBerry Just Handed You a Free 10% on Your Short Position!
In after hours trading Thursday, BlackBerry closed up near $15.50, almost 10% from it's previous open price.
Folks, I'd like to think I have all of the answers, but I clearly don't. I don't know what causes hedge fund billionaires to take 13% stakes in companies that are clearly pyramid schemes like Herbalife (NYSE:HLF). I don't know why companies like Yelp (NYSE:YELP) and Facebook (NASDAQ:FB) run 5, 10, 15 percent on news of millions of shares becoming unlocked. I don't know how fourteen billion dollar resume sites like LinkedIn (NYSE:LNKD) trade at psychotic valuations with P/E's approaching 1,000. I don't know how people panic sell one of the most fundamentally sound companies in the history of the world in Apple (NASDAQ:AAPL), on news of $54 billion in revenue for a quarter vs. $54.1 billion.
Finally, I don't know how a stock rallies 10% on news of their founding CEO exiting his entire position in the company leading up to what will be the biggest binary event in the company's history.
It doesn't make sense to this investor, and that sent off major red flags. Sure, the bullish trend of the public could be right, and it's worth noting. But, sometimes, you have to bet against the public, as I pointed out in a previous article:
In sports betting, when one side of a game is overwhelmingly being bet on by the public, the line on the game moves. Similar is the way the price of a stock moves in accordance with the demand. More sells than buys, price moves down. More buys than sells, price moves up.

"Fading the public" simply means doing the opposite of what the public's doing. It's important to not blindly just do the opposite of what the public's doing; the public creates important trends that need to be respected and noticed. In the world of sports betting, the benefit is usually a couple extra points on a line; in finance, the benefit is usually a cheaper share price to buy at or a higher share price to sell at. Keeping your emotions in check is vital, as I'll discuss later. These strategies play off the emotional instability of the common investor.

Keeping yourself in this mindset of doing the opposite of the public is how big money makes money, and how you can, too. The sooner you start to think like one of the sharks, the less chance you have of becoming eaten alive.
Like Buffett said:
"We simply attempt to be fearful when others are greedy and to be greedy only when others are fearful."

- Warren Buffett
If you're going short and are confident on your position, the house just handed you a free 10% head start; will you be smart enough to acknowledge it and use it? I am significantly echoing my bearish sentiment on BlackBerry, but as always, I wish all investors good luck.
Disclosure: I have no positions in any stocks mentioned, and no plans to initiate any positions within the next 72 hours. I wrote this article myself, and it expresses my own opinions. I am not receiving compensation for it (other than from Seeking Alpha). I have no business relationship with any company whose stock is mentioned in this article.