Some of our readers have been asking for us to highlight some interesting companies that they could study in more detail. We plan to start a series of short posts that will give you a quick overview of some companies we feel are worth looking into.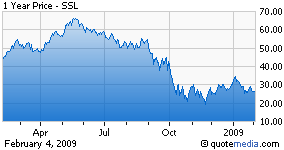 Sasol (NYSE:SSL) is an integrated oil and gas company with substantial chemical interests and production facilities in South Africa, Europe, North America and Asia. The group operates commercial scale facilities to produce fuels and chemicals from coal in South Africa and is focused on developing ventures internationally to convert natural gas into clean diesel fuel.
One of the main issues in the increase of oil prices is the actual refining capacity but what is interesting in the case of Sasol, is that the product offer doesn't need any additional refining capacity. Furthermore, the company is extremely profitable, pays a good dividend and is able to fund growth internally.
Within the context of the current energy crisis, a company like Sasol - with synthetic fuels, natural gas / oil, coal mining and chemicals - is definitely going to be worth studying!
Please read our disclaimer.