Nothing is worse in baseball - at least for the team at bat - than killing a big inning by hitting into the dreaded triple play. Triple plays are very rare occurrences, with only 3-4 occurring each year on average in the major leagues. What CenturyLink (NYSE:CTL) did Wednesday evening is also something that is pretty rare in the world of finance: an unassisted financial triple play. In this case, management of CenturyLink managed to offend their dividend shareholder base, the analyst community, and the ratings agencies - all at the same time. It is a case story in how management misdirection and the resulting confusion is arguably worse than the actual decisions made.
The impetus for the CTL fireworks this week was a 25% cut in the dividend from $0.725 to $0.54 per quarter. CTL management made the change not because of 2012 operating results (which were fine) or 2013 guidance (mostly in-line) or even expectations for 2014. No, CTL made the decision because of 2015 cash taxes that might have to be paid at that time. Despite no warning to the analyst community or in the 10-K, expiring net operating losses (NOLs) will no longer elevate free cash flow appreciably above GAAP earnings. So previous non-cash GAAP taxes convert to actual cash taxes owed on the order of a few hundred million dollars a year beginning in 2015.
Let's analyze this. First, CTL is worried about monies that will likely be owed not this year or next year, but 2 years from now. That in itself is curious: a lot can happen in 2 years' time, maybe top-line operating results surprise to the upside, maybe operating cash flows improve. Why the rush to cut the dividend today, this year? Why not ease into such a huge decision by at least broaching it to the analyst and shareholder community later this year as a possibility 2 years hence?
Second, CTL is going to save only about $400 million a year with the dividend cut over the next 2 years. But the company has said they will buy back $2 billion in stock over the same time period, meaning that the debt rating agencies will see a net increase of $1.2 billion going to shareholders (assuming the company intends to carry out the full buyback). If CTL had maintained the dividend and eschewed the buybacks they'd have enough money for 5 more years of the dividend and be no worse off from the perspective of having to pay the cash taxes in 2015 or straddling the line with the ratings agencies. In fact, the cash utilized on shareholders via the dividend would have been deferred over the 2013-2018 timeframe, whereas the buyback accelerates that cash usage into the 2013-14 period. A lot can happen in 5 years, more so than in 2 years. How long is 5 years in financial terms? Well, 5 years ago both Bear Stearns and Lehman Brothers were thriving investment firms.
Third, CTL management was trying to maintain a delicate balance. They need cash to invest in their business and upgrade their physical plant; they were paying a lush dividend; and they were trying to please the rating agencies who wanted further debt reduction to maintain an investment grade rating. CTL was paying out just under 60% of free cash flow as a dividend; the corresponding figures are T (60%), VZ (70%), FTR (55%), and WIN (75%). Maintaining the dividend out to 2015 would have entailed a payout ratio closer to 75%: very aggressive, but not stressed to the limit.
Tough choices would have to be made if not now then by 2015: the dividend, CAPX for fiber and growth initiatives, or the investment grade bond rating. In recent months, CTL management had let it be known that if something had to give, they'd prefer to give up the investment grade debt rating and have extra flexibility on the other initiatives. The increase in borrowing costs from a downgrade would likely be 20-40 basis points, nothing too onerous. Once freed from having to maintain the investment grade criteria, CTL would have more flexibility to increase CAPX, maintain or increase the dividend, or even initiate share buybacks.
For reasons peculiar to CTL management, they now have managed to offend both the dividend-focused shareholder base and the ratings agencies. The shareholders don't believe the full $2 billion in stock will be bought back and even if it is, they preferred the higher dividend. The rating agencies DO believe the full $2 billion will be bought back, and thus downgraded CTL to the highest-rated junk category BB+ from the previous investment-grade level of BBB-. Completing the triple play, 6 analysts downgraded the stock this week (so far) and even those holding the fort are confused and wondering if CTL management is hiding the real reason for the dividend cut.
One telecom analyst says that "this is one of the most unusual capital allocation decisions I have ever seen" and I have to agree. In all my years of following and working in the financial markets, I cannot recall a situation where a dividend was cut unnecessarily and the intended effect - pleasing the shareholders with a buyback and the rating agencies with promises of debt reduction - were simultaneously shot down by both parties. Everyone would have been happier had CTL done nothing.
CTL was not straining under a suffocating debt level. Net Debt/EBITDA was about 2.7x (the rating agencies wanted 2.5x or less to maintain the investment grade rating), compared to 1.2x and 1.7x for Verizon (NYSE:VZ) and AT&T (NYSE:T), and 3.3x and 3.7x for Frontier (NYSE:FTR) and Windstream (NASDAQ:WIN), respectively. So while CTL wasn't in possession of a fortress balance sheet and the cash flows that Verizon and AT&T possess (largely because of their burgeoning wireless voice/data plans), CTL was still in a much stronger position than FTR and WIN. If the 2013-2015 operating metrics came in as expected, the company would be able to pay down debt, maintain the dividend, keep the investment grade rating, and maybe even initiate buybacks. At worst, they would lose the investment grade rating this year and perhaps have to re-evaluate the dividend in 2015 at the earliest and possibly as late as 2018 (if you defer the $2 billion buyback and apply it to dividend maintenance, all-else-equal).
While Q4 2012 results were at the lower end of the forecasted range and guidance for 2013 was the typically conservative forecast (CTL has a history of low-balling numbers and then beating them), the trend in Q4 and 2012 was clearly improvement from earlier quarters and 2011, so why the panic? Cash flow margins are stabilizing and are on the rise: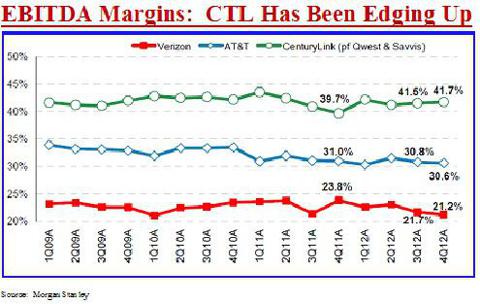 Top-line revenue declines have clearly reversed, and positive growth was forecast as early as 2014: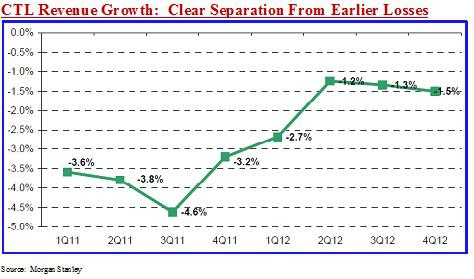 The collapse in CTL's share price is not a result of the dividend cut. Cliffs Natural Resources (NYSE:CLF) also fell 20% earlier this week, but its dividend was cut 75% and CLF has a much shorter dividend history than CTL, given the highly cyclical and volatile nature of the iron ore and steel sectors. No, what caused the excessive drop in CTL's share price was not the loss of the dividend income, but loss of faith in management. If CTL management really believes that operating results in 2013 or 2014 have downside, they should have said so and used that as the rationale for a dividend cut (if such a cut was still necessary). Or they should have actually waited for said weakness to materialize. In fact, operating results for CTL for Q4 2012 were largely in line and guidance was a bit subdued but nothing of the falling-off-the-cliff variety.
Instead, CTL is allegedly worried about cash taxes 2 years out driving the payout ratio too high, presumably because maintaining the payout would entail taking on debt or not reducing it as fast as the rating agencies prefer. But they are in effect taking on the debt over the next 2 years anyway (the stock buyback) all at once instead of a gradual increase beginning in 2015 to account for the loss of free cash flow to payment of cash taxes. Again, why not telegraph this potential change in 2015 and see if things are as tight as management feared and then act at that time? Why jump the gun with a convoluted, discombobulated capital re-allocation strategy that managed to upset shareholders, Wall Street, and the ratings agencies?
CTL had never cut the dividend in nearly 40 years of being a public company. They threw that away, something they can never get back. They can re-gain their investment grade debt rating, but for now, they are a junk credit. The stock lost 22% in one day and investors are angry, confused, and upset. And for what? Getting out ahead of a potential problem 2 years early? I've heard of a company giving an early warning, but that is ridiculous.
CenturyLink is probably a good value, the dividend is likely secure for some time, buyback are coming (maybe), and the stock appears washed out. Unfortunately, buying the stock means you are also buying CTL management and right now it's understandable if most investors want no part of their confusing message.
Disclosure: I have no positions in any stocks mentioned, but may initiate a long position in CTL over the next 72 hours. I wrote this article myself, and it expresses my own opinions. I am not receiving compensation for it (other than from Seeking Alpha). I have no business relationship with any company whose stock is mentioned in this article.
Additional disclosure: Managed accounts under the control of the author presently hold a position in CenturyLink. These accounts may increase or decrease their position. The author currently holds no position in CTL stock but may initiate a position in the next few days.