The 2013 Genitourinary ("2013 GU") Cancers Symposium, A Transformative Multidisciplinary Approach, to be held 14-16 February, 2013, includes a poster session on Dendreon's (NASDAQ:DNDN) Neuvenge, the company's lead product for urothelial cancer. Neuvenge employs the same proprietary Antigen Delivery Cassette technology employed in the delivery of Provenge, the company's immunotherapy for the treatment of asymptomatic or minimally symptomatic metastatic castrate resistant (hormone refractory) prostate cancer.
Abstract #292: HER2 expression in patients ((pts)) with surgically resected urothelial cancer at high risk of recurrence screened for the phase II randomized, open-label trial of DN24-02, an autologous cellular immunotherapy targeting HER2.
Michael Press - University of Southern California Norris Comprehensive Cancer Center, Los Angeles, CA
HER2 overexpression may be a prognostic factor for patients with high-risk urothelial carcinoma (UC). Published data note a wide range of HER2 overexpression in UC. Some reports show overexpression to occur in less than 10% of cases while others find it in more than 50% of cases.
Dendreon's NeuACT (Clinical Trial NCT01353222) is a phase 2 trial to determine whether DN24-02, an autologous cellular immunotherapy targeting HER2 based on the same platform used for sipuleucel-T (Provenge), given as adjuvant therapy following surgical resection, can prolong survival. The paper presented preliminary data for HER2 expression on primary tumor and positive lymph node samples from this study.
As of August 2012, tumor specimens from 61 patients had been screened for HER2 expression. The authors drew the following conclusion: "Although preliminary, a high frequency (≥80%) of HER2 expression score of ≥1+ in primary tumor and lymph node samples was observed. These data highlight the prevalence of HER2 protein expression in high-risk UC. Furthermore, the HER2 expression data are consistent with previously published data in patients with invasive UC."
Conclusion
The data presented support the premise upon which Neuvenge is being developed. We wait on efficacy results.
Technical Analysis
The Daily chart, courtesy StockChart.com, shows the stock, after hitting a recent high of just under $7.25, is moving back towards the lower edge of an upward-trending channel in which it has been trading since last October. The Relative Strength is neutral, as is the MACD.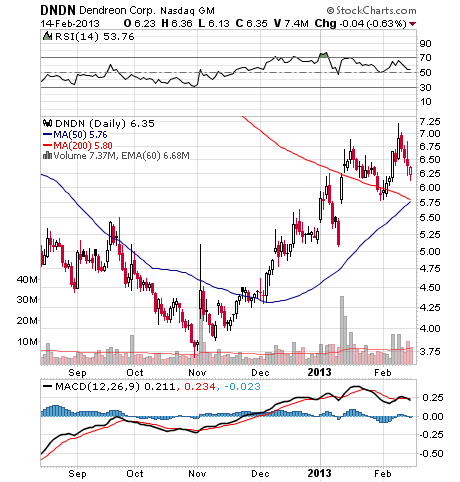 As to the Weekly data, the stock is hovering just above the 50-week moving average. The Relative Strength continues to climb, and the MACD is (barely) positive.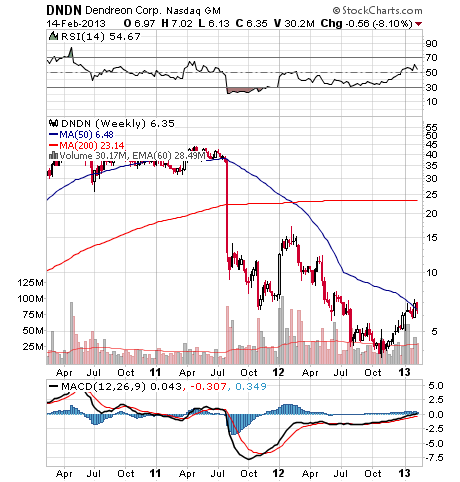 Disclosure: I am long DNDN. I wrote this article myself, and it expresses my own opinions. I am not receiving compensation for it (other than from Seeking Alpha). I have no business relationship with any company whose stock is mentioned in this article.
Additional disclosure: I am long DNDN and the May 2013 $3 PUTs. I am not a registered investment advisor and do not provide specific investment advice. The information contained herein is for informational purposes only. Nothing in this article should be taken as a solicitation to purchase or sell securities. Before buying or selling any stock you should do your own research and reach your own conclusion. It is up to investors to make the correct decision after necessary research. Investing includes risks, including loss of principal.