Diana Containerships (NASDAQ:DCIX) is scheduled to report earnings for the fourth quarter of 2012 on Tuesday, Feb. 19. In this article I will provide an overview of the company's current financial position, including a preview of its upcoming earnings results.
Diana Containerships owns and operates a fleet of 10 panamax containerships, with an aggregate carrying capacity of 42,151 TEU and an average age of 14.8 years as of Dec. 31, 2012. The company was initially formed as a subsidiary of Diana Shipping (NYSE:DSX) and was spun off as an independent entity in January 2011. DSX has retained a 10.4% equity stake in the company, in addition to full managerial control. Since the spin-off, DCIX has tapped the capital markets twice, raising a total of $184 million in gross proceeds.
Click to enlarge images.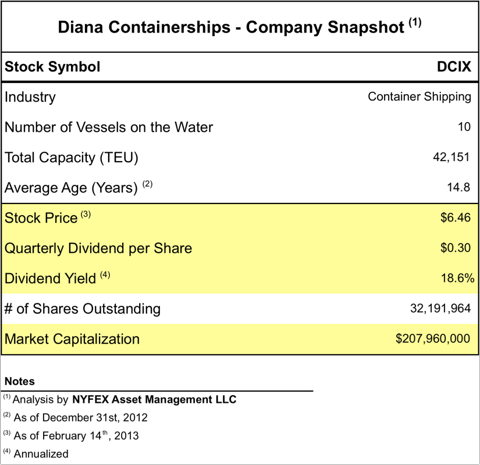 Based on yesterday's closing price of $6.46, the company has a market capitalization of $208 million.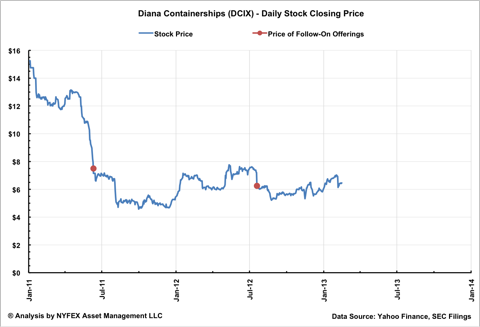 The company's vessels are typically employed on fixed-rate time charters with an average duration between two and three years. The fleet employment strategy allows for cash flow visibility during the duration of each charter. Its dividend policy is based on a full dividend payout each quarter, equal to its operating cash flow minus capital reserves for vessel periodic maintenance and special surveys. The company's management has pledged to distribute to shareholders $0.30 per share on a quarterly basis for the foreseeable future.
Dividend yield-chasing investors might be tempted to DCIX by its 18% stock dividend yield. But a closer analysis of the company's chartering strategy reveals that many of its vessels are employed on sale-leaseback terms that will be very difficult -- if not impossible -- to replace once the charters expire.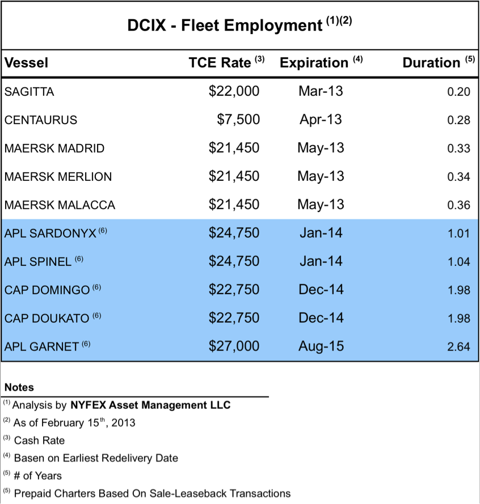 More specifically, eight of the company's vessels were acquired in sale-leaseback transactions. In a typical sale-leaseback transaction, the seller monetizes the asset while maintaining commercial control of it. Frequently, the sale price is in excess of its fair market value, and likewise the leaseback rate is higher that the market rate to compensate for the asset premium. In these cases, sellers monetize their assets and borrow additional funds, while paying the buyer an above-market rate.
DCIX has acquired a total of five vessels (or half of its fleet) through sale-leaseback transactions at above fair-market values. It is important to remember that during the leaseback period, DCIX will generate a higher operating cash flow and thus make higher cash distributions to the shareholders. But when the leaseback period is over, replacement rates are expected to be substantially lower.
Case in point: DCIX paid a total of $126 million to acquire four vessels in two separate transactions last February and March. Of the total purchase price, $29.5 million represented a premium over fair market value, and was recognized as prepaid charter revenue. During the course of the leaseback period, DCIX will be able to distribute the 29.5 million (plus interest) back to the shareholders. As of Dec. 31, 2012, the average remaining duration of the company's charters was 1.2 years. While I expect management to maintain the current quarterly dividend for the time being, I do not believe it is sustainable beyond 2013 given the current freight market environment.
For the above reasons, I do not recommend DCIX as a dividend play. But given its low debt outstanding and cash flow visibility, I may consider it is an asset play on a market turnaround. With regard to its financial performance for the fourth quarter of 2012, I summarize my estimates on the table below.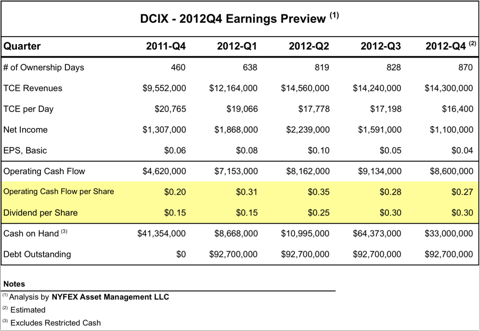 For the quarter ending Dec. 31, 2012, I estimate that DCIX generated net income of $1,100,000, or $0.04 basic earnings per share. I also estimate that DCIX generated an operating cash flow of $8,600,000, or $0.27 per share, and forecast that it will declare a cash distribution of $0.30 per share. Following its recent equity offering and acquisition of APL GARNET, I estimate that DCIX ended the quarter with approximately $33 million cash on hand (excluding restricted cash) to finance future vessel acquisitions.
Disclosure: I am long DSX. I wrote this article myself, and it expresses my own opinions. I am not receiving compensation for it (other than from Seeking Alpha). I have no business relationship with any company whose stock is mentioned in this article.