Cisco Systems, Inc. (NASDAQ:CSCO) is the world's leading supplier of data networking equipment and software. CSCO closed at $20.99 with a 0.71% loss on February 14, 2013 despite better-than-expected Q2 earnings.
Q2, 2013 Earnings
On February 13, 2013, CSCO reported Q2, 2013 earnings of 47 cents per share, beating Zacks Consensus Estimate of 43 cents per share on higher revenue and lower-than-expected operating expenses. Revenues increased 5.2% year-over-year to $12.1B, where products (78% of total revenue) were up 3.3% year-over-year to $9.4B and services (22% of total revenue) increased 12.5% year-over-year to $2.7B. Below are Q2 revenue growth and Q2 product orders breakdown, as well as Q2 revenue breakdown by product category.
Q2 Revenue Growth and Product Orders
| | | | |
| --- | --- | --- | --- |
|   | Americas region | Asia-Pacific, Japan and China (APJC) | Europe, Middle East and Africa (EMEA) |
| Revenue Growth (vs. Year-ago quarter) | +9% | +8% | -5% |
| Product Orders | +2% | +3% | -6% |
Q2 Revenue Breakdown by Product Category
| | | |
| --- | --- | --- |
|   | % of Revenue | Change (Year-over-Year) |
| NGN Routing | 16.1% | -6.0% |
| Collaboration | 7.8% | -11.0% |
| Other Product | 1.6% | -29.0% |
| Switching | 30.8% | 3.0% |
| Service Provider Video | 10.0% | 20.0% |
| Data Center | 4.5% | 65.0% |
| Wireless | 4.3% | 27.0% |
| Security | 2.8% | 1.0% |
| Service | 22% | 10.0% |
Gross Margins
Gross margin decreased by 80 basis points to 60.7% as compared to the year-ago quarter due to an unfavorable product mix. The net operating margin also decreased 70 bps to 23.0%. Research and development and general and administrative costs were both up while sales and marketing expenses declined.
Guidance
For Q3, 2013, CSCO expects revenue to increase in the range of 4%-6% on a year-over-year basis. The company expects a non-GAAP tax rate of 21%, yielding non-GAAP earnings of 48 to 50 cents per share. According to Shaw Wu, an analyst with Sterne Agee, "The guidance may be slightly disappointing." Wu noted that "CSCO may be facing temporary problems selling in China, where Beijing is retaliating against U.S. concerns about Chinese rivals Huawei Technologies, which is linked to the military, and ZTE Corp." The earnings call transcript for CSCO's CEO discussion for F2Q13 result can be accessed here at Seeking Alpha.
Concerns/Competitions
Cisco's strategy of pursuing growth opportunities in international markets has helped to deliver positive results. However, a sluggish macro-environment remains a major concern going forward. Switching category, which accounts for 30.8% of revenue, only increased 3% while NGN Routing category (16.1% of total revenue) declined 6%. Growth concerns remain for CSCO's core revenue categories. However, the strong growth in Data Center, Wireless, and Service Provider Video categories, which contribute around 19% of total sales, are encouraging. CSCO continues to invest in a market transition which the management believes will drive the next phase of growth.
Competitors, like Hewlett-Packard Company (NYSE:HPQ) and the Chinese company Huawei are very competitive with their manufacturing operations in low-cost countries. They are willing to sacrifice margins for market shares gains. CSCO is also facing competitions from units of Dell Inc. (NASDAQ:DELL), the No. 3 PC maker, as well as dedicated Internet product makers, such as Juniper Networks (NYSE:JNPR) and Aruba Networks Inc. (NASDAQ:ARUN) according to the report from International Business Times. Further, according to Bloomberg's report, "a shift toward 'software-defined networking,' or using software to perform tasks now handled by pricey networking equipment, could pose a longer-term threat."
Analysts' Calls
Northland Securities initiated coverage of CSCO with an Outperform rating and a $25.50 price target. Northland Securities also noted that US enterprise and US Commercial had improved while Europe was showing signs of stabilized growth. MKM Partners also reiterated a Buy rating and a $25 price target. FBN Securities also reiterated an Outperform rating with a $25 price target. Lastly, Lazard Capital reiterated a Neutral rating on CSCO and cited,
"Management made it clear that they maintain a cautiously optimistic view regarding the broader demand environment, with improving trends in the U.S. private sector offset by a sluggish, though stabilizing EU, and a weak public sector. Nonetheless, continued execution and improved operational efficiencies have allowed Cisco to both navigate through a challenging macro environment and grow profits faster than revenue."
Key Stats and Valuation
CSCO has an enterprise value of $83.56B with a market cap of $111.44B. CSCO has a total cash of $45.00B with a total debt of $16.33B. CSCO generates an operating cash flow of $11.62B with a levered free cash flow of $9.27B. CSCO has a higher revenue growth (3 year average) of 8.4, as compared to the industry average of -3.5. CSCO has higher operating margin of 22.5%, ttm, and net margin of 17.9%, ttm, as compared to the averages of 9.9% and 7.3%, ttm, respectively. CSCO has a stronger ROE of 16.7, comparing to the average of 10.1. CSCO's P/E of 13.6 is lower than the industry average of 25.1 and CSCO's 5 year average of 16.0. CSCO's forward P/E of 10.2 is lower than S&P 500's average of 14.0.
Technical Analysis
CSCO had been trading in the range of $14.96-$21.34 in the past 52 weeks. CSCO has a beta of 1.23. The MACD (12, 26, 9) indicator is showing a slightly bearish trend with diverging MACD difference. RSI (14) is indicating a slightly bullish lean at 55.01. CSCO is currently trading above its 50-day MA of $20.42 and 200-day MA of $18.21, as seen from the chart below.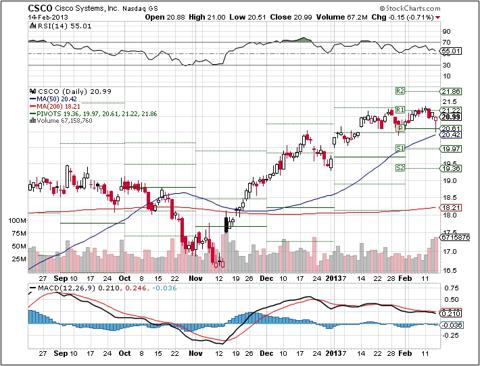 Source: StockCharts.com
Reviewing Options
Our last reviewed credit put spread options position of March 16, 2013 $16/$18 put is currently yielding 20.12% return on margin, achieving 91.67% of the maximum profit of 21.95%. Investors can consider taking the profit. A new credit put spread options play will be reviewed below.
Short 1x May 18, 2013 put at the strike price of $19.00 for the credit of $0.30
Buy 1x May 18, 2013 put at the strike price of $17.00 for the cost of $0.09
The maximum profit is $0.21, and the maximum risk/margin requirement is $1.79 ($2 loss - $0.21 credit received). If CSCO closes above $19.00 on May 18, 2013, 11.73% return on margin will be gained. If CSCO falls below $19.00 upon options expiration, CSCO will be acquired at $18.79, which is 10.48% below the current price of $20.99. The projected annual dividend yield will be 2.98% based on the acquisition cost of $18.79 with $0.14 dividend per quarter.
Note: All prices are quoted from the closing of February 14, 2013 and all calculations are before fees and expenses. Investors and traders are recommended to do their own due diligence and research before making any trading/investing decisions.
Disclosure: I have no positions in any stocks mentioned, but may initiate a long position in CSCO over the next 72 hours. I wrote this article myself, and it expresses my own opinions. I am not receiving compensation for it (other than from Seeking Alpha). I have no business relationship with any company whose stock is mentioned in this article.