Shares of EMC Corporation (EMC) have declined by 8.9% over the past 12 months. At $24.04, the stock is trading near the 52-week low of $22.77 reached in May 2012. Is a buying opportunity warranted by the price downtrend and the company fundamentals? In this article, I will perform the stock valuation analysis which may assist you in formulating an appropriate investment decision.
Sell-side analysts on average predict EMC's revenue, EBITDA and EPS to grow at solid CAGRs of 8.4%, 12.7% and 14.3%, respectively, over the current and next calendar years (see chart below). Those consensus estimates considerably outperform the averages of 1.7%, -1.6% and 2.7%, for a group consisting of EMC's primary competitors in the data storage sector. Similarly, the company's EBITDA margin is forecasted to expand strongly by 2.0% over the same horizon, compared to the peers' average decline of 1.7%. On the profit side, EMC has also demonstrated a superior performance as all of the firm's margin metrics are above the par. However, both EMC's ROE and ROIC measures are notably below the peer averages. The company carries a significantly lower debt load as reflected by its below-average debt-to-capitalization and debt-to-EBITDA ratio. In terms of liquidity, EMC's trailing free cash flow is markedly above the group average. Due to the robust profitability and the low leverage, the firm was able to maintain a healthy interest coverage ratio. Both the company's current and quick ratios are below the par, but they remain at a healthy level on an absolute basis.

As a result, given EMC's superior growth potential, stronger balance sheet, as well as its robust performance in profitability and free cash flow generation, I believe the stock's fair value should reasonably command a large valuation premium over the peer-average level. The current stock valuations at 7.7x forward EBITDA and 13.1x forward EPS together represent an average premium of 44.2% over the peer-average trading multiples. However, EMC is only trading at 10.4x trailing FCF and its PEG ratio at 1.0x is considerably below the peer average at 1.5x, suggesting an attractive valuation level on a relative basis (see chart above).
From a historical valuation perspective, both EMC's trailing EV/EBITDA and P/E multiples are trading at their 3-year lows (see charts below). This is an appealing valuation level in my view provided that: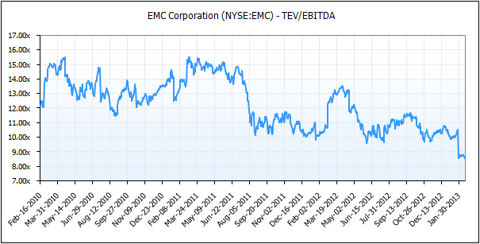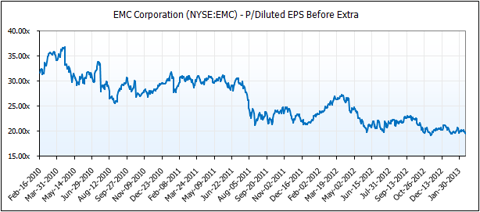 1) EMC has experienced a notable improvement in its capital return metrics over the past 3 years (see chart below);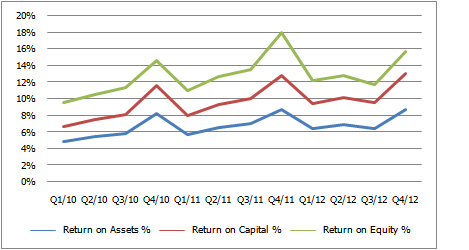 2) The company has also been able to steadily improve its profitability margins over the period (see chart below);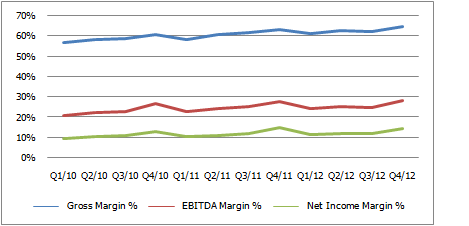 3) EMC has successfully slashed the debt load and seen its interest coverage ratio increase substantially (see chart below); and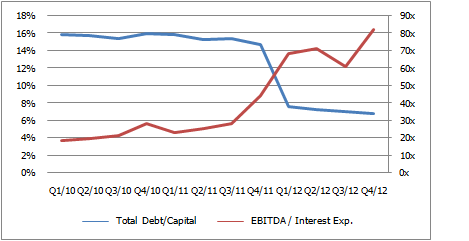 4) It appears that the valuation downtrend was primarily driven by EMC's decreasing revenue, EBITDA and EPS growth rates. However, the market's consensus estimates show a modestly recovering trajectory over the current and next years (see chart below).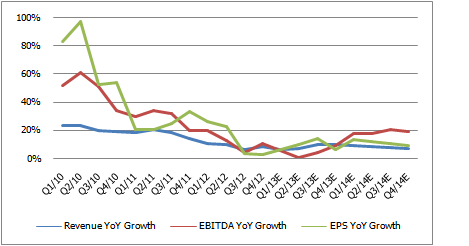 Moreover, EMC's forward P/E multiple at 13.1x is currently trading at an 8.5% discount to the same trading multiple of the S&P 500 Index, which stands at 14.3x now (see chart below). The discounted valuation implies a compelling price level based on the facts that 1) EMC's long-term earnings growth is estimated to be 13.8%, which is overwhelming above the average estimate of 8.2% for S&P 500 companies; 2) EMC offers industry-leading profitability and free cash flow margins that are substantially above the market averages; 3) the company also enjoys a significant market share in the enterprise storage field; and 4) in the past 12 months, EMC's P/E ratio traded at an average premium of 6.8% over the market level.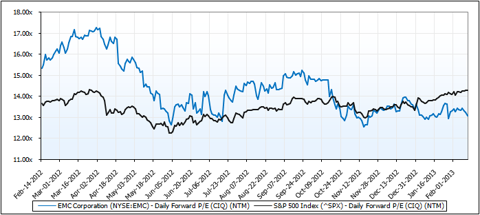 Street analysts are generally very bullish on the stock. According to Thomson One, of the total 41 stock ratings, there are 13 strong buys, 21 buys, and only 7 holds. Following EMC's strong Q4 earnings released in late January 2013, Monness Crespi & Hardt upgraded their stock rating from neutral to buy, and both Needham and FBR Capital reiterated their buy ratings. Andrew Nowinski, a research analyst at Piper Jaffray, wrote in a recent note issued on January 29, 2013 (sourced from Thomson One, Equity Research):
"EMC delivered solid Q4 results, which was consistent with the positive feedback from our Q4 VAR survey. Revenue growth was particularly strong for both high-end and mid-tier products. While VMware guidance was clearly disappointing and questions continue to linger with regard to slowing VMware license growth, we believe the health of the storage market, coupled with EMC's solid portfolio, will still enable EMC to deliver long-term earnings growth of 15-17% going forward."
Morningstar's recent commentary (Thomson One, Equity Research) on February 4, 2013, underscores EMC's solid market position in the data storage sector:
"EMC is a dominant force in enterprise storage, commanding more than 25% of the networked storage market. The firm continues to effectively defend its position as a technology leader by plowing cash into research and development and acquiring startups with good technology before they become a threat. During the past three years EMC has averaged $1.9 billion in R&D spend and an additional $2.1 billion in acquisitions, highlighting the firm's commitment to remain at the forefront of innovation. Few competitors have the financial firepower to match EMC's investment in the storage and virtualization markets."
Lastly, it appears that EMC's share price has been supported by a technical price level at $23 since 2012, which will likely provide some downside protection going forward (see chart below).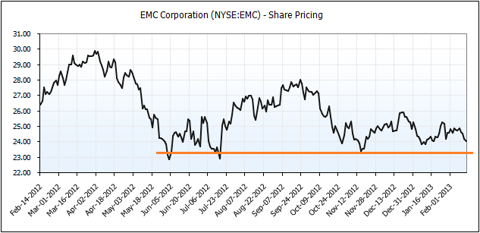 Bottom line, in the light of EMC's solid fundamentals and the stock's tempting valuation level, EMC should deserve a buy rating and worth your consideration.
All charts are created by the author and all financial data show in the article and the charts is sourced from Capital IQ unless otherwise specified.
Disclosure: I am long EMC. I wrote this article myself, and it expresses my own opinions. I am not receiving compensation for it (other than from Seeking Alpha). I have no business relationship with any company whose stock is mentioned in this article.