By Siraj Sarwar
Two Harbors Investment Corporation (NYSE:TWO) is one of the top star-players in the equity market. After collapsing to almost $5 in May of 2010, the stock made a remarkable recovery. As of the time of writing, the stock was trading for $12.65. It returned almost 50% in the last year alone. This is a very high performance for a stock that offers double-digit yields. In this article, I look at the company's business model, investment strategy, financial reports, and valuation metrics to see whether it still has upside potential.
Business Model
Two Harbors Investment Corporation primarily invests in residential mortgage-backed securities (RMBS). The company looks to provide attractive risk‐adjusted returns over the long run, mainly through dividends, and capital appreciation.
Two Harbors is a hybrid mREIT, but it mainly targets agency-backed securities. The interest and principal payments on Agency RMBS are legally guaranteed by federally chartered entities like Fannie Mae and Freddie Mac. However, the company also targets non-agency RMBS, which are not guaranteed by chartered entities.
Investment Strategy
Two Harbors has been providing attractive returns to shareholders over the years. The company's current objective is to provide stable risk-adjusted returns for the stockholders over the long term. For this purpose, the company plans to construct a well-balanced portfolio of securities. The management has to keep a targeted focus on the risks associated with RMBS, including prepayment, interest rate, mortgage spread and financing risk.
The company is also providing diversification with its business model. The company's relative value investment strategy focuses on security selection in the residential mortgage market sectors.
While the company primarily operates as an mREIT, it recently started to acquire residential real properties in certain metropolitan areas all over the United States. The mREIT plans to hold these properties for future investments and rent them out for income.
Growth and Dividend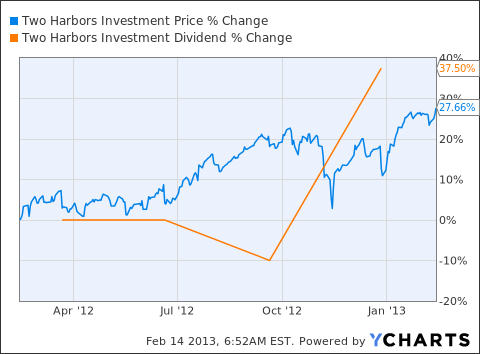 Two Harbors offers a gigantic dividend of $1.71 per share, yielding at 17.46%. Recently, the REIT has increased its quarterly dividend by 19 cents to 55 cents per share. However, the REIT's dividends are inconsistent due to the dependence on external policies such as monetary policy.
On the other hand, Two Harbors stock gained 27.66% over the past year. Combining the dividend with the stock price appreciation, investors realized a total annual return of approximately 45%. This is a massive return in a low interest environment. The REIT has an impressive net spread rate of 2.9% that supports dividends and price appreciation. Not many mREITs can achieve such high spread rates. This indicates that the REIT's successful investment strategy is presently working. Let's dig deeper into the company financials to get more facts about it.
Financial Situation
At the end of 2012, the REIT generated $1.05 billion in total comprehensive income. The company has derived nearly 16% of its overall return from its non-agency strategy, with the remaining return from the agency portfolio. Additionally, over the year, the REIT has grown its business three-fold. Amazingly, it stretched its market capitalization from $1.3 billion to $3.7 billion. The REIT attained an extraordinary market capitalization by portfolio appreciation and the completion of three capital raises.
As another indication of its investment strategy, the REIT announced an agreement to contribute to Silver Bay Realty Trust (NYSE:SBY) against 17.8 million shares of the trust. This will enable Silver Bay to acquire a portfolio of 3,100 single family residential properties. Investors of both companies admired the merger strategy. The shares of Silver Bay Realty Trust have appreciated by 10% since the IPO. TWO has gained about 14%.
TWO Harbors ended fiscal 2012 with a book value appreciation of 47% compared to a year ago. Most recently, since after the fourth quarter dividend, the REIT's book value increased by 11.54%. At the end of Q4, the company had a net interest spread of 2.9%. With the additional recent rise in mortgage rates, I expect the spread rates' rise to continue. Furthermore, TWO has maintained the lowest CPRs at the end of 2012. At the end of Q4, RMBS CPR moved to 6.6% from 5.9% in Q4 of 2011. The non-agency CPR moved to 3.2% from 2.4% in Q4 2011.
Other Fundamental Measures
The below table lists key metrics for Two Harbors Investment.
| | |
| --- | --- |
| | TWO |
| Price/Earnings TTM | 16.4 |
| Price/Book | 1.1 |
| Price/Sales TTM | 7.6 |
| Rev Growth (3 Yr Avg) | 242.8 |
| EPS Growth (3 Yr Avg) | 152.6 |
| Operating Margin % TTM | 82.8 |
| Net Margin % TTM | 46.1 |
| ROE TTM | 6.6 |
Morningstar.com
Even after providing such great returns, Two Harbors is trading at attractive multiples. It has an attractive P/E ratio of 16, which is well below the industry average of 35.2. In addition, Two Harbors' P/S and P/B ratios are low at 7.6 and 1.1. Over the years, Two Harbors has displayed a revenue growth of 242.8%. Above all, the REIT's three-year EPS growth stands at 152.6%. The metrics above suggest that the stock's performance in the market is strongly backed by the company's financials.
Summary
Two Harbors performed better than most of its industry peers. The mREIT has displayed solid growth prospects, along with massive returns. It currently has one of the best spread rates in the industry. Two Harbors has returned significant profits to shareholders since its IPO. In 2012 alone, Two Harbors returned nearly 45% to shareholders in the form of dividends and price appreciation. While the leverage ratio of 3.66 is a bit high for hybrid mREITs, Two Harbors still looks cheap. The stock's low Beta makes it a good candidate for a diversified, equity-oriented, dividend portfolio.
Disclosure: I have no positions in any stocks mentioned, and no plans to initiate any positions within the next 72 hours.
Business relationship disclosure: EfsInvestment is a team of analysts. This article was written by Siraj Sarwar, one of our equity researchers. We did not receive compensation for this article (other than from Seeking Alpha), and we have no business relationship with any company whose stock is mentioned in this article.