It appears that troubled mortgage REIT Chimera Investment Corp. (NYSE:CIM) is nearing the point when it must come clean with investors. After months of delays and extensions, the NYSE has given Chimera a final deadline to produce its 2011 end-of-year financial reports or be de-listed from the Exchange.
Chimera Investments has issued a press release stating that the NYSE has given a final extension until March 15 to file the company's 2011 annual report and SEC Form 10-K.
Background
Chimera first announced the 2011 annual report would be delayed on March 1, 2012, including the sentence: "The Company expects to file its 2011 Form 10-K as soon as practicable." In mid-March, the company announced a change of auditor and in August, Chimera acknowledged that GAAP financial statements back to 2008 needed to be restated.
In September 2012, a 4-month extension from the NYSE gave Chimera until mid-January 2013 to publish the 2011 10-K, and the extensions has been extended twice, including the current claimed to be final extension.
Through the year of not making any financial reports, Chimera continued to pay quarterly dividends and issue press releases stating "The restatement is not expected to affect the Company's previously reported GAAP or economic book values, actual cash flows, dividends and taxable income for any previous period."
In January, Chimera noted that a portion of the dividends the company had committed to paying for the last two quarters of 2012 and the first two quarters of 2013 could include return of capital to investors.
Conclusions
A company that fails to make the required financial statements for a full year does not provide much in the way of information from which to draw any conclusions about the investment potential of the stock. From my point of view, the unprecedented in my memory delay in publishing an annual report plus the continued payment of a high, but suspect dividend points to a company that has more problems than it has admitted to to-date.
Another consideration is that the failure to publish final 2011 results means that investors know absolutely nothing about what has happened with the company for all of 2012. That is not entirely true. Each quarter, Chimera has given a book value figure with no way for investors to verify the number. The published book value has increased from $2.97 in March 2012 to $3.31 at the end of the year.
If Chimera does meet the final March deadline -- I give it a 50/50 chance -- then the company will still owe investors a full year's worth of financial reports. How long will it take for Chimera to produce the additional missing reports -- another year? It seems like a very risky bet to hold shares of a company that has set itself up to be well behind on its required financial reports for a significant additional period of time. It is pretty obvious the market does not agree with my pessimism, since CIM's share price has climbed to over $3.00 from $2.50 six months ago. We should get some real answers in less than a month.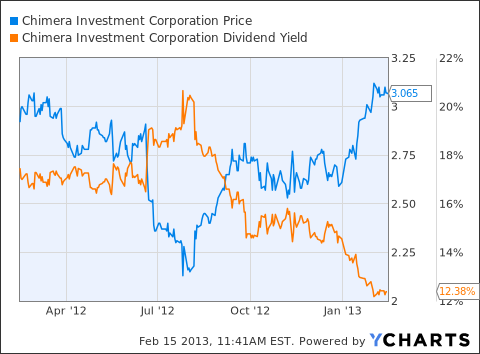 Disclosure: I have no positions in any stocks mentioned, and no plans to initiate any positions within the next 72 hours. I wrote this article myself, and it expresses my own opinions. I am not receiving compensation for it (other than from Seeking Alpha). I have no business relationship with any company whose stock is mentioned in this article.