There is no doubt that BlackBerry (NASDAQ:BBRY) is a polarizing stock. It is quite evident in the varying articles we see daily either for or against this company's chances of success and the emotional "comments" we see in the comment sections.
For those seeking some information as to why one should consider a long play, I have detailed below some points that I feel lend themselves to giving BlackBerry some consideration.
Competition
The once mighty Apple (NASDAQ:AAPL) has made some major miscues as of late. Yesterday CNN Money reported on a major security flaw with iPhones running iOS 6. This should have anyone worried about personal or corporate data worried. BlackBerry has built a reputation around security and it is failures like this (although not widely reported in the major media) that will draw consumers to the BB10 platform.
Apple has also now been accused by carriers of a software flaw in iOS 6 that is clogging up networks. It has been so bad that Microsoft (NASDAQ:MSFT) has recommended that users having problems with Microsoft Exchange Servers "Block or Throttle iOS users on the network"
Consumer Opinion
At the end of the day it is the end users, the consumers who will decide the fate of BlackBerry. Feedback has been positive and a recent article by The Gadget Masters' consolidated consumer polls from major carriers in Canada and the U.K. titled "BlackBerry Z10 is Crushing iPhone 5, Galaxy SIII and Note II in Customer Satisfaction" goes on to review carrier data on Customer Satisfaction. It is very clear here that consumers like what they see in the BlackBerry Z10.
It should also be noted that a recent poll by YouGov Brand Index shows that interest in the BlackBerry BB10 platform has skyrocketed in the U.S. A recent poll by Canada's Globe and Mail suggests that up to 2.6 million BB10 phones could be sold in Canada alone.
Catalysts
This stock is volatile and not for the weak of heart. However, there are many catalysts that I believe can drive it much higher. There are over 122 million shares short which at any time can trigger a short squeeze like the recent one played out with Netflix (NASDAQ:NFLX). The CEO Thorsten Heins has alluded several times to licensing deals for the BB10 OS, most recently stating that licensing the BB10 to low end handset makers could happen in as little as 6 months time.
Goldman Sachs has also advised that analysts estimates are low for the next 3 quarters and that any upgrades in earnings expectations by analysts covering the stock could trigger some upward movement. In a note to clients analyst Simona Jankowski advised clients to "Ignore the chatter and buy".
Recent Trading
The stock has been experiencing a great deal of fluctuation, moving in one direction or another on even the smallest tidbit of news.
Below is a 3 month chart that shows quite well the wild ride this stock has taken.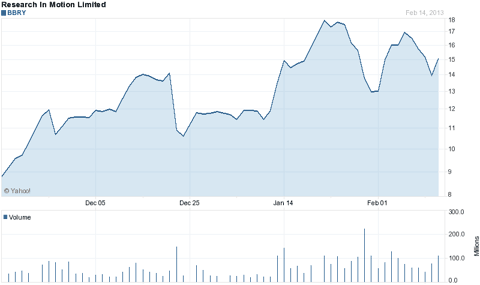 Click to enlarge
(Click to enlarge)
Yesterday alone we saw a 10% swing in PPS with over 112 million shares trading hands, well above the average of 62 million. It is obvious that this stock trades wildly on emotion but taking a step back to look at long-term prospects with an eye on consumer sentiment is key.
In summary, it is obvious that the time for BlackBerry to deliver is here and now. The next quarterly report will give investors some big indications as to whether or not BlackBerry can survive. Do your research and invest accordingly. Take some advice from Goldman and "Ignore the chatter".
Disclosure: I am long BBRY. I wrote this article myself, and it expresses my own opinions. I am not receiving compensation for it (other than from Seeking Alpha). I have no business relationship with any company whose stock is mentioned in this article.