Anyone who watches CNBC or follows hedge fund managers knows that Carl Icahn and Bill Ackman flat out do not like each other. Three weeks ago on Jan. 25, these two titans went head to head on CNBC's "Fast Money," where the insults and swear words were thrown back and forth, everything short of calling each other crooks. For those who haven't seen the video, it is very long but extremely entertaining. Of course, in the spotlight of all this controversy is Herbalife (NYSE:HLF). HLF is a stock that has seen some absolutely insane wild swings of late. Just take a look at the six-month chart of HLF:
Click to enlarge images.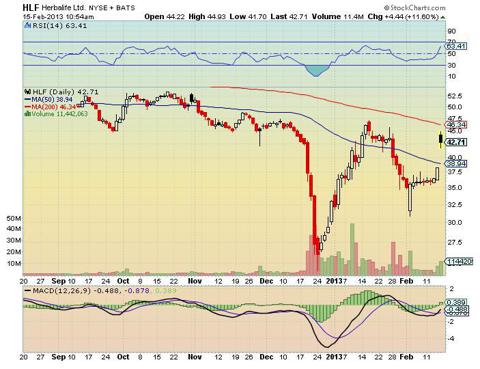 HLF is a company that has been under enormous selling pressure ever since Pershing Square Capital Management, run by Ackman, announced a huge short position back in December. Ackman went as far to call HLF a pyramid scheme and has called for investigations into the company's financials. This caused the stock to roll over at the $45.00 mark, trading all the way down to $24.24 before rebounding again. This has caused option activity to be hot and heavy across all strikes and months, as bears and bulls battle it out -- this is nothing short of a trader's dream.
Fundamentally, the P/E, P/S, and PEG ratios all make this company look incredibly cheap. With revenue growth topping 17.81% and EPS growth numbers of 24.34% on a trailing 12 months basis, HLF appears to be an incredibly solid winner. Growth rates and cash on the balance sheet continue to make growth investors champ at the bit to get into this stock. All of this is very impressive for any company to reach high double-digit revenue and earnings growth. This is, of course, assuming Ackman's theory about HLF being a pyramid scheme is not correct, as he makes some pretty legitimate points in terms of accounting.
So the real question is: How does any investor get into a stock that has such wild pops and drops without having an iron stomach? The answer is simple -- you stay away. These battleground stocks can move in very big ways in either direction, which can kill an investor and his or her portfolio. Those who follow me on Seeking Alpha or Twitter know I dedicate all my investing to volatility plays and how to capitalize on them. HLF is the perfect example of how to utilize this to your advantage. The HLF skew currently is pricing a very steep front-month skew, but back month and leaps are pretty much flat.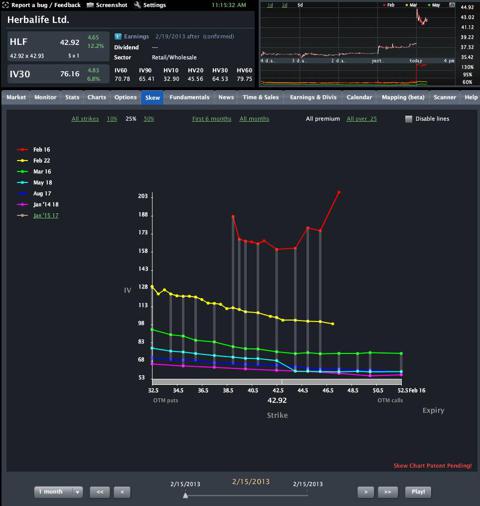 Source: Statistics and screenshot provided by LiveVol.
This is a great opportunity to structure a trade to capitalize on a collapse or buyout/private offer moving the stock. If you are really gutsy, you can pick a direction and use a call or put spread -- and if you're right, large gains are to be had. I'm a little different as the one thing I'm fairly sure of is that HLF will be nowhere near $45.00 by January of next year. The $45.00 straddle can currently be purchased for $20.00 and change. The problem with outright buying this is that it would require HLF to be above $65 or below $25 to get any type of profits. Buying this outright is not the way to play it, in my opinion. Instead, look to play it by buying the cheaper volatility LEAP straddle and sell weekly strangles around it to reduce the cost over the next 10 months. Although this would take some timing and planning on your part, selling the high-volatility weekly can help reduce this cost greatly and reduce the effects of time decay.
It appears that with today's movement in HLF, the bears and bulls will more than likely continue to battle this thing to death. Personally, I would not step in front of this trade and instead try to make money whether the stock goes up or down. This investment would take patience and adjustment throughout the year, but it would allow you to make money regardless of whether Ackman or Icahn is correct.
Disclosure: I am long AGNC, AVGO, BA, CBB, CONE, F, INTC, KERX, KOS, MOS, MTGE, NRG, PCLN (straddle), TUMI, VHC, VOD, and I am short DDD, DNDN puts, EDU, LULU, PCLN (strangle), SPY. I wrote this article myself, and it expresses my own opinions. I am not receiving compensation for it (other than from Seeking Alpha). I have no business relationship with any company whose stock is mentioned in this article.
Disclaimer: The opinions in this document are for informational and educational purposes only and should not be construed as a recommendation to buy or sell the stocks mentioned or to solicit transactions or clients. Past performance of the companies discussed may not continue and the companies may not achieve the earnings growth as predicted. The information in this document is believed to be accurate, but under no circumstances should a person act upon the information contained within. I do not recommend that anyone act upon any investment information without first consulting an investment professional as to the suitability of such investments for his or her specific situation.