Using historical analysis often shows seasonal patterns that can be used to understand the market. The following article will examine if there are any significant historical trends to pay attention to in the automotive industry. This information is key to traders and investors while understanding how these trends can play a part in the fundamental landscape of stocks. At the end of the article, we will try to gather the information into some tradable plays.
For our investigation, we looked at the average gain, the maximum gain vs. maximum loss, and the percentage of times the different stocks increased during the January to March time frame for the past 10 years. The tickers analyzed were taken from the Automotive/Recreational Vehicle stocks covered by Equity Analytics. The companies are Arctic Cat Inc. (NASDAQ:ACAT), Drew Industries Inc. (DW), Ford Motor Co. (NYSE:F), Harley-Davidson, Inc. (NYSE:HOG), Harley-Davidson, Inc. (NYSE:HMC), Polaris Industries, Inc. (NYSE:PII), Tata Motors Ltd. (NYSE:TTM), Thor Industries Inc. (NYSE:THO), Toyota Motor Corporation (NYSE:TM) and Winnebago Industries Inc. (NYSE:WGO).
Note: Below you can find the average gains for the past 10 years provided the company/ETF has been around for those 10 years. Also General Motors Company (NYSE:GM) was omitted since the stock does not have enough price history yet.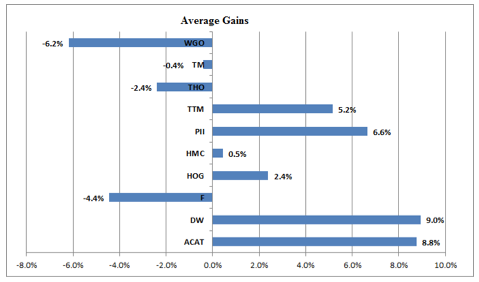 From the chart above we can see that from the close of January to March expiration period the returns have been quite scattered in terms of average returns for the stocks listed. Only six of the 10 equities listed above have posted positive average gains during this period. While F and WGO have struggled special attention should be applied to DW and ACAT with noticeable avg returns of 9.0%/8.8%.
Below are the maximum gains vs. maximum losses to help us know a bit better how to trade this information.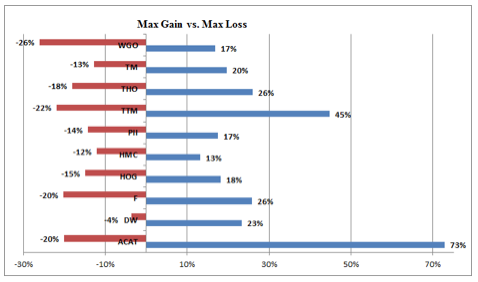 From this chart we can see that the maximum gain and maximum losses for the majority of these companies are fairly similar. Again we see ACAT and DW standing out as outperformers. DW has a very low worst return vs. best return implying that the risk reward of being long the stock is good during this January to March time frame. In terms of volatility TTM seems more volatile over the years than HMC.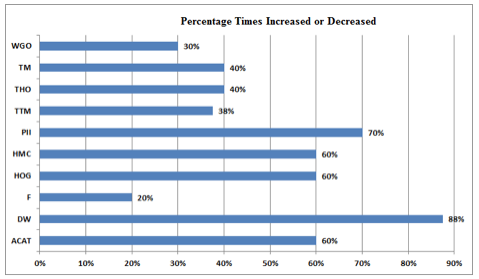 From this final chart we can see that once again DW is still an out-performer in the January-March time frame. Technically DW remains in a great upward channel to going long the stock. Again we see that F remains an underperformer as the stock has only posted positive returns for 2 of the past 10 years during this time frame. F has seen its EPS grow at only 3.76% for the past 5 years with sales decreasing -3.17%. While F is expected to see a large earnings rise in the future, the stock did just rally in a parabolic way from December to January. The stock may need to take a breather until March, which it has thus far, thus Dollar & Sense remains bearish F in the very short term. ACAT looked attractive in the first two charts, but then failed to catch my attention in this last chart. Currently the stock is trending sideways. However, fundamentally ACAT is trading at a nice value since the current P/E is only 12.97 while the 5-year EPS growth rate is predicted at 15.00%. I would trade the stock neutral to the upside, thus going long while shorting another stock may be a good option.
Remember, the data above must of course be combined with all the chart values presented so as not to cloud our judgment. By simultaneously looking at all three charts and analyzing overall bullish bearish sentiment I suggest the following trades.
Equity Pairs Trade - Long DW: Short F
Charts and fundamental data come from Finviz.com and Tradingeconomics.com
News from flyonthewall.com
Disclosure: I have no positions in any stocks mentioned, and no plans to initiate any positions within the next 72 hours.
Business relationship disclosure: The Oxen Group is a team of analysts. This article was written by David Ristau, one of our writers. We did not receive compensation for this article (other than from Seeking Alpha), and we have no business relationship with any company whose stock is mentioned in this article.