WellPoint (WLP) announced on 2/12/2013 that it has hired Joseph Swedish as the new CEO, who will start in March 2013. The stock price dropped by about 4.5% the next day. I believe the market has oversold on this decision, as many analysts and investors interpreted it as a negative signal for WellPoint. On the contrary, if there is any material impact, I think it is more likely to be positive for reasons related to business strategy and leadership dynamics. My fair value estimate is unchanged from what was given in my article published on 1/20/2013.
Focus On Cost Reduction Through Vertical Integration
In my opinion, WellPoint's decision reveals its strategic focus on cost reduction and vertical integration of healthcare deliveries. Joseph Swedish is a long-time veteran hospital executive, and most recently, served as CEO of Trinity Health Corporation, a multi-state Catholic hospital system, since December 2004. According to WellPoint, he grew Trinity's revenue from $6 billion in 2005 to $9 billion in 2012, doubled its operating margin, and engineered two acquisitions that would make the new entity the fifth largest healthcare provider in the U.S. It is clear that WellPoint hired a CEO from its suppliers to cut costs. Jackie Ward, the chair of the board, said in the official press release that "his [Joseph's] experience will be invaluable to WellPoint as we continue to find innovative ways to collaborate with providers in an effort to improve quality outcomes and reduce the cost of care."
However, with Swedish at the helm, WellPoint may seek to reduce costs by measures beyond hard-line negotiations. This article referred to the same survey my previous article mentioned, where WellPoint scored poorly in terms of popularity among hospitals. I would speculate that WellPoint plans to negotiate payments with hospitals by leveraging Swedish's relationships in the industry and insider knowledge about healthcare deliveries. WellPoint will also consider acquisition of healthcare systems if it turns out that buying hospital chains is preferable to negotiating contracts with them. This article published in August 2012 by a fellow Seeking Alpha contributor is particularly insightful. It pointed out that vertical integration has happened, and will expedite as healthcare insurance companies find ways to control costs. Jaime A. Estupiñán from Booz & Company and Tim Nelson from Nuveen share a similar view here. In short, this strategic move makes perfect sense to me, and Swedish appears to be the best man for the job, given his experience with hospital acquisitions.
Watch Leadership Dynamics Closely
Many analysts criticized the board's choice because Joe has virtually no experience in running MCOs, compared to some experienced candidates, such as James Calson, who was the Chairman and CEO of Amerigroup (AGP), and Ronald Williams, the retired Chairman and CEO of Aetna (NYSE:AET).
I admit that Swedish stands out as the most inexperienced of these. However, Swedish being CEO could be appropriate for leadership dynamics. Under the CEO, there are four Executive Vice Presidents heading up major business units, including Ken Goulet of commercial and individual business, Richard Zoretic of Medicaid, Leeba Lessin of Medicare, and Lori Beer of specialty businesses. Goulet's team is responsible for 26 million WellPoint customers, and Zoretic's for 4.5 million beneficiaries of Medicaid programs. Swedish may need to rely heavily upon Goulet and Zoretic to execute growth strategies for these two largest business units of WellPoint, while he himself would primarily focus on overall cost reduction and up-stream integrations. John Cannon, the interim President and CEO, may also have a strong say in decision-making, as he has demonstrated a decisive and action-oriented leadership style. His leadership has been favored by the market, as the stock appreciated by 9% since 8/28/2012, the day when the previous CEO, Angela Braly, stepped down. In short, I tend to believe that WellPoint's board already had a strategic plan in mind regarding the company's future, and they hired Swedish to execute on it.
Looking ahead, WellPoint will most likely be managed in a style of collective leadership for reasons discussed above. There is no major shake-up in sight, as reported in this article. I recommend that investors watch closely the dynamics between Goulet and Swedish. According to Forbes, Goulet began to lead the commercial business in 2007, and assumed responsibility of the consumer/individual business in February 2012. As shown in the below charts taken from the 2011 10-K and Q4 2012 earnings release, the commercial business revenue has declined for three years since 2010 while Goulet's responsibility expanded. I would not go so far as to call for Goulet to be replaced, but the commercial business really needs to show some hope this year for investors to remain confident in him. Goulet's team is also tasked with preparing for upcoming state exchanges and coping with prohibition on coverage. These are two responsibilities critical to WellPoint's future. Any signs of a strained relationship between Goulet and Swedish, and any change to Goulet's responsibilities would be material. In other words, what is going to happen to Goulet's job is the stock-moving question, not the hiring of the new CEO.
Chart 1. Excerpt from WellPoint's 10-K Filing for 2011

Chart 2. Excerpt from WellPoint's Press Release for Q4 2012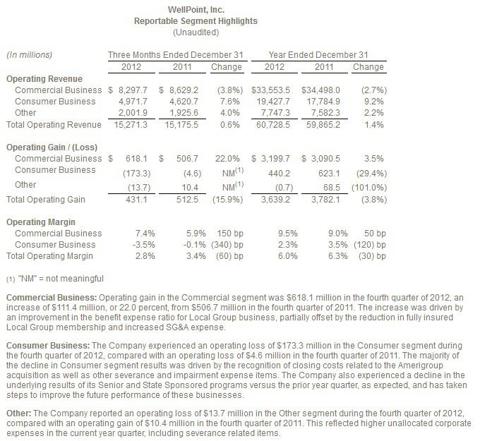 Valuations Unchanged
I keep my estimate of WLP's fair value unchanged at $73.49. Its Q4 2012 and full-year earnings are in line with expectations. Its annual report usually is not released until late February. However, Table 1 reveals that key operating metrics in 2013 projected by my model under the base case scenario are generally in line with management's projection. My 2013 EPS estimate is about the same as the mean of analysts' estimates, according to Morningstar.com. The stock is trading around $63 a share on 2/15/2013, and remains a strong buy to me.
Table 1. Model Metrics vs. Management Projections in 2013
| | | |
| --- | --- | --- |
| Item | Model - Base Case | Management Projection |
| EPS | $8.21 | At least $7.6 per share |
| Operating revenue | $70.13 billion | $71.5 to $73 billion |
| Benefit expense ratio/MLR | 85.75% | 86%, plus or minus 0.50% |
| SG&A expense ratio | 13.34% | 13.5%, plus or minus 0.50% |
| CFO | $3.045 billion | At least $2.6 billion |
Disclosure: I have no positions in any stocks mentioned, and no plans to initiate any positions within the next 72 hours. I wrote this article myself, and it expresses my own opinions. I am not receiving compensation for it. I have no business relationship with any company whose stock is mentioned in this article.