Japan 1 : USA 0
The news of further monetary easing by the Bank of of Japan was greeted by markets with a shrug. The FOMC, for its part, stated that it would also continue quantitative easing. How many ways can one say "currency war?"
Not to worry, markets seem to be ignoring this jousting between the two central banks. Some investors may have thought that they were hallucinating when the BOJ stated that they would target an inflation rate at 2%. Where is Irving Fisher when we need him?
In fact, markets seem to be thinking that the dollar is overvalued, if one believes the three month ahead yen dollar rate given by the three month interest differential.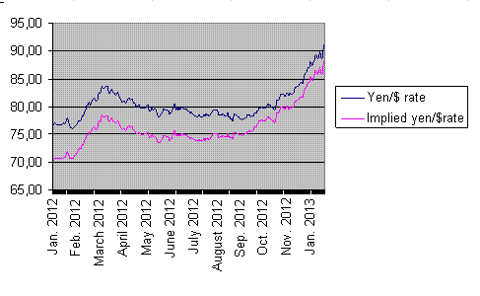 Source: research.stlouisfed.com
With some exceptions, the monetary base has been expanding since 2010.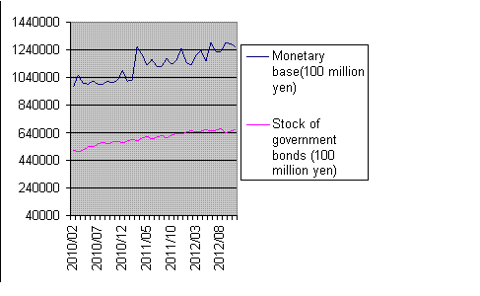 Source: boj.com
But compared to the quantitative easing of the Fed ($80 billion of bonds per month), the BOJ has decided to play it safe, deciding to concentrate on buybacks of 2 year JGB's and Treasury discount bills. The following table shows that the BOJ has quite a bit of wiggle room if they decide to continue easing (maybe even to keep the yen low, despite market anticipations to the contrary).
| | | | | |
| --- | --- | --- | --- | --- |
| 100 million yen | Total debt outstanding | Japanese government securities held in Japan | 2 year JGB's held by BOJ | 5 year JGB's held by BOJ |
| | 9996125 | 1697398 | 180333 | 193400 |
| % of total debt outstanding | 100% | 17% | 1.8% | 1.9% |
FFurthermore, if the Fisherian theory of the debt deflation crisis is to be believed, the Japanese have little to worry about. One key element of that theory is that deflationary situations lead to a contraction of deposits in a deflationary spiral. Look at the following graph of the growth in the deposit base in Japan over the last two years.
The Japanese deposit base has been increasing, with little perspective of a Fisherian deflation on the horizon. If it is to be believed that the BOJ is committed to maintaining a 2% inflation rate, and has the means and will to do so, then it is clear that the level of the yen is no longer their concern. If so, competitive depreciations are in the offing, and the markets seem to be discounting this already, in anticipating a weaker yen three months and six months ahead.
Disclosure: I have no positions in any stocks mentioned, and no plans to initiate any positions within the next 72 hours. I wrote this article myself, and it expresses my own opinions. I am not receiving compensation for it (other than from Seeking Alpha). I have no business relationship with any company whose stock is mentioned in this article.