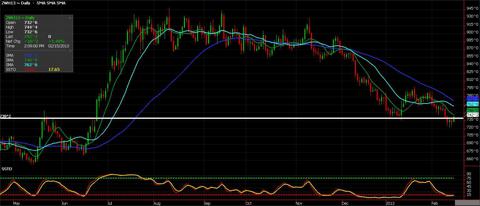 I'm calling an interim low in wheat, and as prices get further above the pivot point drawn on the chart above, the friendlier I would become. I have advised clients in the last week or so to scale into bullish trade. I expect to see prices north of the highs we experienced in mid-January -- approximately 7% from current levels. That is only my first target, and I would not rule out a challenge of contract highs to come. I like the idea of gaining long exposure in futures and selling out of the money calls 1:1, or ratio spreads in either May or July. Clients that want to stay with the trade could even be positioned out in December contracts, in my opinion. It is appealing that even going out until the end of the year, futures are only carrying a 4% premium to the front month.
Metals and energies generally catch the headlines, and though I have several trading ideas and a strong opinion on those sectors, Ag currently merits your attention. In fact, all commodity traders need to pay attention to this sector, as with the growing population globally, and with the increasing popularity of protein in our diets and a finite supply of arable land, I think the overall trend is up for decades to come. That does not mean there will not be opportunities to play the short side, as no market, not even wheat, will move up in a straight line.
Risk Disclaimer: The opinions contained herein are for general information only and not tailored to any specific investor's needs or investment goals. Any opinions expressed in this article are as of the date indicated. Trading futures, options, and Forex involves substantial risk of loss and is not suitable for all investors. Past performance is not necessarily indicative of future results.
Disclosure: I have no positions in any stocks mentioned, and no plans to initiate any positions within the next 72 hours. I wrote this article myself, and it expresses my own opinions. I am not receiving compensation for it. I have no business relationship with any company whose stock is mentioned in this article.