Abstract: It may be difficult to pin a precise value to Dell's shares at a moment when so much is in flux, but StarMine data suggest that at $13.65 a share, Michael Dell and his private equity partners may be getting a bargain.
What is the fair value of Dell's (NASDAQ:DELL) shares? For that matter, how can we establish a "fair value" for the shares of any PC maker in the midst of the hype surrounding what some pundits have dubbed the death of the personal computer - or, for that matter, the kind of real change that the popularity of tablets has sparked? Clearly, the growth projections for companies like Dell whose business models still depend largely on personal computers may well be permanently altered, with the extent of that impact depending on the company's ability to re-imagine its business and also on how much of the PC market's demise may be being exaggerated at present. Still, for many of the large global players in the PC market, life, as they knew it a decade ago has altered irrevocably.
DELL
The answer as it pertains to Dell may well end up at the heart of at least one class action lawsuit filed by investors. Several of them, including investment manager Richard Pzena, have been outspoken in declaring the technology company is worth far more than the $13.65 a share that its founder, Michael Dell, is offering along with Silver Lake Partners. That proposed buyout - which would also have the financial backing of Microsoft (NASDAQ:MSFT) - would take place at a price that is about 25% higher than where Dell's shares traded before the first rumors of the LBO began to leak out in mid-January. That market price was not only a 52-week low for the company's stock but also close to being a five-year low. Indeed, when Dell briefly traded below $10 a share in late 2012, it was the only time that it had done so since the height of the market selloff following the financial market crisis.
Is that all that Dell is worth? Pzena doesn't think so: he has publicly declared he believes the stock would be fairly valued at about $25 a share; Southeastern Asset Management puts its fair value at $24 a share. To better evaluate the charges that Michael Dell is taking advantage of a temporary selloff in Dell's shares to capture the full value of any turnaround for himself and his backers, we decided to delve more deeply into the question of Dell's fair market value.
Certainly, Dell today may be facing stiffer headwinds than at any other point in its 25-year history. Tablets like Apple's iPad are taking over from personal computers as the device of choice for most individuals, and data from Gartner, which tracks technology data and trends, suggests that Dell may now be in third place among PC manufacturers, with sales falling 21% on an annual basis. Some kind of secular shift is taking place, and it is taking a toll on the company's margins: operating margins for the trailing four-quarter period fell to 6.2% in the fiscal third quarter, ended October 2012, from 8% in the same period of 2011. Investors' wariness about Dell's prospects has driven the stock price down to the point where it is trading at only 8 times both its trailing and its prospective earnings. That is true even after its recent appreciation to nearly $14 per share, and it is a stark contrast when set against a 15-year median price/earnings ratio of 20.
Should shareholders welcome the $13.65 a share buyout offer? StarMine analytics suggest that there is a big mismatch between that price and the company's growth prospects.
Dell scores an impressive 92 out of a possible 100 on the StarMine Intrinsic Valuation model, a model devised to account for systematic biases in sell-side earnings estimates and in particular the fact that higher growth rates tend to generate a greater degree of optimism bias (and vice versa). A high score on this model tends to indicate that a stock is undervalued relative to all other stocks within a specific region. Dell's score puts it in the top decile of all publicly traded North American companies in terms of value.
The problem for investors - and the opportunity for Michael Dell and Silver Lake - is that the market price has not reflected that value. After adjusting for analyst biases, StarMine calculates that the company's SmartGrowth rate (its forward estimated 10-year compound annual growth rate, calculated in terms of earnings per share) to be 3.2%. At first glance, that is anything but impressive, especially given that Dell's trailing five-year growth rate is a much healthier 10.6%. StarMine calculates that Dell's intrinsic value today is $25.18 a share - little more than half of the value that Dell offers its current investors, even at today's depressed growth levels.
Maybe one reason the market thinks a forecast of 3.2% over the next ten years is still unreasonably high is the fact that analysts currently forecast that Dell's earnings will fall from $2.13 a share in its fiscal year ended January 31, 2012 to $1.71 in the current fiscal year that ended on January 2013. The company is expected report its results for the just-ended fiscal year probably on February 19. If it does report earnings at that level, it will mean that profits have fallen 19.7% in the first year of that ten-year period. That's only the second time in the last decade that earnings have shrunk.
That is what Dell's current market-implied growth suggests: that PC growth will turn into a contraction at an average annual rate of 3.7% in each of the next ten years.
Across the board, the metrics certainly suggest that Michael Dell and Silver Lake will be getting a real bargain if they succeed in their $13.65 a share buyout offer. On each of five metrics - price/earnings, price/cash flow, price/book, enterprise value/sales and enterprise value/EBITDA - Dell has been trading at least 51% and as much as 79% below its median over the last 15 years, and at least 79% and as much as 97% below its highs in the last 15 years. To justify such a depressed valuation, one would have to make a convincing case that Dell's business is more likely to collapse than it is to recover. Of course these values don't reflect Dell's move to switch direction.
Another factor to consider in evaluating whether the current bid represents "fair value" is, could the company afford it? With over $14 billion of cash on its balance sheet, or $8.14 per diluted share and $9 billion in short and long term debt, its cash flow generation continues to be as impressive as it was when many investors cited that as a reason for owning Dell shares in the company's shares during the company's heyday.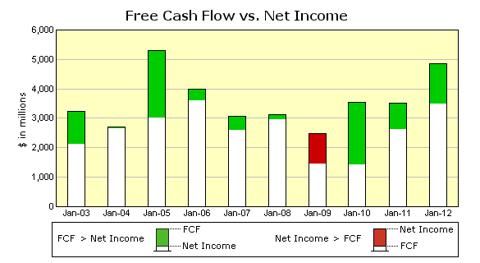 The chart above compares free cash flow to net income and shows, in green, the amount by which free cash flow exceeded reported net income. During the fiscal year that ended in January 2012, Dell threw off $4.9 billion in free cash flow, roughly $1 billion higher than it generated in net income. Compared to this level of free cash flow, its existing net interest expense of $281 million over the past 12 months seems miniscule. Moreover, Dell remains one of the rare companies that enjoy a negative cash conversion cycle. In other words, working capital isn't an investment the company must make but is instead a source of cash flow. (This ratio measures average days of inventory plus days of sales in accounts receivable minus days of accounts payables.) In Dell's case, its cash cycle is around minus 17 days. When the ratio is negative, this signals that the company is collecting cash from its customers at a faster pace than it must pay out its own cash to suppliers. This kind of ratio is a positive measure of balance sheet liquidity.
THE GLOBAL PC OUTLOOK
According to projections from Morgan Stanley (via Statistica), global sales of personal computers totaled 133 million units in 2012 and should grow to about 215 million units in 2013, and 285 million in 2014. Looking ahead to 2015, Morgan Stanley's forecast is for PC sales to total a whopping 350 million, 163% above 2012 levels. True, the growth rate for the U.S. market is lower (only 90%) and the forecasts are subject to revisions, but these are far from shabby forecasts. Moreover, StarMine data supports this trend, with analysts' forecasts suggesting that those PC manufacturers with the greatest penetration of those markets outside North America and likely to show the greatest growth will see the highest rates of growth. In its fiscal year ended January 2012, Dell for the first time announced that it earned a greater share of its revenues from outside the United States, albeit only slightly (with $30.3 billion coming from domestic sales and $31.67 billion from overseas). That trend has been taking shape for the last five years (the figures were $32 billion versus $25 million in fiscal 2007) - clearly, while US revenues have shrunk in that period, non-U.S. revenues have been climbing.
Considering the potential Dell EPS growth of 3.2% (above, given the soon-to-be public full year results), the forecast growth as computed by the StarMine SmartEstimate forecasts for Dell's earnings per share over the next 24 now stands at 3.4%. That is lower than those of competitors Sony Corp (6758-JP) at 5.1%, Toshiba Corp (6502-JP) at 10%, Apple Inc. (NASDAQ:AAPL) at 11.6%, and Lenovo Group Ltd (992-HK), at 18.9%. (Lenovo purchased IBM's PC business in 2005.) It seems that the tailwinds of earnings growth in the PC business lie mainly in the international markets.
The advent of the iPad and tablet PC has inflicted a wound on the traditional PC business, but to assume that Dell's rivals in the PC market will see a commensurate growth decline may prove incorrect. Although Microsoft's EPS growth forecast has fallen slightly to 8.9% in the next 24 months, it's below the average 11.3% of the S&P 500. Microsoft's longer term forward five-year EPS growth estimate of 6.5% indicates a slowing rate of growth - still respectable but not yet showing a decline.
The challenge for companies like Dell and Microsoft will be to develop new client solutions, to have their own "Apple moments" that will reignite and reinvigorate growth. Clearly, investors will want to keep an eye on the long-term earnings growth forecasts for these beleaguered PC-related companies in search of evidence that they are succeeding in this strategy.
Disclosure: I have no positions in any stocks mentioned, and no plans to initiate any positions within the next 72 hours. I wrote this article myself, and it expresses my own opinions. I am not receiving compensation for it. I have no business relationship with any company whose stock is mentioned in this article.