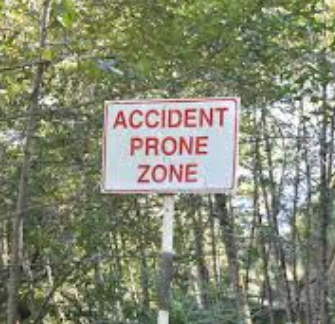 We've been worrying about the daily ultra-light volume market melt-up, since it made markets more accident-prone. Friday's mini-Black Swan event was a Wal-Mart (NYSE:WMT) executive email leaked to Bloomberg lamenting the worst February sales in the past seven years, adding: "In case you haven't seen a sales report these days, February [month-to-date] sales are a total disaster," said Jerry Murray, a Wal-Mart vice president, in an email to executives obtained by Bloomberg." This set off an avalanche of selling just as traders were heading to the exits for the long weekend.
Given all the cheery spin with Friday's Consumer Sentiment (76.3 vs. 75 expected and prior 73.8) and Empire State Mfg Data (10.04 vs. -1.75 expected and prior -7.8), you'd hardly think consumers would be troubled. This is one reason why the U of Michigan Consumer Sentiment data is the least reliable in my view, because it values stock prices too highly vs. the Conference Board's more reliable and balanced view.
You must wonder, is this just a Wal-Mart problem? Or, as is possibly the case, it's a common view within the retail sector?
I'm rather suspicious of this leak noting that Thursday, WMT's shares fell nearly 1%. This email, leaked in the late afternoon Friday seems fishy, perhaps indicating some front-running the news on options expiration day. Imagine how many stops and options were suddenly "exercised" by this. WMT has responded to the story cryptically, but did primarily blame slower sales on the higher payroll tax and delayed tax refunds. We also noted McDonalds (NYSE:MCD) had cited higher payroll taxes as a reason sales had slowed last week. Yep, taxes matter.
Below is the anatomy of a mini-crash occasioned by WMT, Bloomberg, and perhaps some wise guys with options exploitation on their minds.
First is a daily chart, also annotated by DeMark sequential set-up counts, which weren't particularly revealing.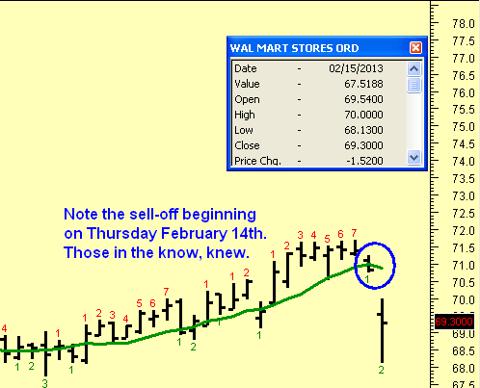 Below is a 15 minute chart, which shows the reaction to the approximate 2:15 PM Bloomberg story. There were plenty of $70 and below option strike prices exercised, no doubt.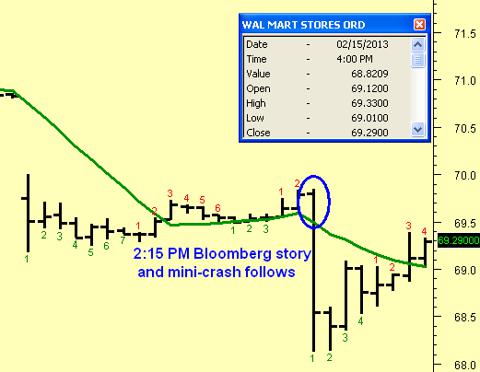 Below is the weekly chart with similar annotations.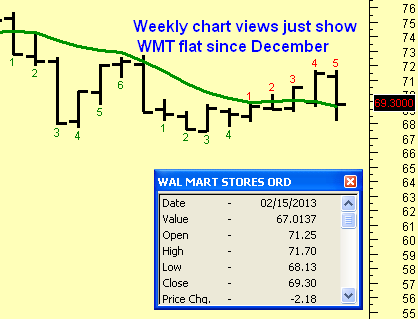 We've been long the two sectors mentioned for some time, and gave back some profits on Friday.
The dollar (NYSEARCA:UUP) was slightly stronger with positive economic data, except for weaker Industrial Production. Gold (NYSEARCA:GLD) plummeted on better Consumer Sentiment, Empire State Mfg data, a stronger dollar and news that hedge funds led by George Soros and Luis Bacon had sold completely or greatly reduced gold holdings in the third quarter of 2012. In general, 2013 has not been kind to risk assets like precious metals. This is all part of the great rotation theme some have been promoting, which includes selling precious metals and bonds in favor of equities. Bonds (NYSEARCA:TLT) were slightly weaker. Commodities (NYSEARCA:DBC) were weaker, especially occasioned by precious metals, energy and agriculture.
Despite WMT, stocks ended unchanged, no doubt propped by options related activities.
Volume was much higher, given options expiration and the mini-WMT crash. Breadth per the WSJ was mostly negative.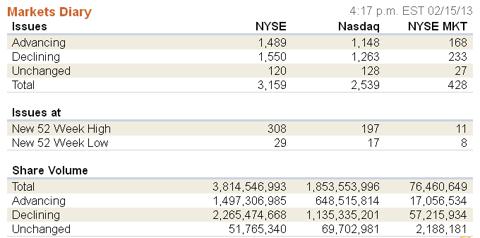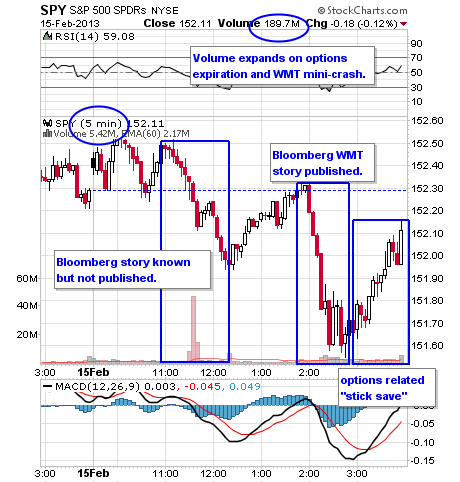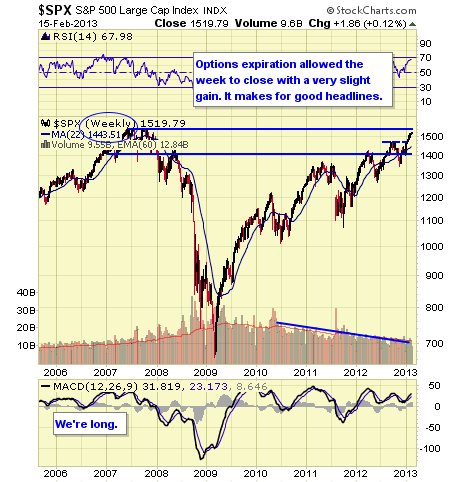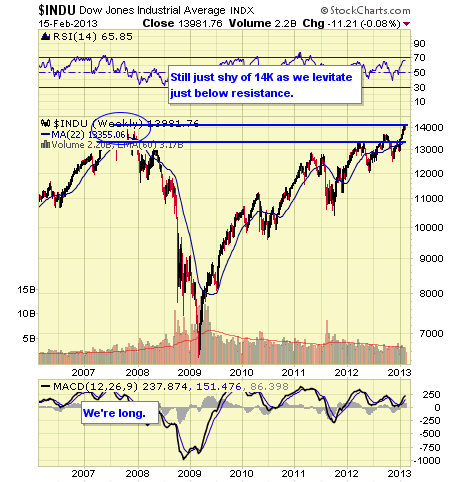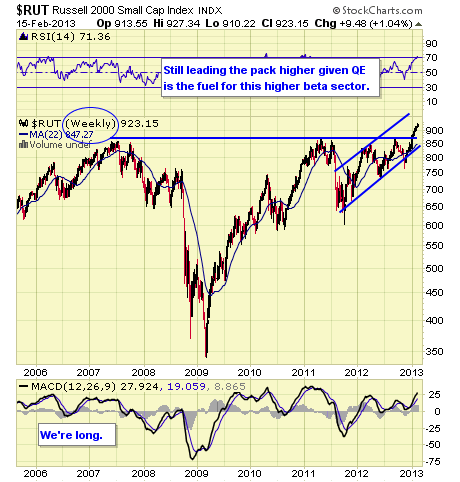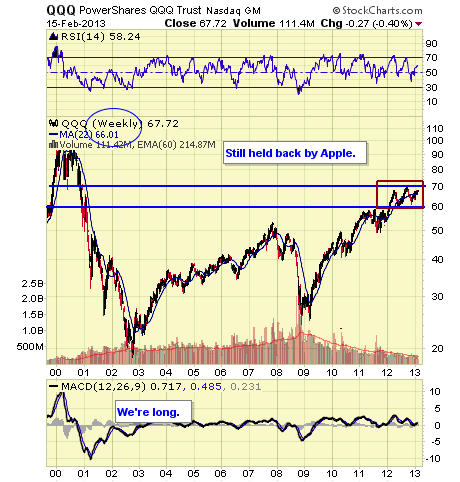 Continue to U.S. Sector, Stocks & Bond ETFs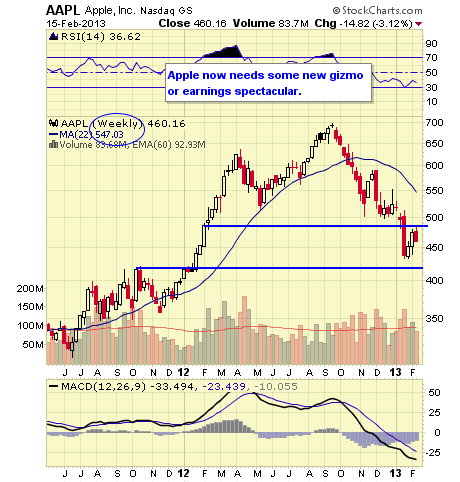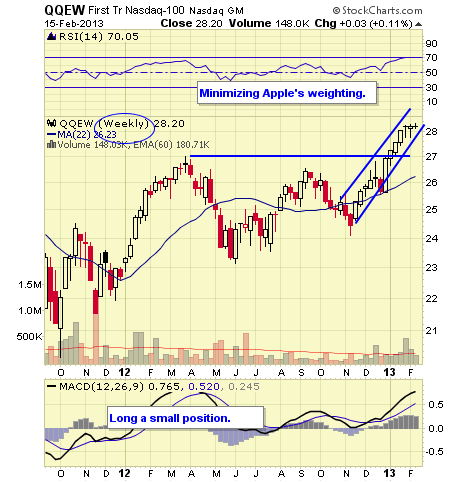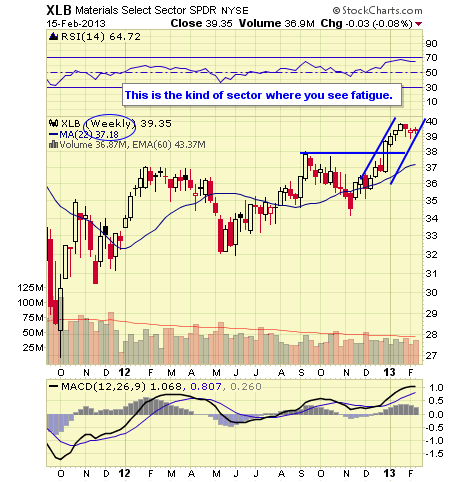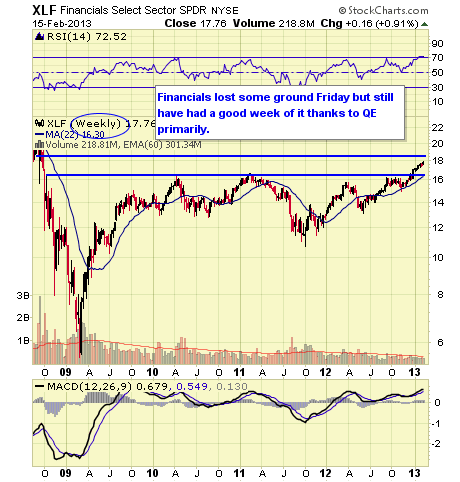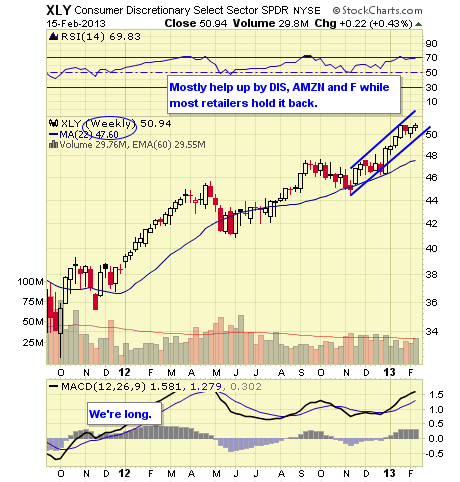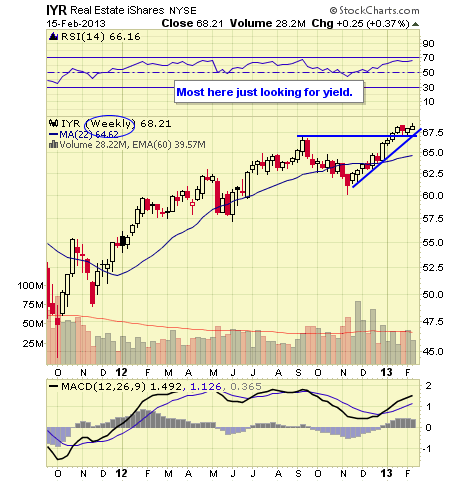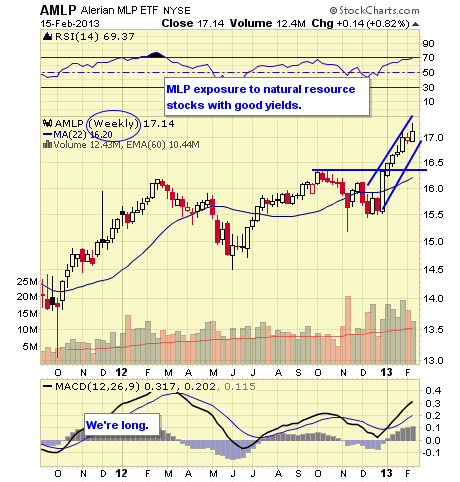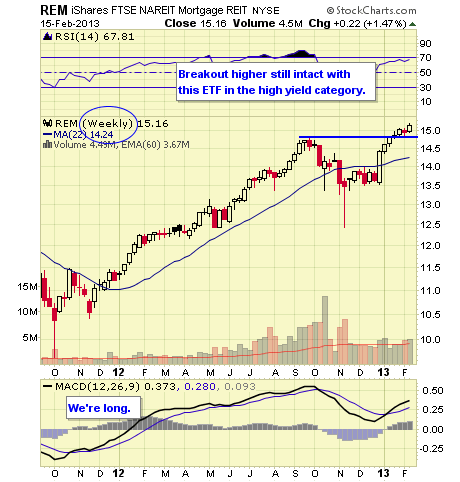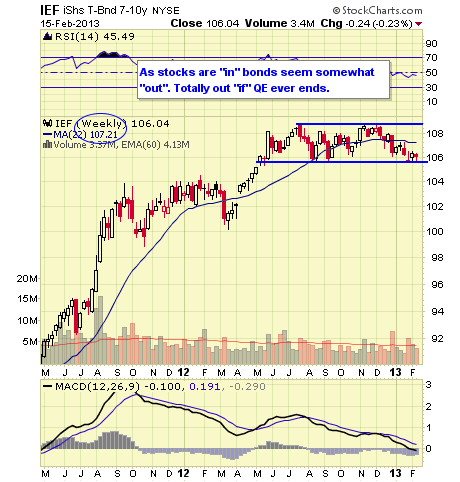 Continue to Currency & Commodity Market ETFs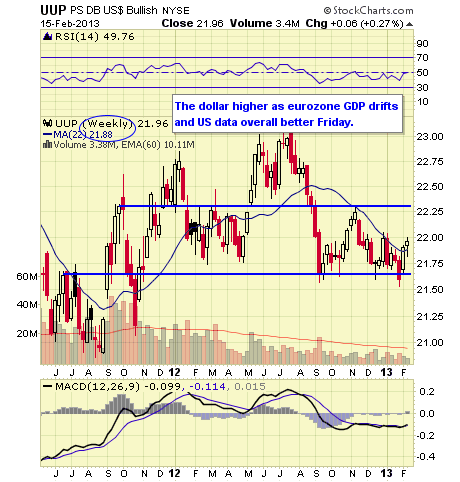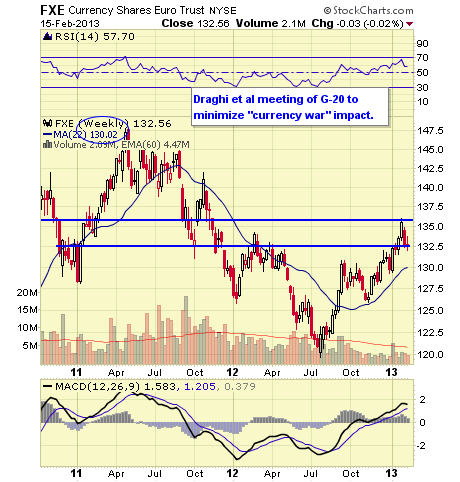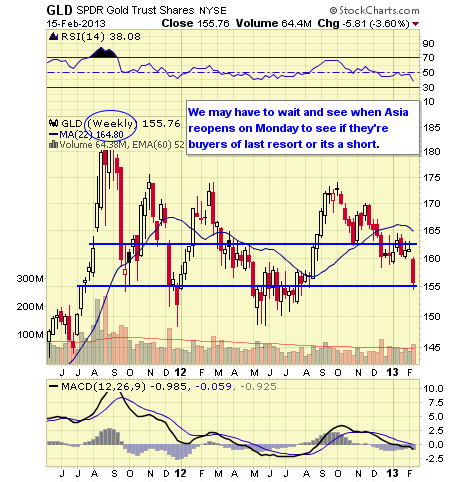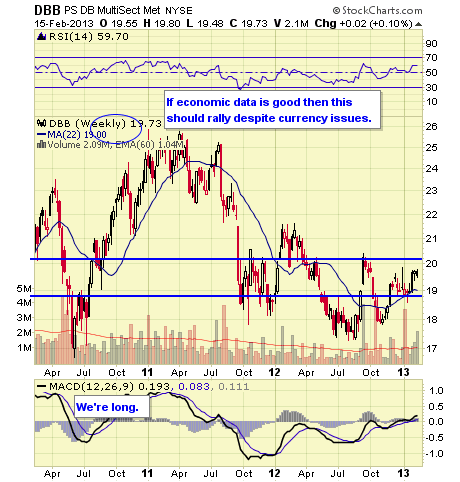 Continue to Overseas Sectors & ETFs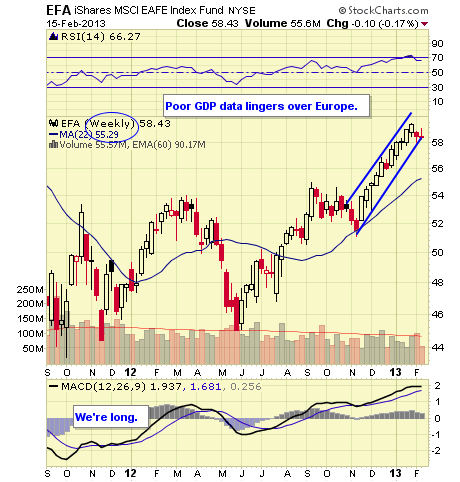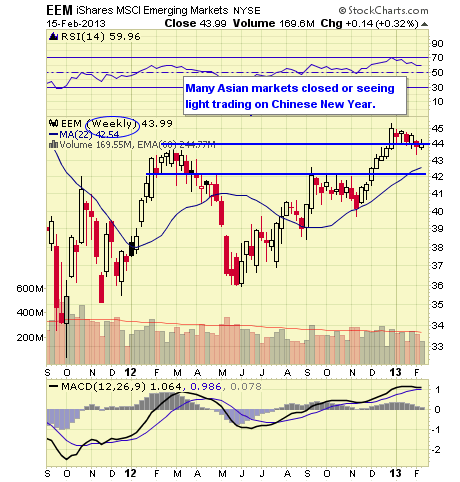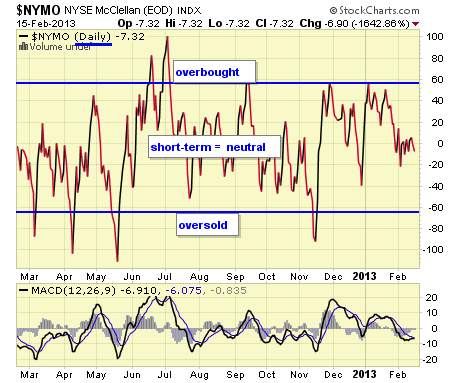 The NYMO is a market breadth indicator that is based on the difference between the number of advancing and declining issues on the NYSE. When readings are +60/-60, markets are extended short term.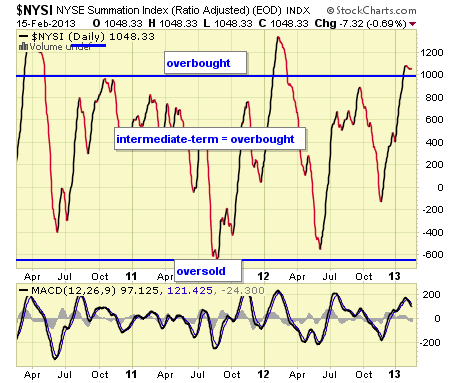 The McClellan Summation Index is a long-term version of the McClellan Oscillator. It is a market breadth indicator, and interpretation is similar to that of the McClellan Oscillator, except that it is more suited to major trends. I believe readings of +1000/-1000 reveal markets as much extended.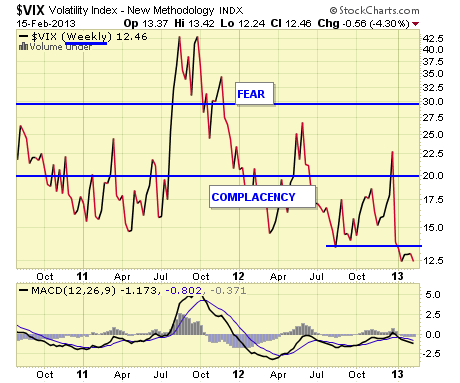 The VIX is a widely used measure of market risk, and is often referred to as the "investor fear gauge." Our own interpretation is highlighted in the chart above. The VIX measures the level of put option activity over a 30-day period. Greater buying of put options (protection) causes the index to rise.
Concluding Remarks
The WMT mini-crash was fishy and too well-orchestrated for an options trading session a day before a 3-day weekend. That said, the major market sectors, for the most part, healed before the close. Much of this action may have just been option expiration related, but we won't be able to judge really until Tuesday.
Disclaimer: The ETF Digest maintains an active ETF trading portfolio and a wide selection of ETFs away from portfolios in an independent listing. Current "trading" positions in active portfolios, if any, are embedded within charts: Lazy & Hedged Lazy Portfolios maintain the follow positions: VT, MGV, BND, BSV, VGT, VWO, VNO, IAU, DJCI, DJP, VMBS, VIG, ILF, EWA, IEV, EWC, EWJ, EWG, & EWU.
The charts and comments are only the author's view of market activity and aren't recommendations to buy or sell any security. Market sectors and related ETFs are selected based on his opinion as to their importance in providing the viewer a comprehensive summary of market conditions for the featured period. Chart annotations aren't predictive of any future market action rather, they only demonstrate the author's opinion as to a range of possibilities going forward.
Disclosure: I have no positions in any stocks mentioned, and no plans to initiate any positions within the next 72 hours. I wrote this article myself, and it expresses my own opinions. I am not receiving compensation for it. I have no business relationship with any company whose stock is mentioned in this article.