On December 20, 2012, Bill Ackman of Pershing Square Capital Management L.P. gave a powerful 342-slide presentation about his investment thesis about Herbalife (NYSE:HLF), explaining why this company is an illegal pyramid scheme and it's worth in his opinion $0 (you can access the full webcast here).
I learned about this presentation from the buzz that was generated in the financial media, and after I watched the 3-hour webcast, I can assure you that Mr. Ackman and his team really know what they're talking about. However, not everyone agrees with their view. Many investors like Mr. Icahn, Mr. Loeb and other rushed into the stock and took the other side of Ackman's trade.
There is a key fact about Herbalife that I haven't seen mentioned in any article or any analysis about Mr. Ackman's thesis and which tips the scale to Mr. Ackman's favor. Most, if not all the people that are evaluating Pershing Square's presentation, including Mr. Icahn and Mr. Loeb, seem to believe that the only way for Ackman's bet to pay off is for the FTC to prosecute and shut down Herbalife.
However, this belief is really misplaced, because Mr. Ackman pointed out in his presentation one major flaw in Herbalife's structure that may lead to the same result, albeit within a longer time frame. Herbalife's flaw is essentially its "pop and drop" expansion model.
The "pop" happens when Herbalife enters a new market and it has exponential growth in sales and contributor recruitment. The "drop" phase comes quickly enough when all the available distributors have been recruited and sales drop significantly.
(click to enlarge)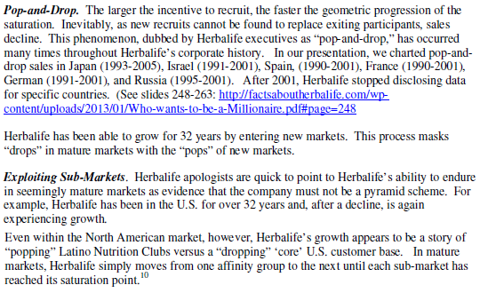 (Source: The executive summary of Mr. Ackman's thesis)
To further support his argument Mr. Ackman provided a description by Herbalife's CFO:
(click to enlarge)

(Source: Ackman's Ira Sohn Conference presentation)
And many examples, like the chart below, illustrate how this "pop and drop" effect really works. The reason that there are missing data is that Herbalife is inconsistent with its disclosures, and when something unwanted happens (like further decreasing sales) they tend to stop disclosing that particular market.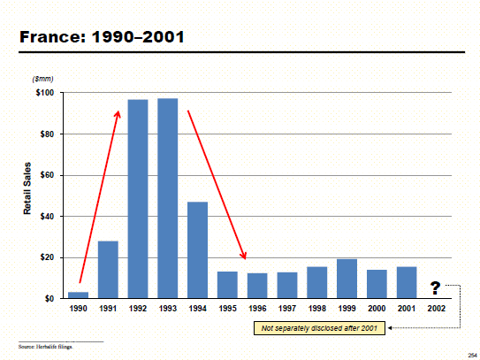 (Source: Ackman's Ira Sohn Conference presentation)
In the two following slides you can see that Herbalife is running out of countries to expand.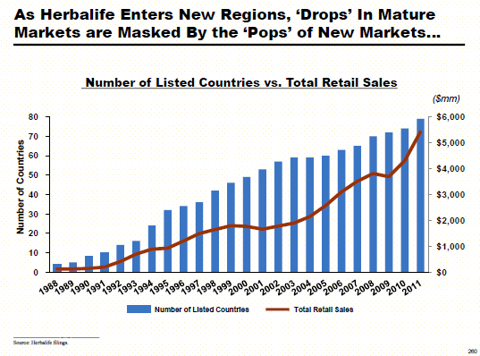 (Source: Ackman's Ira Sohn Conference presentation)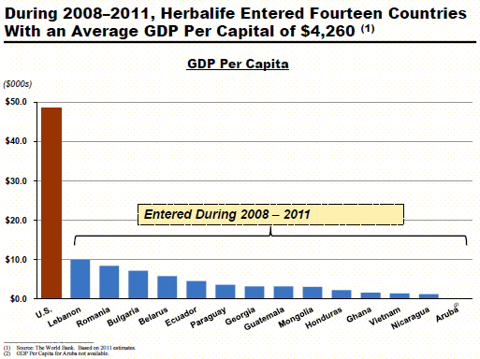 (Source: Ackman's Ira Sohn Conference presentation)
The only major risk for Mr. Ackman's position is a successful bid to take Herbalife private. However, Mr. Ackman's short position is funded with his fund's cash, not with borrowed money, and thus it is very difficult for him to get squeezed out. Moreover, Ackman is also fully covered and can easily afford to pay HLF's quarterly dividend.
In addition you should not underestimate Mr. Ackman's patience. After all it took him 7 years to close his fund's MBIA short position.
If you want to exploit this battle between these investment titans, you should do two things. First you should short Herbalife above $45-$55 which is Mr. Ackman's average cost. Second you should exploit the upside bursts that Mr. Icahn will trigger when he will start to publicly pursue his agenda for more share buybacks, higher dividend and/or a bid to take Herbalife private.
PS - There is one other possible outcome you should have in mind. There is potential for a universal win-win situation depending on their time horizon. For example, Mr. Icahn could push the stock up to $50-$55 within the next 12 months and create an opportunity for him and other Herbalife investors to sell at a good profit. In the meantime, Mr. Ackman could ride the stock to low single digits, also collecting a huge profit in the coming years ahead.
Disclosure: I have no positions in any stocks mentioned, and no plans to initiate any positions within the next 72 hours. I wrote this article myself, and it expresses my own opinions. I am not receiving compensation for it (other than from Seeking Alpha). I have no business relationship with any company whose stock is mentioned in this article.