Just as he was the face of Star Trek and the Starship Enterprise as "James T. Kirk," William Shatner has been the face of Priceline.com for over a decade now. In that time the stock has gone from being the quintessential irrationally-priced Dotcom Bubble stock nearing $1000 per share, to an under-$7 stock in January of 2001. Now it approaches $1000 again, but will this stock continue its strong bull-like performance?
The difference between the price from the Dotcom Bubble era and now is that the stock now has a business model and fundamentals to back up its stock price. As you likely know, Priceline (NASDAQ:PCLN) operates as an online travel agent, allowing its users to book hotel rooms, airline tickets, cruises, cars, etc. Its revenue growth has largely come from overseas, especially with the acquisition of Booking.com, which had major reach into the Europe market. The company actually has a lot of room to gain market share in the U.S., which is compelling too.
Most recently, Priceline agreed in November to acquire Kayak (NASDAQ:KYAK) for $1.8 billion in cash and stock. Kayak is more of an informational site allowing comparisons, like TripAdvisor (NASDAQ:TRIP) does. I can't describe what these two acquisitions mean to Priceline any better than Fusion Research did.
Revenue ... from the KAYAK acquisition is expected to be $376 million in 2013 and $475 million in 2014. Additionally Priceline's Booking.com acquisition which was done in 2005 is showing positive results generating 85% of its revenue.
One concern that I continue to have is that Europe's woes will deepen, and appear in Priceline's earnings. Priceline gets a large portion of its sales from Europe after all. I believe that other international areas with strong growth can help counter issues that occur in European sales, but it's worth listening to see what they say in their earnings report about European bookings.
Priceline competes against many companies, including Orbitz (NYSE:OWW), TravelZoo (NASDAQ:TZOO), Expedia (NASDAQ:EXPE), Ctrip.com (NASDAQ:CTRP), and TripAdvisor. I anticipate continued consolidation in the next year or two, which should further improve pricing power and margins. Orbitz looks like one candidate to be bought, although it has pretty burdensome debt. It is steadily losing out to Priceline and Expedia, and announced Friday that it will look to sell its Away Network.
Valuation
Priceline has a P/E of 26.51, which is not cheap, but it has a PEG of 1.4 which is reasonable and reflects fair current pricing compared to expected annual earnings growth of 18.93%.
The company is extremely profitable, which is what makes it my preferred travel industry stock. It has a return on assets and return on equity of 27% and 45%, respectively. Its gross margins are 76% and its operating margins are almost 36%. Those numbers exceed industry averages by a fairly wide margin, and allow increased sales to really count in the bottom line. The company also has a very reasonable long term debt-to-equity ratio of .26 meaning that it is flexible.
Analysts
Two weeks ago, Ascendiant Capital Markets initiated coverage with a "buy" and price target of $870. Overall, 11 analysts have it rated a "strong buy"; 2 a "moderate buy"; and 5 a "hold." The average price target of all analysts is $762.
For the current quarter, average EPS estimates have risen from $6.52 30 days ago to $6.54 presently. Additionally, the company has beaten earnings estimates by 6.3%, 8.4%, 6.7%, and 5% the past four quarters. This makes me confident heading into the Feb. 26th conference call. However, it doesn't mean I would buy a full-sized position prior to earnings (see The Play paragraph below).
Chart
Daily Chart
This daily chart shows the upward trending channel that the stock has been in since the Fall.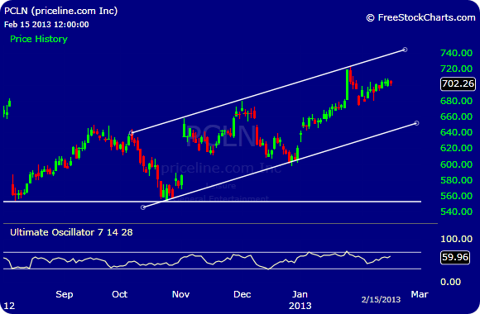 Weekly Chart
As you can see from the longer-term weekly chart below, the $550 level was a major price resistance in 2011 before turning into a support level in 2012. Again, you can see the price's double bottom off of that level. Though a lesser support/resistance level, the $675 price amounts to the nearest support. The next major resistance is the $775 price level that the stock bounced off of last Spring.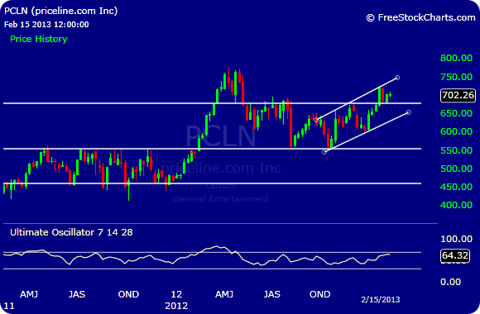 The Play
The stock announces earnings in two weeks, so I wouldn't buy before that. Yes, you risk a gap-up, but you also could miss a gap-down, and purchasing just prior to earnings has burned me in the past.
If you insist on purchasing in the next two weeks, splitting up the purchase before and after earnings would make sense. If I did that I would place a stop under the $675 support and near the bottom of the channel near the earnings date, so basically at the $660 level. That's about 6% below current levels.
Options: In the "more risk and more reward department," I'm inclined to enter a July 725/750/775 call Butterfly for $3.00 if I can. Risk is $300 per butterfly, and reward is potentially $2,200, though that would require the price be at $750 on expiration which is very unlikely. Still, I like defining my risk and entering what I consider a good probability trade of 1:6 (risk to reward).
Disclaimer: We do not know your personal financial situation, so the information contained in this article represents my opinion, and should not be construed as personalized investment advice. Past performance is no guarantee of future results. Do your own research on individual issues
Disclosure: I have no positions in any stocks mentioned, and no plans to initiate any positions within the next 72 hours. I wrote this article myself, and it expresses my own opinions. I am not receiving compensation for it (other than from Seeking Alpha). I have no business relationship with any company whose stock is mentioned in this article.