Zillow, Inc. (NASDAQ:Z) reported earnings on February 13th of 2 cents a share, down from 3 cents a year earlier but 2 cents higher than analysts had been predicting. Quarterly revenue increased 73% year-over-year to $34.3 million. Revenue for the year reached $116.9 million and the company expects revenue in 2013 to reach $165 to $170 million, an approximately a 43% increase over 2012. Traffic in the quarter increased 47% with more than 50% of those visitors coming from mobile devices. All the time I spend looking at the value of houses I drive pass and cannot afford appears to be really driving up traffic numbers. Zillow added 2,770 Premier Agent subscribers in the quarter brings total subscribers to 29,473 at year end, up 87% year-over-year. Furthermore, average monthly revenue per subscriber increased to $267 in the quarter compared to $258 a year ago. Zillow has three priorities for 2013. The first is to continue to grow the user base on mobile and desktop, the second is to grow the Premier Agent business and the third is to accelerate development of emerging marketplaces in mortgages, rentals and home improvement.
Zillow believes it can be successful with the first goal through advertising and product development. The company believes that because most traffic comes to the site for free, advertising could significantly increase traffic and brand awareness. Furthermore Zillow recently announced an agreement with HGTV to become the exclusive provider of all real estate listings for HGTV's FrontDoor. With the second priority Zillow's current run-rate in the Premier Agent business is about $90 million which the company estimates is less than 2% of total spending on advertising by agents each year. Finally Zillow recently launched Zillow Digs, a home improvement marketplace that uses a unique algorithm to estimate local renovation costs.

Click to enlarge
Zillow's closest competitor, Trulia, Inc. (TRLA) also reported earnings on the 13th, losing 3 cents per share on $20.6 million in revenue, a 76% increase year-over-year. Trulia also announced positive guidance for the first quarter of 2013. It now expects Q1 revenue of $20.8 to $21.2 million versus analyst estimates for $19.3 million. Both of these companies are high growth stocks focused on driving revenue growth rather than profitability at this point. Both companies have forward P/E ratios around 50 and Zillow has a PEG ratio of 2.94 versus 1.64 for Trulia. Zillow's advantages come with its larger size. Revenue over that past year at Zillow is almost double that of Trulia. Furthermore Zillow has a lower P/S ratio, 12.09 versus 14.07 and a lower EV/Revenue ratio, 10.43 versus 12.52.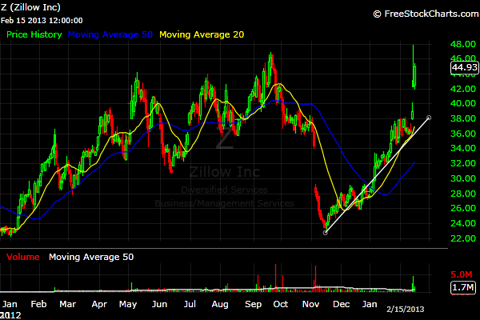 Click to enlarge
Zillow's chart shows how over extended the stock has become after the large move higher before and after earnings. There is a strong uptrend that has been in place since early November and you see that the earnings bounce has put the stock well above that trendline. Before considering a speculative investment in Zillow I would look for it to pull back to this trendline and the 20 DMA. If the stock holds around the $37.50 level it could be the start of another leg higher, possibility moving the stock above significant resistance in the $44 to $46 range.
Disclosure: I have no positions in any stocks mentioned, and no plans to initiate any positions within the next 72 hours. I wrote this article myself, and it expresses my own opinions. I am not receiving compensation for it (other than from Seeking Alpha). I have no business relationship with any company whose stock is mentioned in this article.