Zumiez, Inc. (NASDAQ:ZUMZ) is an alternative teen retailer that focuses on the extreme sports lifestyle. Store Managers are allowed to control the mix of products sold at the stores which can range from snowboards and skateboards to hooded sweatshirts and sneakers. Our analysis of Zumiez included a trip to the Wrentham Village Premium Outlets in Massachusetts to see the store, meet the team and discuss the recent Blue Tomato acquisition.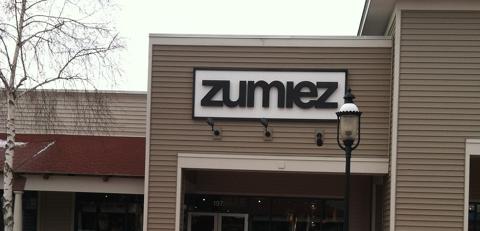 After traveling to the local mall and visiting the outlet stores in Wrentham, MA, Zumiez definitely stands out. The experience is a little unsettling for someone older than the target audience (12-24 year olds) but fits right in with the extreme sports culture it caters to.
My wife and I were greeted by a sales associate that was more than friendly and willing to help (I would have asked me if I was lost) and this salesman did his best to mention what's available, what's new in the store and where my wife and I might find some good deals. I played the role of customer and walked around the back to see the snow products and skateboards. There were sneakers along one wall and watches and accessories in cases in the middle of the store, it felt cramped to me but hey, I'm an old guy. I asked the gentlemen with multiple face piercings behind the counter if there was any Blue Tomato product. The manager had no idea what Blue Tomato was or that Zumiez had purchased the entire company a few months prior.
Before we left, a red zippered windbreaker caught my wife's eye, not your typical Zumiez shopper I remind you. The salesman saw her trying it on outside the door and told us all hooded items were 'buy 1 get 1'. That can't be good for margins, but it was good enough for my wife.
Overall, the experience showed that Zumiez hasn't integrated its Blue Tomato purchase and has yet to properly inform its managers that the brand (and more importantly the website) is critical to the international success of the company.
Strengths
Zumiez knows its target market and how to reach it. The inside of the stores are tailored to their clientele and look nothing like any of the stores in the surrounding shopping area.
EPS for the past 5 years has grown at a 10.5% clip and is expected to grow at an even faster rate for the next 5 years. The company has no debt and has over $3 per share in cash.
Technically, there are some promising intermediate term developments. The weekly chart shows price in recovery after a significant pull back. The 10-week Moving Average seems to be a solid level of support and momentum indicators are neutral enough to support any continued gradual appreciation. All else held equal, a rise (with concern at the $25 level, mentioned below) to the $26-27 level is not impossible.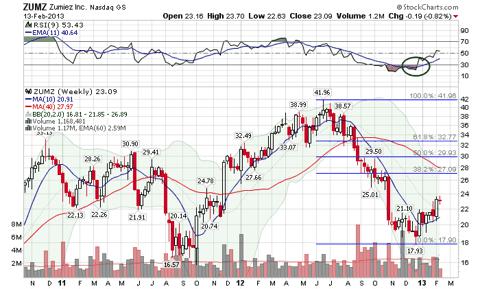 Weaknesses & Worst Case Scenario
I believe management moved too quickly to purchase Blue Tomato. While their long term vision may make sense, I feel rushing into buying the online sales portal with minimum retail locations shows a lack of patience. If Zumiez were to pursue the same exact purchase today they most certainly would have paid less for the company. A write-down of Blue Tomato is likely in the cards. If ZUMZ were to write-off about half the purchase in 2014 it would be a hit of $1 per share to earnings. This would bring 2014 earnings to an estimated $0.59 per share. Even if you assume better days ahead and attach an industry multiple of 18.6 forward earnings to the $0.59, you arrive at $11 per share, our worst case scenario price target.
There are also some short term technical headwinds ZUMZ may have to overcome. Positively, price has traded well into the downside gap formed back at the beginning of November and similar to the weekly chart, the shorter term moving average has been serving as support. Negatively, the top of the gap (approximately $25) is expected to serve as a sturdy resistance level and with the RSI dangerously close to overbought territory, a pause or retracement should be seen if this level is reached. As the short and long term moving averages are converging, price action at this eventual crossroads should help reveal the longer term trajectory of the company's stock price.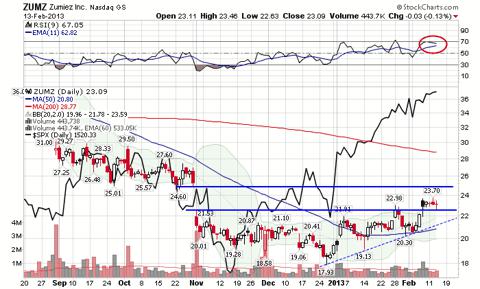 Opportunities & Best Case Scenario
The Blue Tomato acquisition does enable the company to grow in Europe. This might not help numbers much in the coming year but could eventually be a positive. Currently, analysts are expecting 5 percent EPS growth in 2014, which is a very low bar to hurdle for a company still in a growth stage. ZUMZ currently trades at a 14 multiple, lower than the industry average, so clearly the market sees subpar growth for 2014 and has adjusted ZUMZ share price lower. If ZUMZ can surprise to the upside in 2014 then an industry multiple seems likely. Keeping analysts' estimates at $1.59 and attaching an 18.5 multiple brings shares to $29.50 per share for our best case scenario.
Threats
Teens are fickle and today's trend can be tomorrow's "that's so lame". Zumiez is doing a great job of bringing multiple brands to its stores with the right mix of accessories, sneakers and clothing. The company has had a great run and it wouldn't be surprising for it to continue, but this fickleness presents plenty of opportunities for missteps in product mix and trends. How successfully will they continue to adapt?
Summary
Given the current market price of $22.88 per share, we believe the greater than 50 percent downside and limited upside makes entering a position at current levels unattractive. The question marks surrounding the Blue Tomato acquisition and indeterminate technical environment lead us to believe waiting for earnings on March 8th to enter a position is prudent.
Disclosure: I have no positions in any stocks mentioned, and no plans to initiate any positions within the next 72 hours. I wrote this article myself, and it expresses my own opinions. I am not receiving compensation for it (other than from Seeking Alpha). I have no business relationship with any company whose stock is mentioned in this article.