Actionable Items:
Highest Positive Spread: Kayne Anderson Midstream Energy
Focus Stock: Lazard World Dividend & Income
Last Week's Focus Stock: Cohen & Steers Total Return Realty Fund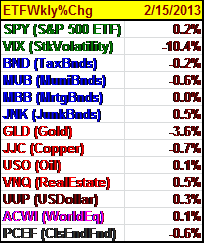 Sequestration: While "sequestration" may take a while (a month or two), the $1.1 trillion dollars over the next ten years is "waiting in the wings". The $85 billion of cuts this year for March 1st will be overwhelming for the economy. The public debt will be 87% of the GDP in 2023, compared to 75% now. A severally weakened dollar will certainly be the case-if other currencies don't weaken.
Move from Front Page: Even if with the "bill" to move sequestration's from the "front page", the $110 billion over the next ten years to cut farm subsidies, raising the tax on millionaires and cutting taxes on defense spending (by $27.5 million) will not be supported by Republicans.
Defense Spending: Defense will account for 9.0% of the across the board reductions. All other programs and commitments will be reduced by 15% because military personnel will be exempt from the cuts. With 800,000 civilian employees to be cut from 5 days to 4 days (wages included), hollowing out of the military and huge budget cuts for programs will be devastating to the economy.
Defense Spending: The 2009 U.S. military budget accounts for approximately 40% of global arms spending. The 2012 budget is 6-7 times larger than the $106 billion of the military budget of China, and is more than the next twenty largest military spenders combined.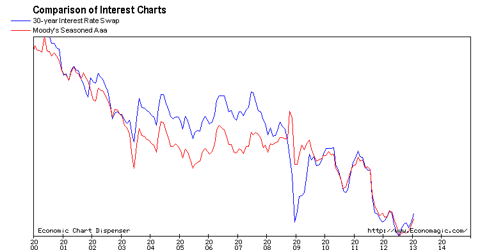 Yes, defense spending needs to be rationalized. However, Medicare and Medicaid need to be stalled. Revenues from this program have expanded to three times their outlay. The Obamacare budget will exacerbate the decision.
Interest Rates: The 13 years drop in interest rates may be coming to an irreversible ending, if rates are forced down by the Fed. Interest rate sensitive stocks are moving sides-ways.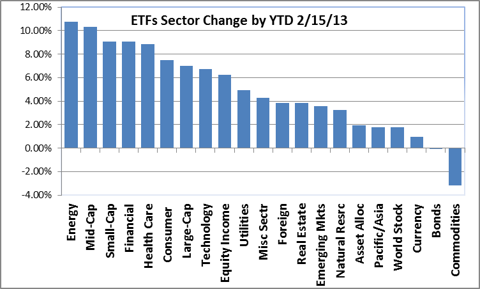 The ETFs: The ETF sectors are arranged in order on 2/15/13.
CEF Weekly Fund Type Performance: SingleStMuniFnds, InvGrdBndFnds and NatlMuniBndFnds all plunged in the aftermarket this week (2/15/13), -1.3%, to -1.4% and -1.8%, respectively. LoanPartFnds and PrefStkFnds rose about 0.4% and 0.1%. All funds, without ConvtSecFnds and WrldEqFnds, lost their NAV.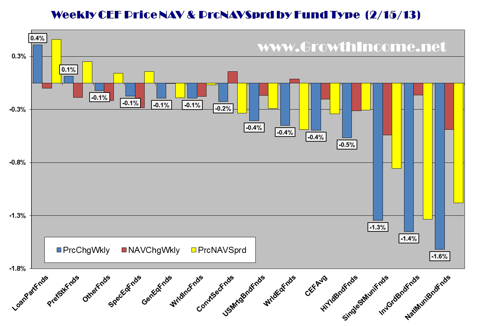 Highest Focus Stock for the Week: Kayne Anderson Midstream Energy (NYSE:KMF) was ahead by a price increase of +4.9% and NAV per share increased +1.1%. The PrcNAVSprd was +3.8% (positive number may be a decline for share price CEFs). There was significant trading in the stock starting on Tuesday. On Wednesday the volume rose to 218,150 on a 100,281 average volume for 3 weeks for a weekly total of 136,000.
KMF is a quarterly ex-dividend in April. Annual yield would be 5.1% per share. The premium is 4.3% and is hitting its 52 week average of 5.5%.
Lowest Spread and Focus Stock for the Week: Lazard World Dividend & Income (NYSE:LOR) share price declined -3.6% and it's a negative -0.3% from its NAV per share. Its PrcNAVSprd decline was -3.3%. LOR is a fund that seeks high total return of income and price through the investment of 50-90 global securities in the emerging markets. The net assets value is $116.6 million. Its net monthly yield is an annualized 6.7%. The discount is 8.7%. It has increased its monthly distributions for January and February by 17.7% at $0.0782 for the periods. Monthly periods are less than 10 days prior to the months.
Focus Stock for Last Week: The Stock for last week was Cohen & Steers Total Return Realty Fund (NYSE:RFI) which was 3.6% for the week end in 2/15/13.
Disclosure:
I am long LOR, RFI. I wrote this article myself, and it expresses my own opinions. I am not receiving compensation for it. I have no business relationship with any company whose stock is mentioned in this article.