Sprint Nextel (NYSE:S) reported its quarterly earnings on February 7th, 2013 [see call transcript]. Earnings were better than expected, and I am bullish on the company at the current market price. With an investment of $20 billion from Softbank, the company will be in direct competition with market leaders. Sprint registered net operating revenues of $9.005 billion, with a rise of 2.76% from the last quarter, beating analyst expectations of $8.92 billion.
Sprint Nextel is the third largest company providing communication services in the US. It offers both wireless and wireline products and services to an astonishing number of 56 million customers, including businesses and government organizations along with individual customers.
Industry outlook
With the passage of time, more and more customers are switching to wireless products, as a result of which companies had to formulate new strategies for their investments in wireless products and services - to facilitate the changing requirements of their existing and potential customers.
Large market caps like Verizon (NYSE:VZ) and AT&T (NYSE:T) are defensive stocks with high dividend yield. With the Sprint Softbank deal and T-mobile planning to double its business in the US, the industry is becoming more and more competitive and the competition is further heating up because the telecom business has been linked with overall economic conditions.
Financial Performance
As mentioned earlier, the company is performing better than the expectations of analysts. Diluted loss in earnings per share is reported to be $0.44 per share. The loss comprises the following non-operating items:
| | |
| --- | --- |
| Reasons | Loss per share |
| Accelerated depreciation predominately related to the expected shut down of the Nextel platform | $(0.13) |
| Hurricane Sandy impact | $(0.01) |
| Softbank and Clearwire transaction costs | $(0.01) |
Source: Company's 4Q12 Earnings Conference call
In the wireless segment, Sprint's platform has been performing well with double digit growth of 12.20% YoY. Both prepaid and postpaid connections exhibit positive results. Average revenue per unit (ARPU) coupled with the subscriber base is quite stable. Moreover, Nextel's postpaid recapture rate is rising while the deactivation rate is declining.

Click to enlarge
Source: Company data
Sprint Nextel's 4G long-term evaluated (LTE) service coverage has increased to 52 cities and the company has planned to cover the whole United States in the near future. Another highlight of the last quarter is the record sale of $6.1 millions' worth of smart phones with record iPhone activations. However, the wireline segment reported some disappointing results, with total revenues declining by 10.2% from the last year because of changing customers' preferences to wireless devices.
Future outlook
I believe that Sprint Nextel is on its way to pose a serious threat to the market leaders like VZ and T. The company will surely gain a competitive position after its $ 20 billion deal is closed with Japan's Softbank acquiring Sprint Nextel 70% shares. This deal will enable the company to buy out Clearwire Corporation (CLWR) which will update the spectrum to 2.5 GHz across its network at a reasonable price. I believe the Softbank deal will play a major part in Sprint's turnaround and will enable the company to strengthen its financial numbers. The company is primarily divided into Sprint and Nextel. Out of these, Nextel is consistently underperforming and with the expected shutdown of Nextel's platform (end of 2nd quarter this year), the weakest link of the company would be eliminated.
Sprint Nextel may not have attractive free cash flows and a dividend payment history because of its turnaround phase but it has great potential for multiple expansion as the margins will continue to strengthen and eventually, it would pave its way in the bottom line of income statement and positive free cash flows. The graph below shows the stock performance of the telecom sector and clearly illustrates the superior performance of Sprint Nextel among its peers.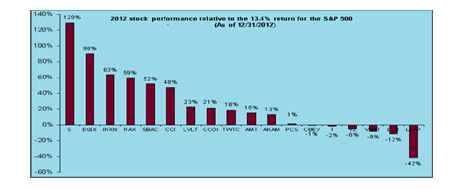 Source: Thompson
Conclusion
In my opinion Sprint Nextel is a long term investment and a stock to hold on to with huge potential for growth. The fall in stock price after the earnings were released (when the market opened) was just a short term panic for the traders. New investments will start yielding in the form of increased revenues, better coverage and a large subscriber base by 2014.
Disclosure: I have no positions in any stocks mentioned, and no plans to initiate any positions within the next 72 hours. I wrote this article myself, and it expresses my own opinions. I am not receiving compensation for it (other than from Seeking Alpha). I have no business relationship with any company whose stock is mentioned in this article.