If you disagree that there was a bubble in New York City residential real estate, even this article is unlikely to convince you, so you may as well click along on your merry way. But if you're in the mode of accepting reality, you may be curious to get an idea of "Just How Big was The Big Apple Bubble?" in residential real estate.
A buddy of mine recently shared with me that one of his mentors used to say that residential home prices should track inflation over the long-term and that when it ran above for some period of time, it would eventually revert to the mean and in the process of so doing, prices would likely deflate to below the trend line for some period of time. I have used similar comparisons to look at past bubbles in many other asset classes, so of course this argument seemed reasonable to me. With this in mind I figured I would share some data with you on the subject of New York City's residential housing bubble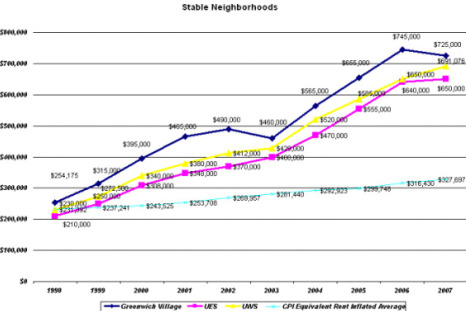 The chart above (view image) utilizes data from Miller Samuel, that you can get right of their web site. Thank you Jonathan Miller for the use of your data and for your ongoing work on behalf of transparency in NYC real estate data. Jonathan is a friend of Urban Digs, but our nefarious use of his data in no way means that he agrees with us or in any way supports or condones our sometimes questionable methods and conclusions.
I took data from Miller Samuel on the median sales prices of one bedroom condos and co-ops in three neighborhoods that I view as having been stable over the last decade, Greenwich Village, the Upper East Side and the Upper West Side. By focusing on "stable" neighborhoods, I hoped to distill the impact of interest rates, lending standards and overall exuberance on real estate prices while excluding the salutary effects of a transformative change in a neighborhood quality of life. By using a one bedroom apartment as the benchmark I hoped to exclude any impact of lesser availability of any particular apartment sizes that may have unduly impacted prices over the last decade.
I also utilized median sales price to try and minimize the impact of very high-priced apartments dragging the average up, something that Urban Digs readers know has skewed New York City average pricing significantly higher in the last 18 months. Please note that in the cases of the Upper East Side and the Upper West Side, the 2005 figures were missing, so the data points on the graphs for those years were interpolated by yours truly using a proprietary algorithm I developed myself (I averaged the 2004 and 2006 figures).
I then provided an inflation reference line for comparison. I did this by averaging the median prices of a Greenwich Village coop/condo, Upper East Side coop/condo and UpperWest Side coop/condo, that average price being $231,392 in 1998. I then inflated this base number by the New York City area CPI component called owners equivalent rent of primary residence (data from the BLS can be found here). I could have used a lot of different inflation indicators, and many provided by the government are considered to be low. I thought it would be most informative to look at inflation in terms of the rent escalation you would have seen in the New York market during the period. The problem with this statistic is however, that geographically it covers more than just New York City proper, so again it may be a little low.
The data crunching produced some worthwhile data points:
MEDIAN PRICE OF 1BR CONDO/COOP FROM 1998 - 2007
Greenwich Village 12.4% per year (compound annual growth rate)
Upper West Side 13.0%
Upper East Side 13.4%
One thing for sure is that New York City residential real estate beat the pants off the stock market and most hedge fund managers over the last 10 years! In comparison, the median price of my average stable market condo/coop would have increased 41.6% in value from 1998 through 2007, if it had appreciated at the rate of growth of owner equivalent rent.
As you can see from the graph, real estate values ran up well ahead of the increase in owner equivalent rent and to come down just in line with my admittedly contrived inflation measure, will cause severe pain....I don't think quoting specific numbers is really even relevant. If we have to go below the inflation trend line for some time to get healthy.....let's not even go there.
With an eye towards helping people think about what areas might or might not have as much distance for prices to fall, I thought it would also be of interest to look at some transformational neighborhoods. I used the same methodology as before and chose neighborhoods I consider to be "emerging" where Miller Samuel had ten years of data (view image).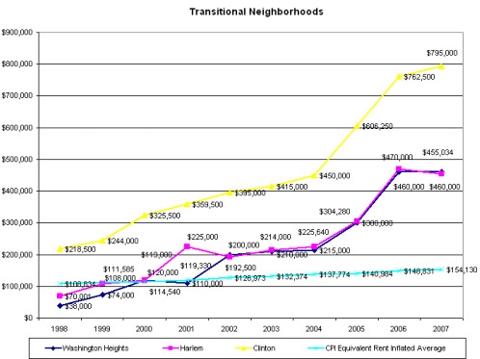 MEDIAN PRICE OF 1BR CONDO/COOP FROM 1998 - 2007
Midtown West/Clinton 15.4%
Harlem 23.1%
Washington Heights 31.9%
Regardless of which of these markets you focus on, it is striking how much of a boost an improving neighborhood can give an area above and beyond other market factors. Interestingly, I also looked at a prior hot neighborhood Tribeca/Soho, which had a huge run in the late 1980s to late 90s in terms of quality of life and redevelopment. Over the 1998 to 2007 period Tribeca/Soho was a relative laggard appreciating just 149.2% or 14.9% per year according to the Miller Samuel data.
What does this mean for the future of "emerging" neighborhoods? It is hard to say. I am on record saying that recently heavily developed areas like Harlem, Long Island City and Williamsburgh will get hit hard as prices reset to drive absorption of all the new supply. In emerging neighborhoods with less of a surplus of new supply, I would still expect volatility on the downside to correspond with the volatility on the upside and therefore a deeper decline than in stable neighborhoods, but it may not be quite as bad as in over-built areas.
The popping of the New York City residential housing bubble has negative implications for anyone doing business in the City and the many lenders to the New York City real estate market be it commercial or residential. Companies with exposure include VNO, ALX, AKR, SOV, HCBK, FCY, COF, SBNY, AF, SLG among others.
Disclosure: The author has no positions in these securities.