In what is likely to be one of the more interesting stories in 2009, the Financial Times on Wednesday discussed the impact that the falling price of oil will likely have on some of the world's largest multinational oil companies.
Despite having record breaking profits in 2008, 2009 looks to be a different story altogether as the decline in oil from $150 to $40 could lead to hard choices for oil companies. Particularly on whether or not to continue with their current level of capital expenditures, share buybacks and dividends or to reduce these expenditures to reflect their current cashflows and the price of oil. Below you will find a fascinating graphic from the Financial Times that breaks out the cashflows of six of the worlds largest oil companies and the impact that the fall in the price of oil will likely have on them.
Click to enlarge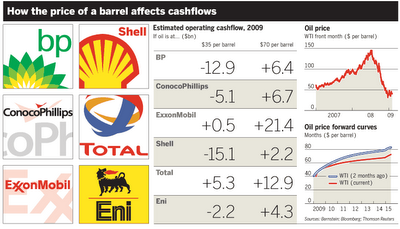 The negative cashflows that will likely be achieved by BP, ConocoPhillips (COP), Shell (RDS.A) and Eni (E) at $35 oil will force these companies to either reduce their capital expenditures and shareholder payments or to borrow in order to continue with their current expenditure policies. While these companies have certainly built near fortress balance sheets, no management team enjoys shelling out more cash than what is coming in on unprofitable capital expenditures and through the return of capital to shareholders.
In addition to the cashflows of the world's largest oil companies being impacted by low oil prices, their balance sheets are as well as the firms will likely have to take dramatic writedowns on assets that were purchased at premium valuations during 2008. A prime example of this occurring can be seen in ConocoPhillips' most recent quarterly report in which it took a $34 billion dollar writedown.
Unlike their smaller brethren, BP, ConocoPhillips, Exxon Mobil (XOM), Shell, Total (TOT) and Eni have held up fairly well given the recent swoon in the financial and commodity markets. This trend will likely not continue, as investors are likely to become increasingly skittish of these firms because of the ever increasing chance that they will be forced to take on substantial amounts of debt to maintain their current capital expenditures and shareholder return policies. Over the last year these six companies have performed as follows:
XOM: Down 2.8%
TOT: Down 25.3%
RDS: Down 26.4%
E: Down 28.0%
BP: Down 30.3%
COP: Down 38.3%
Of these six, it is clear that Exxon Mobil has significantly outperformed its fellow big oil peers. Despite having $31 billion in cash, the company's quarterly earnings reports will likely be ugly going forward as the company's free cashflow will undoubtedly come under significant pressure. At its current price the company's earnings multiple is 2-3 times its smaller mid and small cap peers. Despite its ability to radically reshape the oil and gas industry with its strong balance sheet, the stock should not be held at these levels given the current price of oil.
The company's most recent quarterly report, and the ones that will come after it, will weigh heavily on the stock's momentum investors, as they will become increasingly uncomfortable holding shares in a company with a deteriorating balance sheet and income statement.
There are many other smaller oil and gas stocks that I would rather own over Exxon that have already fallen significantly and are now trading at levels much more reflective of the current environment within the energy markets. Unless oil returns to $70+ dollars per barrel, Exxon Mobil will more than likely come under significant pressure going forward as the gap between its valuation and that of its fellow big oil peers begins to converge.