Remember that high-volume rally in Versar (Amex:VSR)? It's on life support, thanks to disappointing fiscal second quarter results reported Friday morning. Quarterly earnings per share declined 25% year-over-year, from $0.08 to $0.06 (net income dropped from $745,000 to $565,000).
Early into the trading day Friday, shares got hammered: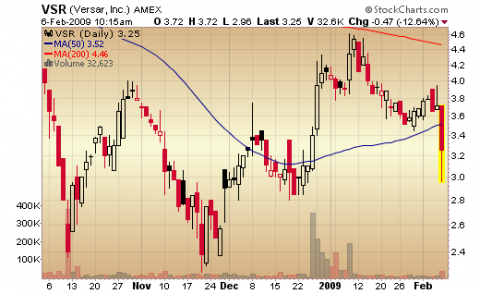 What troubles me most about the report was management's commentary. Dr. Ted Prociv, President and CEO of Versar said:
Our funded backlog of business remains strong at $99 million dollars. We are winning good, higher margin contracts, we're debt free, and we're anticipating getting our share of work on projects under the President's Economic Stimulus Program. Our lackluster quarterly performance can be largely attributable to the overall state of the economy. Versar is not exempt from its effects. In particular, Versar's municipal clients have either delayed or suspended projects because the tax revenues which they are almost wholly dependent on for funding have been greatly reduced. The financial results for the remaining two quarters look promising.
I have bad news for Prociv. The adverse economic environment will not evaporate in the next two quarters.
That said, I don't expect VSR to revisit November lows. The backlog should lend some support, and the balance sheet remains strong. So here's how I'm playing the stock: I took profits on part of the position ahead of the report at $3.80, and will look to exit entirely Friday morning if prices approach $3.40 or so. Then, I will look to reenter between $2.75-$3.
DISCLOSURE: Long VSR, but looking to sell.