On February 12, Cliffs Natural Resources (NYSE:CLF) reported its Q4 and FY 2012 results. In that report, Cliffs Natural Resources announced a 76% reduction of its quarterly dividend, to $0.15 per share, from its previous level of 0.625 per share. Soon after the earnings were released, Cliffs Natural Resources announced a public offering of 9 million common shares. Also included in this announcement was a preferred stock issuance. Cliffs Natural Resources will issue 20 million depositary shares each representing a 1/40th interest in new mandatory convertible preferred stock. Cliffs Natural Resources will use the proceeds from this offering to repay debt.
The double whammy of both a dividend reduction and share dilution reeks of desperation and may indicative of a cash crisis for Cliffs Natural Resources. Shares for the company collapsed in the next day's trading, falling over 20%. Cliffs Natural Resources has now seen its share price decline nearly 60% in one year. At current prices, Cliffs Natural Resources now yields about 2.1% with the reduced dividend.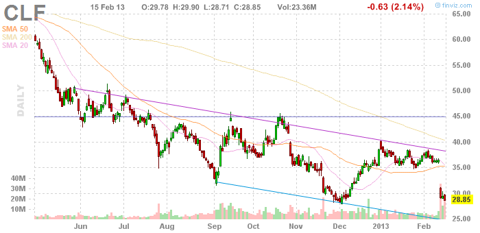 Competitors to Cliffs Natural Resources include companies such as: Brazil's Vale (NYSE:VALE), and British-Australian juggernauts Rio Tinto (NYSE:RIO) and BHP Billiton Limited (NYSE:BHP). These competitors are not nearly as reliant on iron ore prices as Cliffs Natural Resources, are much larger, and offer similar dividend yields.
For FY 2012, Cliffs Natural Resources recorded a net loss of $899 million, or $6.32 per share, compared with net income of $1.6 billion, or $11.48 per share, in 2011. Cliffs Natural Resources saw its FY 2012 revenues decline 11%, to $5.9 billion, when compared with the previous year. Lower revenues were primarily caused by a 23% decrease in year-over-year seaborne iron ore prices.
Included in the results, were the previously disclosed non-cash impairment charges of:
Approximately $1 billion in goodwill related to Cliffs' 2011 acquisition of Consolidated Thompson Iron Mines Limited
$365 million related to the sale Cliffs Natural Resources 30% interest in Amapa.
Cliffs also recorded a $50 million non-cash impairment charge related to its Wabush Mine in Eastern Canada.
Cliffs Natural Resources' dividend reduction did not come as much surprise. Analysts have been warning that the dividend is not sustainable since November 2012. What is noteworthy about this dividend reduction is that Cliffs Natural Resources had actually raised the dividend 123% in March, 2012. The March dividend increase was widely seen as an attempt by Cliffs Natural Resources to stem the decline in its share price. Cliffs Natural Resources had been trading in lock-step with the price of iron ore for over 5-years. However, this trend has been broken in recent months.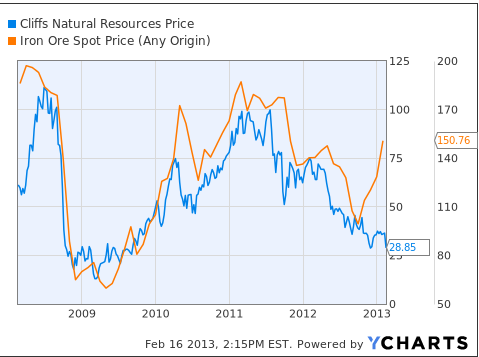 That Cliffs Natural Resources has broken this 5-year trend leads me to believe that Cliffs Natural Resources is suffering from company specific problems. Cliffs Natural Resources may have overspent on acquisitions, leading to the asset impairment charges.
Cliffs Natural Resources is also suffering from lower profit margins, primarily caused by increases in cost of goods sold and decreases in seaborne iron ore prices. Iron ore sales margins per metric ton have seen significant declines. Below are the FY 2012 and FY 2011 iron ore sale margins for Cliffs Natural Resources three main segments:
| | | | |
| --- | --- | --- | --- |
| | Full Year 2012 | Full Year 2011 | Decline |
| Asia Pacific | $26.63 | $81.45 | $54.82 |
| U.S. | $45.13 | $69.27 | $24.14 |
| Eastern Canada | ($13.59) | $39.29 | $52.88 |
We can see that Cliffs Natural Resources core business of iron ore production saw a major decline in profitability in all segments in 2012. Only the US segment remains somewhat profitable for Cliffs Natural Resources. The company needs quickly to reverse this trend.
Conclusion
That Cliffs Natural Resources raised the dividend 123% in March, 2012, and then cut it 76% in 11 months is quite telling. Add to that the issuing of shares near its all time low, and you see why this stock is such a train-wreck. It is my opinion that investors should avoid Cliffs Natural Resources. It has broken its strong correlation with iron ore prices. Cliffs Natural Resources is suffering from company specific issues, and I would avoid it. Investors seeking to profit from the recent rise in iron ore spot prices may want to consider its larger competitors such as Vale, or the British-Australian companies Rio Tinto and BHP Billiton.
Disclosure: I have no positions in any stocks mentioned, and no plans to initiate any positions within the next 72 hours. I wrote this article myself, and it expresses my own opinions. I am not receiving compensation for it (other than from Seeking Alpha). I have no business relationship with any company whose stock is mentioned in this article.