Last month, Matt Hougan took a look at how the roll yield affected 2008's S&P GSCI's total return and what 2009 might have in store for us. In that article, he suggested that the record-breaking contango in a few markets was going to be a substantial drag on the S&P GSCI as a whole.
With the January S&P GSCI report, we've got a bit of a chance to look at how this brand new year is starting out. The good news is that it's not as bad as it was last month. Of course, that's still enough bad news to drive the index to zero, in the absence of the magic math of Zeno's paradoxes.
How's that for uplifting?
The January Total Return on the S&P GSCI was "only" -8.94%. The "only" compares to the gut-wrenching -13.32% in December 2008. Still, as the saying goes, you can't spend relative returns.
The S&P GSCI: The Big Fish
We talk about the S&P GSCI quite a bit - for good reason. It is the dominant commodity index in the world; the one with the largest amount of assets benchmarked against it.
The S&P GSCI is a passive portfolio of long positions in commodity futures spread across six sectors - Precious Metals, Softs, Agriculture, Livestock, Industrial Metals and Energy. It is most heavily weighted in the Energy sector, and within that sector, crude oil is the largest individual commodity class.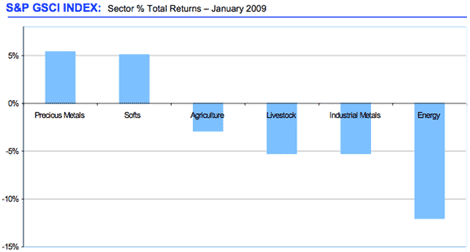 In the past month, only Precious Metals and commodities in the Softs sector (sugar, cocoa, coffee) have shown positive returns. Everything else has shown various negative returns, but the big story is the Energy sector, which makes up more than two-thirds of the index and was crushed in January; no amount of silver or sugar can keep the index up.
Why So Low?
A large part of Energy's loss comes from the devil's mixture of low crude oil prices and the steep contango that crude is currently experiencing.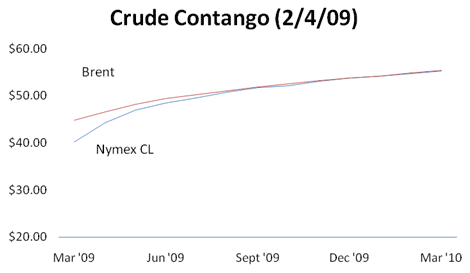 The situation hasn't improved. As of Feb. 4, March NYMEX CL was at 40.29, with April at 44.34. When the simple act of rolling one contract (30% of the S&P GSCI's weight) costs you 9% per month, all else being equal, that's a tough nut to beat. And since the S&P GSCI captures Brent too, the negative roll yield there - while not as steep - it still adds to the pain.
According to the S&P's report, it hasn't always been this way.
"Although the roll expense in crude oil is currently very expensive, historically the crude oil roll had not significantly distorted the change in the spot price return in the index's total return."
Here's a picture of what they are trying to say: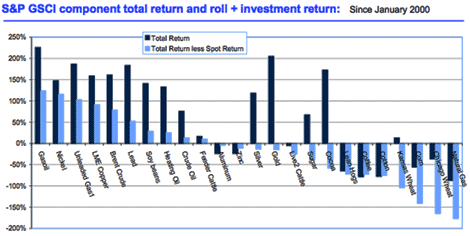 The Total Return less Spot Return is essentially the roll yield, and the chart above shows exactly how the roll yield compares to that total return. The most interesting thing to note is that since 2000, crude oil has only been slightly affected by the roll yield - on average. Since 2000, oil has had not only had periods like today's crushing contango, but also periods of significant backwardation, giving futures investors free money every roll. So while it's true that historically this makes oil futures look a lot like spot, it's not all that helpful for a futures investor today.
On the opposite side of the spectrum is natural gas and Chicago Wheat, where the roll yields have taken negative returns and made them oh-so-much worse. The roll yield for natural gas is an amazing -177% since January of 2000. Chicago Wheat fared only slightly better, with a -165% roll yield. It's nothing like that today, with the hypothetical roll into May (the next contract) costing you only 2%.
Chicago Wheat (2/4/09)
| | |
| --- | --- |
| Mar '09 | 5.522 |
| May | 5.640 |
| July | 5.770 |
| Sept | 5.926 |
| Dec | 6.226 |
| Mar '10 | 6.294 |
| May | 6.276 |
| Jul | 6.332 |
| Dec | 6.542 |
| July '11 | 6.532 |
Also interesting to note are the instances like Kansas Wheat, where the commodity had such a huge rise in spot price, that even a negative roll yield of 104% still allowed Kansas Wheat to show a positive total return over the past eight years.
Cocoa and sugar, Gold and Silver all also benefited from monster increases in spot price over the past eight years. Increases that were so large that the small negative roll yields the commodities experienced were mere blips in the road.
And Now For The Good News
Underneath the negative return numbers in the larger sector contracts, you can find some individual commodities that performed remarkably well: unleaded gasoline, silver and lead. The RBOB front-month contract gained 21% in January, as falling crude prices eased costs for producers and the crack spread rebounded back to profitable levels, after falling in late 2008 (and as HardAssetsInvestor.com's Managing Editor Brad Zigler points out this week, the futures implied margin is currently over 30%).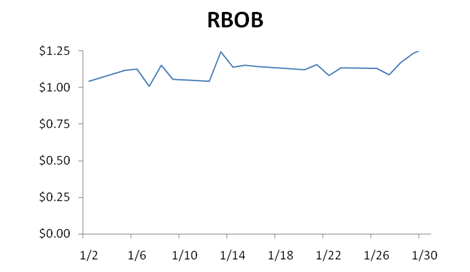 Over in metals, S&P GSCI Silver Index and the S&P GSCI Lead Index were both up over 11% for the month - silver because it tends to rise with gold (from an article on Silver Investing):
"Typically, when gold goes up, silver goes up by a larger percentage," said precious metals analyst Timothy Silvers. "I think that will be the case again this year as investors focus less on silver's industrial demand and focus more on its investment potential and lower cost to gold."
This logic seems sound, especially since the S&P GSCI Gold Index showed a total return of 4.82% for January. The combination of these positive total returns raised the S&P GSCI Precious Metals Index to top-performer status in January.
And lead? Well, apparently the heavy metal does well in the cold. If you've ever had your car not start because of cold weather, you know that cold weather means new car batteries. Seventy-one percent of lead is used in batteries as a whole. Approximately 40% of lead goes into automotive batteries, and with cold weather hurting Europe and other places, there was an increase in battery sales in January. Sometimes it really is about short-term supply and demand.
The other winners (as far as total return numbers) in January include:
| | |
| --- | --- |
| S&P GSCI Sugar Index | 7.29% |
| S&P GSCI Coffee Index | 6.12% |
| S&P GSCI GasOil Index | 5.62% |
| S&P GSCI Gold Index | 4.82% |
| S&P GSCI Cocoa Index | 3.99% |
| S&P GSCI Copper Index | 2.23% |
| S&P GSCI Cotton Index | 0.81% |
| S&P GSCI Soybean Index | 0.01% |
Conclusion
It's a tough time to be a commodities investor, especially a commodities futures investor. But that doesn't mean there aren't opportunities. The challenge at times like this is to avoid the fire-and-forget mentality index investors are often used to. Many commodities investors focus on spot prices and are surprised by the effects of contango. This month's S&P GSCI report should come as yet another wake-up call.