Astec Industries (NASDAQ:ASTE) designs and manufactures machines used in building roads and highways. The company generated 63% of sales during the first nine months of 2008 in the U.S., but international sales are growing more rapidly as emerging nations invest in building out their infrastructure.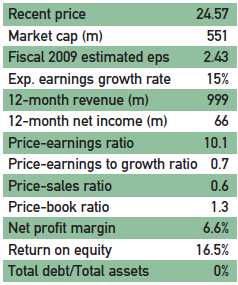 The Aggregate and Mining Group, which accounted for 35% of sales, makes equipment for mining metals and processing aggregates and recycled materials. Products include crushers, vibrating feeders, inclined and horizontal screens, classifying and washing equipment, and conveyers.
The Asphalt Group generated 26% of sales. It makes asphalt plants, heating and heat transfer equipment, storage tanks, and related components.
The Mobile Asphalt Paving Group, which accounted for 17% of sales, makes pavers, material transfer vehicles, milling machines, reclaimers, soil stabilizers, and screeds used to control the width and depth of applied asphalt.
The Underground Group accounted for 14% of sales. It makes underground construction equipment such as trenchers, plows, directional drills, auger boring machines, down-hole tooling, and rock saws. These products are used in constructing highway drainage systems and cutting irrigation ditches. They are also used to lay fiber optic cable and utility lines.
All other sales (8%) include whole-tree pulpwood chippers, horizontal grinders, and blower trucks.
Sales had been growing strongly thanks to a worldwide infrastructure boom. However, growth has since slowed due to the global economic recession. High steel costs pressured ASTE's margins, and high asphalt costs caused customers to trim purchases. Furthermore, high gasoline prices prompted consumers to drive less. Less driving crimped tax revenues from fuel sales and strained municipal budgets for road building projects.
ASTE realized some relief during Q3 from moderating commodity prices, which descended from last summer's record highs. Net sales in Q3 increased 15.1% year-over-year to $237.4 million. Domestic sales grew 2.7% to $135.3 million. International sales grew 37.1% to $102.2 million. The gross profit margin increased 122 basis points to 24.77% thanks to moderating steel costs. The operating profit margin improved 226 basis points to 10.33%. Net income jumped 37.9% to $15.96 million or 71 cents per share. Due to strong orders from abroad, backlog stood at $255.7 million, up 6.6% from the prior year.
Unfortunately, the global recession and the freeze in credit markets may have taken a toll on Q4 results, which are due to be released at the end of February. Profit margins, however, should hold up due to the continuing decline in commodity prices.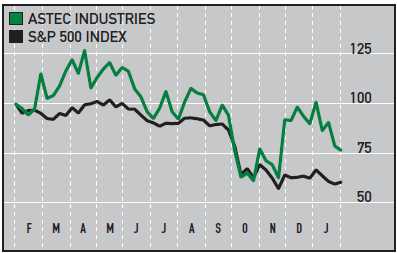 Both the U.S. and China are spending tremendous amounts of money to stimulate their economies. Increased spending on infrastructure is a key element of the stimulus plans in both countries. We believe this spending could support ASTE's order flow in the near term. We are also encouraged by the lack of debt on the company's balance sheet. Not having to rely on the credit markets at this critical juncture gives ASTE the flexibility to navigate through near-term challenges. Prospects over the longer term look especially promising, particularly in geographic regions that will have to spend money to build roads and bridges to support their growing populations and developing economies.