The TARP, or Troubled Asset Relief Program, was a way for troubled institutions to ask the government and the taxpayers for temporary relief during this economic crisis. The money was said to be used to increase their ability to lend to the consumers in the form of loans, mortgages, and credit cards. What has come to the attention of the public is that the credit easing which was said to occur hasn't happened with the same strength which we had hoped for. A checkup on the situation led us to the conclusion that these firms and their executives were using TARP money to finance buyouts, renovate their offices and to pay their executives bonuses.
This program was crafted as a way for institutions to create value in the free markets, not to fund their personal luxuries. In order to bring the economy back to life and to bring the salaries of these executives down to earth, the government has proposed a plan.
The newspapers, radio stations and news channels have been bombarded with the latest restrictions on the usage of TARP. One of the restrictions is on executive compensation. The government and the taxpayers have agreed to help troubled institutions get back on their feet through the injection of capital. If this had not happened we would see more institutions filing bankruptcies and laying off more employees than they currently are. No one is forcing the firms to take the money, but if they don't they will fail and in essence be in a worse condition than they currently are.
So, what is being asked of these firms that has the executive so scared? If an institution seeks additional TARP funds from the government, their top executives will be limited to earning $400,000 a year and any additional compensation will be in the form of unlimited amounts of restricted stock and stock options. The stock options can't be exercised until the firm has fully paid back the taxpayers and the government. These terms are not retroactive and no limitations will be placed unless additional funds are asked for.
In addition to the compensation limit, there will be no golden parachutes for the top 10 executives for a firm which is accepting TARP money. The next 25 executives will be prohibited from receiving more than their 1 year compensation.
This is not in line with how Wall Street has been compensated for the last 20 years and it shouldn't have to be. If an institution is begging to be rescued, it has to play by the rules of the people coming to the rescue. America promotes the idea of high compensation for successful individuals, but not the idea of being rewarded for failing a company and failing at your job.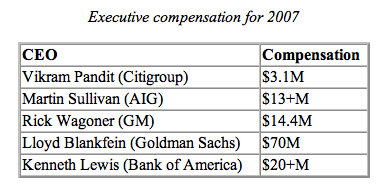 Every executive in this country is now worried about the prospect of having their multi-million dollar compensation taken away. No one is taking it away from you, you did this to yourself for running your company into the ground.
The theory that a great CEO can't be found at a rate of $400,00 a year is absolute garbage. These executive were making $20 million a year for the last decade and I am sure they can scale back their lifestyle and live off $400,000 a year for a little while. Their savings and municipal bonds should be enough to put food on their table while they finally try to do their job correctly, bringing their institution back to health and paying the taxpayers back.
There is a national outcry over huge executive bonuses that are being paid through the use of TARP funds. This is not acceptable and will no longer be tolerated by the Obama administration. The job of these corporations is to protect the government and the taxpayer's investment. It's not free money; it's an investment which needs to be paid back. With falling confidence and a rising debt and unemployment rate, these executive are being asked to scale back their salaries while they nurture their company back to health and they are more focused on their pay than their institution. I'm so incredibly sorry that these execs will have to live without a brand new Lamborghini this year. I don't know how they will be able to live!? Yes, I am joking!
During the first $700 billion TARP, there was no oversight or accountability over the use of these funds. The Associated Press conducted a survey of 21 banks and asked several questions in regards to the usage of the funds. No institution was able to give any specific answers and some had no idea where the money was. Even a large and highly recognized institution such as JPMorgan (JPM), which received $25 billion, declined to discuss how they planned to use the funds.
Renovating offices or an entire building, that JPMorgan is currently doing, would probably be how these institutions have used the taxpayers money so far, just my guess! Something needs to be done and more oversight and restrictions are needed. I'm not an advocate of government intervention, but temporary oversight is currently needed.
The unlimited amounts of restricted stock and stock options which executives are able to receive on top of their $400,000 salary needs to be curtailed. Equity compensation has been completely abused on Wall Street and limits need to be set for troubled institutions.
If unlimited stock options are being granted then the executives of the firms need to adhere to a holding period to ensure their long-term view for the company. Many times we see executives exercising their options at the peak, just to see the stock collapse the following week. Ensuring a minimum holding period will force these executive to focus on improving their firm's balance sheet and their ability to compete in the market place.
Note to Wall Street executives: I'm sorry that you have to part ways with your 10th Bentley, your 20th condominium in Venice and lets not forget about your lovely habits of paying high end prostitutes. Please try to survive without these luxuries and I will do my best to make sure than the government returns them to you as soon as possible! This will be on the top of my to-do list!
Disclosure: No positions held