The stock market has been rallying despite the bad news. The talk of deflation dissipated and the concern over the credibility of the dollar rose. My thesis is that the next thing that we will experience in the market will be inflation. The charts below will help navigate my theory a little better.

The charts below shows the XLB (Materials Select Sector) and $CRX (Commodities Related Equity Index). Both charts show sign of "bottoming". I can never be too sure because I don't know the future and they may just be resting before another leg down. However, this is a good sign. I have been waiting for this index to stop going down as a sign of deflation easing. In present time, the charts are telling me to look further. Let's move to the 30 Year T-Bill.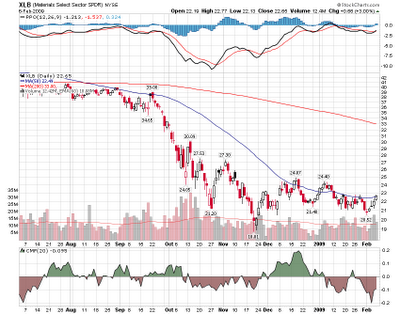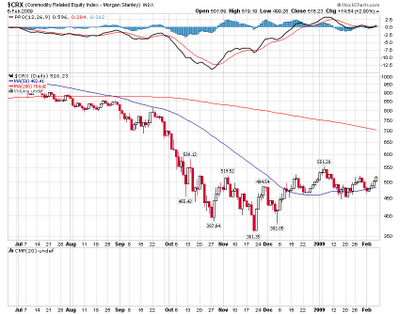 Now, the chart below shows the $USB, which shows the price of the 30 Year Treasury price. The flight to safety has driven the price sky high while taking the yield down below 3%. This chart gives me some confirmation that inflation may be within our horizon. During inflationary time, you don't want to be in fixed income.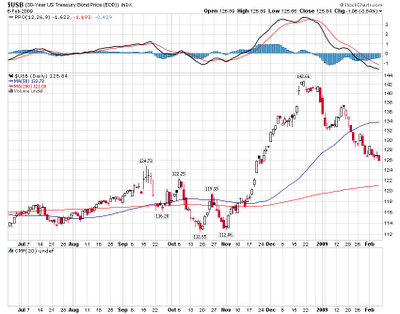 Knowing all this, what should I do? I'm going to buy commodities related stock. Much hype has been given to gold and oil so I don't want to go there. It's just too volatile for me. One of the best ways to hedge my investment is through a dividend paying stock. Enter Nacco Industries Inc. (NC). As a spin off from the commodities boom, Nacco should benefit heavily as they provide equipment and supply to the mining industries (for more information, check out their profile here).
NC is currently trading 70% below book value ($103 book while the stock is trading at $37.75). At the current price, it is yielding a juicy 6% with the payout ratio of 43%. What's more, NC has been increasing its dividend for 24 years straight and is part of the Mergent Dividend Achiever. NC paid $0.85 / share in 1999 and given that, I project the current dividend rate into 2009 of $2.06, which I obtained from Yahoo!, NC would be increasing its dividend at compound annual growth rate of 9.26%.

I think like a fundamental guy, but I try to trade like a technical guy so let's take a look at the chart and where I would enter. The chart below is my trading screen. I traded NC back in November and it broke below the support so I got out. With the fundamental theory about the sector, I am looking to get back if NC breaks above $41 with good volume as this stock formed a "double bottom" or "W bottom".
click to enlarge




I will be keeping a close eye on NC and keep you posted. Good luck trading and keep a tight stop.

Disclosure: no positions