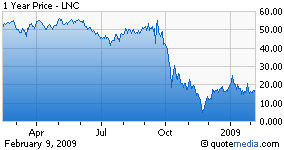 Lincoln National Corp. (NYSE:LNC) is expected to report Q4 earnings before market open Tuesday, February 10, with a conference call scheduled for 11:00 am ET.
Guidance
The consensus estimate for EPS is 10c and the consensus estimate for revenue is $2.56B, according to First Call. The consensus range for EPS is (18c)-41c, while the consensus range for revenue is $2.53B-$2.59B. Lincoln National announced in November that it had excess capital of $500M as of September 30, 2008. Investors will want to know how much excess capital the insurer had at the end of Q4, and whether it will need to raise additional capital this year. Meanwhile, life insurers' Q4 results have been mixed, with Unum (NYSE:UNM) beating expectations and MetLife (NYSE:MET) and Prudential (NYSE:PRU) reporting weaker than expected results.
Analyst Views
In addition, several research firms have been bearish on the life insurance sector in general and Lincoln National in particular. UBS Monday recommended selling life insurance stocks into their recent strength. Lincoln National's stock has risen to $17.60 in mid-afternoon trading from its closing price of $15.81 on February 4. Credit Suisse last month identified Lincoln National as one insurer that has less margin for error than its peers. The firm also believes the company is more likely than many of its peers to have downward pressure on its ratings. On a positive note, last month the Wall Street Journal predicted that corporate bond prices could rally, and contended that life insurance companies, could benefit from such a rally.