The markets will on tenderhooks today as we wait to see if US Treasury Secretary Tim Geithner will enchant in his first press conference at 16:00GMT. There is a clear 'leap of faith' argument at work here in the face of disastrous macro economic data. The lynchpin of the US economy remains the fickle consumer. If they continue to scale down and improve their own personal balance sheets, then the road ahead for stocks will continue to be a very bumpy one. Even worse it may have been a 'buy the Friday rumour, sell the Tuesday news'. If that's the case financials are very vulnerable given their recent run up.
Today's Market Moving Stories
So the the $838bn US Stimulus package goes through the Senate 61-36. Today promises to be a tumultuous Tuesday with a capital 'T'. Now that it has passed, the focus will shift to Geithner's speech this afternoon. Market chatter suggest only certain aspects have been agreed, such as capital injection for banks and financial support for small business, but the crucial 'TARP' aspect has yet to be finalised. It is reported that he is seeking private cash to help buy the toxic debt. This may disappoint markets.
Following Geithner, Bernanke will testify before the House Financial Services Committee about the Fed's efforts to tackle the financial crisis. One has to wonder at this stage if it's just a case of catching a falling knife. This may have worked a year ago but surely it would be better now to just let the banks (investors) take the losses and keep your powder dry to spend on more worthy causes.
Bank of Japan chief economist Momma warned that Q4 GDP may have been "unimaginable" and that there could be an even greater decline in growth in Q1 09. The consensus looks for Q4 GDP to have slumped by 3.1% QoQ and almost 12% YoY. The data is due for release overnight on Sunday.
Deflation fears mount in China with the release of January CPI, which slowed to +1.0% YoY and was only in positive territory due to a jump in food prices.
Russia's regional banks have asked the government for help in restructuring some $400bn of loans. This of course raises the ugly spectre of default again and should further pressure the beleaguered ruble which is getting killed with the oil price at these levels. The story has now been denied. But it has put pressure on the euro this morning, as traders wonder whether a domino effect could be starting with other Eastern European countries (whom Eurozone banks of course have massive exposure too) going the same way.
ECB speakers are numerous today, talking in a Malaysian Central Banking seminar, so watch for comments on the degree of the rate cut planned in March and any hints at OVERT quantitative easing. Former arch hawk Weber (now thankfully born again) has already made some uber dovish comments overnight talking of the need for "aggressive" rate cuts saying that economy was in "freefall".
The UK press is reporting that EU finance ministers today will discuss some sort of debt agency as a mechanism to sell government bonds and raise capital at the EU level. I think this chat is VERY wide of the mark as Germany has always resisted any such moves in the past.
UK RICS house price balance drops to -76 from -74, while BRC retail sales were surprisingly resilient, rising 1.1%YoY.
The deadly duo, Dr Doom and The Black Swan, did a double act yesterday on CNBC. Not for the faint hearted.
And some bad news for those who put their faith in self appointed stock picking gurus and the media.
No More Bank Of England Rate Cuts?
UK Chancellor Alistair Darling said in a BBC talk show that he doesn't think that UK interest rates can go much lower than 1% and still make a difference. He added that there is already a lot of stimulus in the economy, with lower interest rates, income tax cuts to take effect in April and extra aid for families and businesses, which will take time to impact the economy.
This raises questions about whether this is in line with Bank of England (BoE) thinking and could well have pre-empted what will be in next week's BoE Monetary Policy Committee's minutes of their last meeting.
It is interesting that Chancellor Darling has made this remark against the backdrop of growing misgivings in various quarters about what the impact super-low interest rates are having on the interest income on savings. This is particularly so for old age pensioners who depend on their savings incomes for their day-to-day living expenses, and are getting the feeling of being 'abandoned' by the policy makers. Indeed there is a real risk that, with average savings rates at a paltry 0.81%, and set to be cut to 0.31% after the latest ½% rate cut, any further cuts by the BoE could take the average savings rate down to zero, or even below! The other consideration is that even with interest rates falling further, it is questionable whether borrowers themselves will benefit any more than they already have.
Equities
UBS (NYSE:UBS) have just reported a Q4 loss of yet another $6.9bn (recall they are meant to have kitchen sinked it a few times) and cut 15k jobs. Seems they found another en suite and utility room. One wonders whether there will be anyone left in banking as we knew it when the dust settles!
Scandi bank Nordea (OTCPK:NRDXF) is seeking $3.9bn in a writes issue. This of course will have to be heavily discounted to have any chance of flying.
Cable & Wireless said that they were on track to achieve previous guidance due to increased market share.
E.ON, the German power company, announced that despite a $6.3bn write off due to recent acquisitions that they were boldly going against the grain and increasing their dividend.
It appears that the Seine now flows through Detroit with news that Peugeot (OTCPK:PEUGY) and Renault (OTC:RNSDF) are to get €6bn in French government loans.
Élan (NYSE:ELN) posted solid results for the final quarter 2008 exceeding most analysts' forecasts. The key is the cash and equivalents number which stood at a healthy $449mln as this is needed to financing its extensive pipeline drugs. The issue remains that they have refinancing of €1.15bn to do in November 2011 and they have initiated a strategic review of their alternatives to secure additional financial resources. There's talk of a sale of 19% stake to Swiss giant Roche (OTCQX:RHHBY).
Smurfit Kappa (OTCPK:SMFTF)are due to report tomorrow (consensus EBITDA is €193mln). Davy's stockbrokers say that the stock is "excellent value at current levels".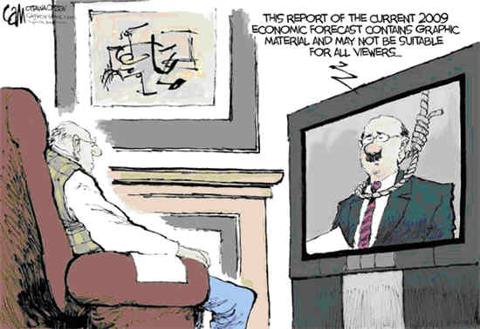 And Finally… Wanda Sykes On The Wall St. Bailout (Made Me Laugh)

Disclosures: None