Retailers CVS Caremark Corporation (NYSE: CVS) and Walgreen Co. (NYSE: WAG) both experienced lower sales in January compared with December numbers.
January saw the average monthly spending among Geezeo users fall 18% at Walgreen stores, compared to only a 4.92% decrease at rival CVS. Looking at the 3-month and 12-month trends for these two firms may shed some light on this fact.
click to enlarge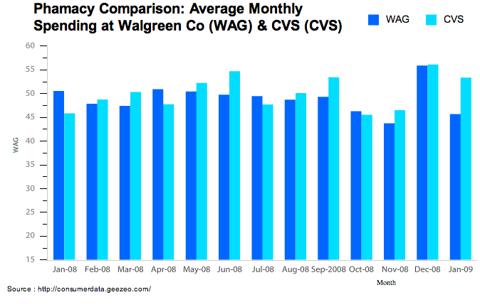 CVS customers averaged spending $53.35 throughout the month of January, an amount up 17.22% from October and 16.47% from January '08 figures, respectively. CVS' good fortune has not been mirrored at Walgreen locations, suggesting that January's declines are indicative of a more serious problem.
The average customer to shop at the chain spent nearly 10% less over the month than over the same period last year. The last quarter has also seen declines at Walgreen stores, with customers spending 1.24% less compared with October. Looking at these facts side-by-side, CVS appears to be better positioned to handle the economic recession, than its cross-town rival, so expect the firm to keep setting the pace.
This data was compiled by the Geezeo Main Street Spending Index (MSSI).