In early 2008, Doug Kass of Seabreeze Partners and TheStreet.com issued a sell short thesis on Berkshire Hathaway (NYSE:BRK.A) which outlined some of his views as to why BRK was an attractive short candidate. Recently, Kass has come out with some updates on his BRK short with some rather sensationalized titles such as, "Is This the End of Warren Buffett?" Titles like that can certainly generate web traffic but don't change the fact that this sell short call - in the context of the current market - is based on a very weak thesis.
I don't own BRK stock because I've never been able to invest in it when it's been at a price that I felt was truly on sale. WEB [Buffett] may also feel the same way because of his general historical aversion to repurchasing BRK stock. From a strictly philosophical reason, I also feel, as a fund manager, I should be able to find better investments than a $140B mega cap company that has holdings in widely held companies like Johnson & Johnson (NYSE:JNJ) and Coca Cola (NYSE:KO).
Second, I believe if a value-oriented fund manager really follows the spirit of WEB's investment style, investing in a company where someone else is basically doing your job for you is not fair to your clients (more importantly, can you see WEB placing any of his capital during his partnership years in a fund-like vehicle managed by someone else?), since they can easily purchase BRK and get a fund-like vehicle without the fees.
Last, while WEB is one of the best capital allocators in the world, the amount of capital he manages reduces the availability of viable investment ideas. Now let's move on to Kass's sell short recommendation.
One issue that investors following Kass on BRK should understand is that when selling short, it's really best to choose companies that have very defined problems which can cause a serious and continued drop in its share price. "Good" companies can certainly have problems as well but it's best to find some key "triggers" that can drive the price down. For example, I had written about Costco Wholesale Corp (NASDAQ:COST) as a potential short sale candidate in 2008 and while COST is a good company, there were some specific aspects (inflation pass-through of gasoline prices, food price increases, foreign exchange benefits all overstating earnings) that were leading to juiced operating results. Since the cost for selling short can be high given the risk on upward movements, it's important to identify very tangible triggers for selling short.
It appears that Kass never identified real triggers for selling BRK short. As a result, selling BRK short in 2008 resulted in a stock that generally moved in tandem with the broader market. Moving on to Kass's short thesis, it's important to note that while BRK is down, it still outperformed the S&P and other market indices in 2008, which is impressive not only because so many investors struggled in 2008 but more so because the heart of BRK's business is tied to financial markets and financial stocks across the board generally underperformed broader market indices by a very wide margin. Comparing BRK's performance to financial indices like the XLF ETF further demonstrates how well BRK held up on a relative basis.
CHART I: BRK VS. S&P 500 & XLF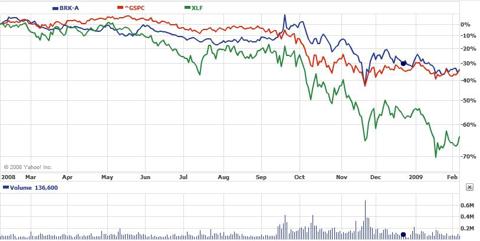 However, the real issue I have with Kass is that some of the key points of his short thesis are drummed up to appear much more foreboding than what they really are and some claims appear to be flat out wrong. Selling short can be a a valuable technique but when discussing the rationale for certain short positions, it's generally important to not misrepresent things in order to make a case. The lack of substance behind many of Kass's claims and the flat out inaccuracies in some areas prompted me to post a quick rebuttal.
For example, Kass's main theme regarding his BRK short is that WEB has engaged in style drift by selling customized put options against a variety of market indices. Style drift basically means stepping out of one's main investment strategy. A fundamental, bottom up investor that starts exclusively using technical analysis to manage a portfolio would be an example. Kass seems to believe that WEB is engaged in style drift because he is utilizing derivatives. In his article "Warren Buffett Has Lost His Groove", Kass points out: "In the process of establishing a large derivative position on the S&P 500 by shorting puts, Buffett has deviated from his long-established investment discipline of avoiding 'market plays' and of avoiding 'financial weapons of mass destruction' (derivatives). This 'play' has led to continued, multi-billion dollar losses over the past few quarters. According to the recently released 10Q, Berkshire has lost a total of $9 billion on Buffett's short put position."
The problem is that Kass's statement regarding WEB's use and view on derivatives is flat out wrong. In his 2002 letter (emphasis mine), WEB stated: "Many people argue that derivatives reduce systemic problems, in that participants who can't bear certain risks are able to transfer them to stronger hands. These people believe that derivatives act to stabilize the economy, facilitate trade, and eliminate bumps for individual participants. And, on a micro level, what they say is often true. Indeed, at Berkshire, I sometimes engage in large-scale derivatives transactions in order to facilitate certain investment strategies."
So either Kass did not evaluate BRK as closely as he should or he is focused more on betting that the reader won't follow up on their own due diligence and fact check. So the entire notion of style drift could be debunked by quickly reviewing WEB's complete take on derivatives. Irrespective of why Kass would lead his readers astray, selling puts is something BRK has been doing with individual stocks such as Burlington Northern (BNI) recently. More importantly, WEB is likely to engage in any financial transaction where the risk/reward is mispriced.
After this initial flawed, central part of Kass's thesis, the rest of his points are somewhat obvious, low-value statements. Kass highlights "bombs" in WEB's portfolio like The Coca-Cola Company among some weaker financials like American Express (NYSE:AXP). In "Warren Buffett Has Lost His Groove", Kass states that WEB's "performance over the past five years, and especially over the past year, is beginning to trail off badly." Unfortunately, this, like Kass's claim of WEB's style drift, is wrong as shown by BRK's performance against major indices over the past five years.
CHART II: BRK VS. MARKET INDICES - FIVE YEARS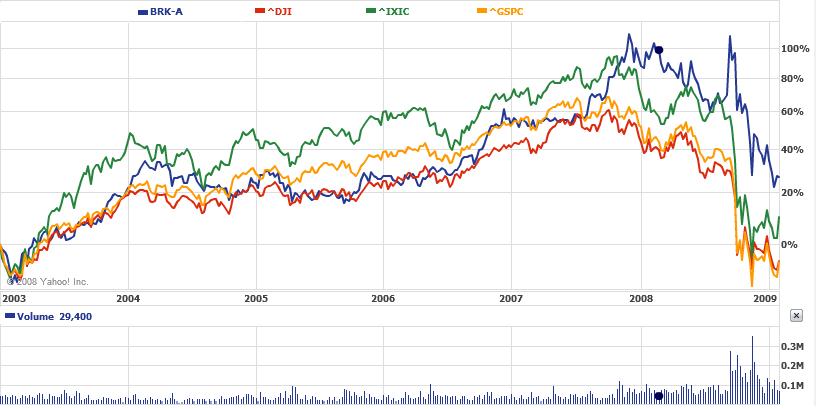 Kass also asserts that WEB's "salad days" are over, referring to easier money made in the insurance industry in earlier years. About 12-18 months ago this may have been true, but apparently Kass has ignored the massive capital shortfalls facing many of BRK's peers in the insurance industry and how this will ultimately impact BRK's future profits and opportunities. Kass also seems to place no consideration on recently acquired businesses like Iscar and how these will benefit BRK.
Last, and perhaps most significantly, Kass spends far too much time pointing out that many of BRK's stock holdings have dropped in value. Very few stocks rose in value in 2008 so the notion that "bombs" like KO dropped in value is hardly something to base a sell short thesis on. Given that these stocks dropped in value, it's natural to expect that BRK would drop in tandem. This focus also illustrates a major problem with Kass's BRK short that anyone that sells short should consider. While some holdings like Gannett Inc. (NYSE:GCI) may never rebound significantly, a good portion of WEB's portfolio includes leading global companies such as ConocoPhillips (NYSE:COP), COST, KO, JNJ, Kraft Foods (KFT), and Wal-Mart Stores (NYSE:WMT). The point is that when the market rebounds, BRK will follow in tandem with it and could outperform given the number of high quality public holdings held in BRK that complement many of BRK's closely held businesses.
A good short, like Crocs (NASDAQ:CROX) or Downey Financial (NYSE:DSL), would generally keep crumbling once the bad news starts hitting these companies irrespective of what the broader market does, but BRK will most likely move up and rebound with the market. In the case of shorting BRK, Kass would be better off shorting the S&P500 and getting more bang for his buck given the S&P500 fell more than BRK in 2008. However, writing about shorting a common index wouldn't draw nearly as many readers to his web pages.
DISCLOSURE: NONE