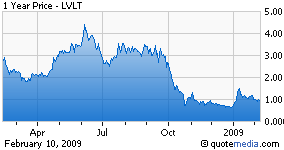 Level 3 Communications (NASDAQ:LVLT) is expected to report Q4 earnings before market open on Wednesday, February 11, with a conference call scheduled for 10:00 am ET.
Guidance
The consensus estimate is a loss (8c) for EPS and $1.08B for revenue, according to First Call.
Analyst Views
Stanford expects Level 3 to report weak Q4 results. Stanford forecasts Q4 EBITDA of $246M, revenue of $1.08B, and EPS a loss of (10c). The firm continues to believe Level 3 faces strong economic headwinds, owing to weakness in the enterprise segment which is likely to limit revenue growth. Additionally, Stanford believes the company faces longer-term liquidity risk, with roughly $6.6B in long-term debt, including $514M that matures in 2010 following the company's recent tender offer. The firm believes 2009 consensus estimates of $1.07B/(8c) are too high. Also, Stanford's EBITDA estimate of $962M is roughly 3% below consensus of $989M.
Separately, Level 3 is also the recipient of several class action lawsuits -- charging Level 3 and certain of its executive officers with violations of federal securities laws. Among other things, plaintiff claims that defendants' material omissions and dissemination of materially false and misleading statements concerning the company's business, operations and prospects caused Level 3's stock price to become artificially inflated, inflicting damages on investors.