3D systems (NYSE:DDD) is a company everyone talks about daily. Everyone has heard about 3D printers. DDD is the largest maker of 3D printers, machines that use software to make objects by laying plastic and other materials to the software specifications. This market is growing as products such as toys, medical devices can be reproduced at a cheap cost.
The hype surrounding DDD and 3d printers has made DDD a darling of the stock market. Since 2011, the company's stock price has risen from $20 to a high of $70 in January of this year. The market continues to believe that DDD can grow well into the future.
Fundamental analysis
DDD has a hefty market capitalisation of $3.4billion, with only $442m in revenues estimated for 2013. The company has $183m in the bank and $131m in debt. There is a high % of float, 40% of the total 51.9million shares.
What is alarming is the recent number of insiders selling their shares. A whopping 765,000 shares have been sold in the last 6 months, with no buys being made.
DDD's P/E is also quite rich, with a reading of 87.42, with a forward P/E of 37.92 as of December 31st, 2013.
Technical analysis
Let's start by studying the daily chart. One can see that the volume has been increasing on down days. The long term support has been broken this week. MACD is turning down. All bearish signals.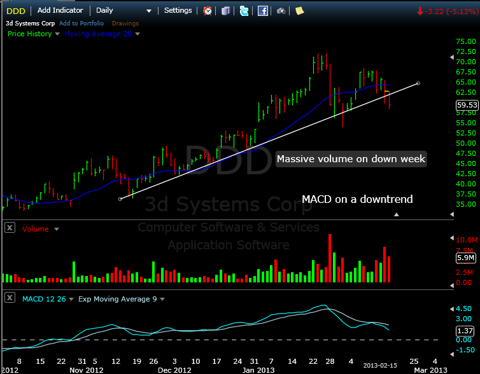 On the weekly chart, more bearish signals can be seen. If we use the 50% fibronacci retracement, one can observe that this takes us to the previous breakout level of around $46. I would be a buyer at those levels.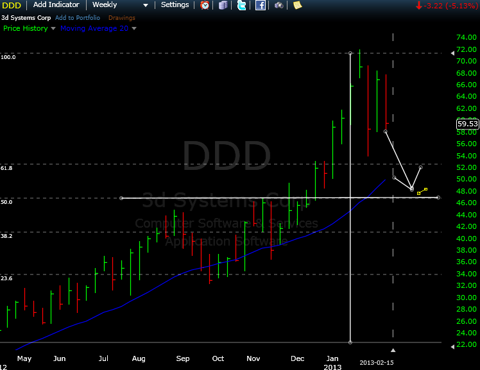 Conclusion
I like to conclude on one note. I don't doubt that 3d printing will continue to get more coverage, and I expect DDD to do well in the future. The question is: Has DDD run up too high too fast? I tend to believe so and would be a buyer again at around $46.
Disclosure: I have no positions in any stocks mentioned, but may initiate a short position in DDD over the next 72 hours. I wrote this article myself, and it expresses my own opinions. I am not receiving compensation for it (other than from Seeking Alpha). I have no business relationship with any company whose stock is mentioned in this article.