In a time of falling consumer confidence and increasing job losses in the United States, there are few culprits that seem to be indicating that, somewhere in the world, there is going to be a an expansion of sorts.
click to enlarge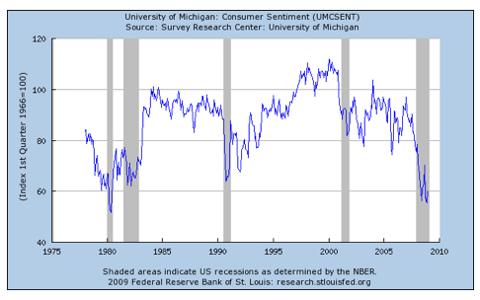 Click to enlarge

The stimulus plan in the United States was voted in on Tuesday. Without a doubt the spending bill (oops, I mean stimulus) is full of government waste designed to do little more than allow those in office to get re-elected at least one more time. But some portion of the bill is actually aimed at infrastructure and other projects that will be expansionary in nature. Furthermore, countries throughout the world are enacting very similar policies.
Arguably, China is acting more like a capitalist than the United States is.
China's economy will start to recover in the second half of the year as the massive fiscal stimulus takes effect, renowned economist Cheng Siwei told a conference on innovation in Beijing on Thursday. The economy will regain full steam in 2011, according to Cheng, former vice-chairman of the Standing Committee of the National People's Congress. The 4 trillion Yuan ($586 billion) package unveiled in early November 2008 will start showing a gradual effect in the second half, the China Securities Journal quoted Cheng as saying on Friday.
Whether or not you believe the accuracy of the data that China publishes, surely we can all agree that the direction of the data trend is probably accurate. Furthermore, many economists have argued that the economy, in the United States, will begin a recovery in the second half of 2009. This seems overly optimistic considering the direction and momentum of deterioration in the economy. However, the start of an economic recovery in 2010, maybe even full out economic expansion for parts of the globe in 2011, doesn't seem entirely out of line. After all, many Asian countries have been managing their economies quite well in the past decade, i.e. carrying a nice current account surplus. Furthermore the underlying trends were very positive up until 2008. Accordingly, the markets are going to go where they are going to go. It seems very logical that the producing nations (who have now set out to develop domestic consumerism) will likely continue their underlying mega trend of becoming robust consuming nations, or at the very least more balanced between consumption and production.
Currently, evidence of an economic recovery is almost entirely non-existent, in terms of data releases. This is not likely to change anytime soon. However, there are some signs, indications, premonitions if you will, of what industries might be the best performers coming out of the global recession. *At this point I should point out that I am thinking in terms of a 2-5 year time horizon.

I learned in 2008 that base metals, most notably copper, are sometimes referred to as having PhDs in Economics. Why would that be the case? Well, if you think about it, copper and other base metals are intimately involved in economic expansions. This is even more accurate in the context of so called developing nations, considering that base metals are used in all sorts of infrastructure and construction projects. If it is true that copper and other metals have a PhD in Economics, than the price of copper and other base metals should reflect the weak and consistently worsening data. However, the price of copper and other base metals should also take into account future supply and demand. So take a little gander at the following charts and see what one might observe.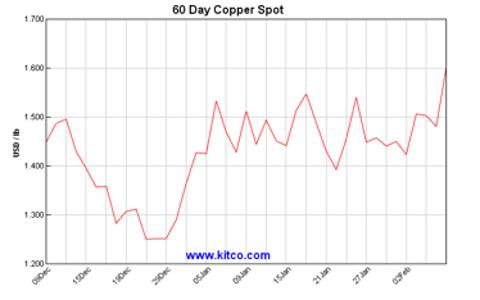 Click to enlarge

It is interesting to see how the spot price for copper has risen from $1.45 around December 9th, 2008 to approximately $1.60 on February 6th, 2009. Sure, that isn't too much of an increase, especially in the context of falling from over $3/lb, but this move is in light of horrid economic data that keeps getting worse. What's even more intriguing about the price rise are the next couple of charts on inventory levels.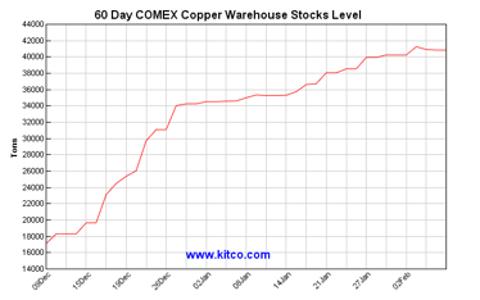 Click to enlarge

Obviously inventory levels have risen over that same period. But, wait, doesn't rising supply lead to falling prices? In most instances sure, but in this particular case, notice how the curve of inventory has been flatting out over January. This could be the peak or near peak of inventory. Furthermore if we look at inventory levels at the LME it is a similar, although less bullish, pattern. Overall, the story is similar, inventory levels appear to be peaking. I don't think it is likely that the Chinese stimulus plan has even begun to enter the market in a direct way, leaving significant opportunity for falling inventories in the future on the table.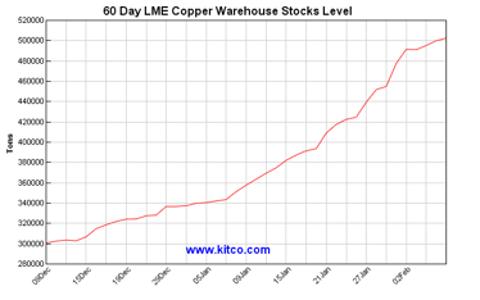 Click to enlarge
Copper obviously isn't the only metal that is showing tremendous strength. Turning now to Nickel, similar trends are becoming quite evident. Notice that Nickel, over the same period is up quite nicely.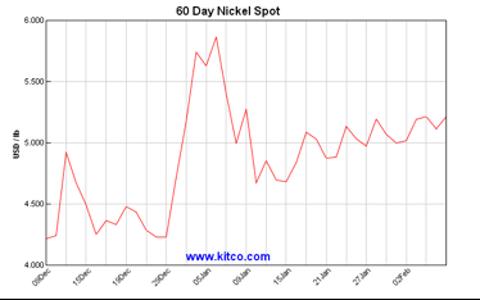 Click to enlarge

Nickel Inventories are also showing signs of a possible peak. Of course, one might have reached similar conclusions in the first few weeks of January.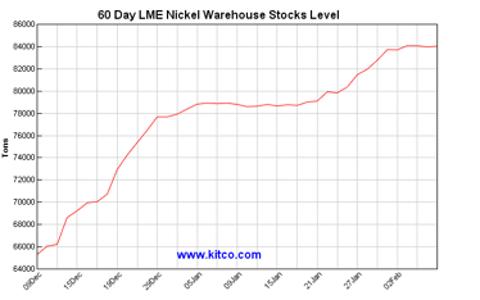 Click to enlarge
Not all of the base metals are pointing in the same direction, at least to the same extent. For example, the Aluminum price recovery is not quite as persistent as Copper or Nickel. Although, observing the later weeks of January and the beginning of February, the turnaround might be under way. Obviously, I would urge caution because that isn't sufficient data to call a sustainable turnaround. However, it might be foretelling of things to come.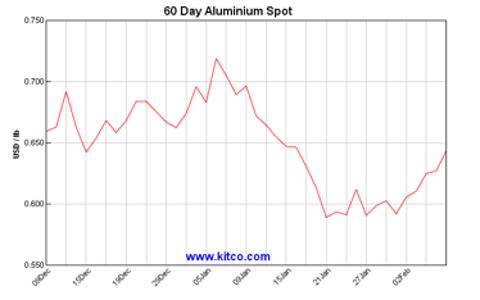 Click to enlarge
In terms of inventory stocks, Aluminum has seemingly peaked, and has remained relatively flat so far after a modest decline.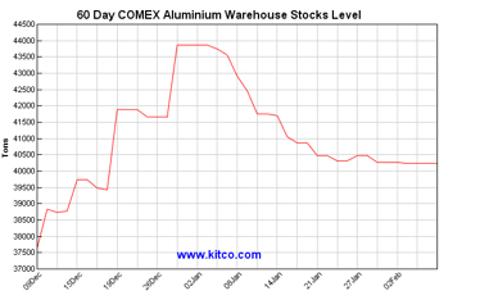 Click to enlarge

While this isn't a completely bullish case for the global economy, it is certainly noteworthy. It also might be a signal that this area of business is likely to be the best investment to express bullish views for an economic recovery and furthermore, economic expansion over the next 2-5 years.

Another factor one may consider regarding the metals, mining, and natural resource companies, is what institutions invest in these types of securities? Many companies that I have been researching i.e. FCX, NUE, CLF, X, etc. were frequently invested in by hedge funds. Many of these hedge funds are thought to employ macroeconomic biases on stock selection. At the end of 2008, many of these stocks, held by leveraged investment funds, were sold off to extremely distressed levels. Quite frankly, many of these stocks haven't recovered very much if you take a longer view than 3 months.
A large amount of this precipitous decline can be attributed to hedge fund liquidations and redemptions. Whether or not the long term fundamentals of these companies has actually been hampered, these companies were sold off indiscriminately in such a way that I would argue was based on fund liquidation, rather than fundamental economic deterioration.
Now that the rush to sell has subsided, these companies have been rising substantially off of their lows – but there is still a lot of upside to go over the next decade. Companies like RIO, PCU, FCX, NUE, SCHN, PAAS, and SVM are all taking evasive actions to make strategic investments which will likely payoff in spades in the next 2-5 years. For instance, Vale has agreed to purchase a few strategic assets in Iron and Potash from Rio Tinto. They probably struck an excellent deal, considering that Rio Tinto is selling off assets to help pay down their enormous debt load. Plus, the price was probably an incredibly good value considering the prices of the relevant minerals reflect very weak economic circumstances rather than growth from 2010-2015. Vale is not the only company making strategic acquisitions. Southern Copper Corp. is in the midst of striking a deal to buy Fontera Copper (OTC:FRCPF).
Unlike many industries that tend to wait until booming periods to make strategic investments, several of these companies (like the ones mentioned) are actually making some modest strategic investments now that the prices are substantially lower. Sure, this won't necessarily benefit shareholders immediately, but over the next 2-5 years there is likely a lot of potential gain to be had from these capital investments. Furthermore, with the stimulus packages around the world being implemented, these companies are about to have many strong tail winds leading to a tremendous amount of growth.

An additional benefit to this industry group is the inflation outlook. There is an ongoing debate raging whether or not the world (especially the U.S.) is entering a long period of deflation or inflation. I haven't seen any evidence to suggest that deflation will persist for more than a couple of years (in the United States) at the longest. There is a tremendous amount of evidence suggesting that an inflation bomb is ticking to go off in the future. This industry group should thrive in an inflationary environment.
Several of these companies have strong production in Gold and Silver in addition to Copper, Nickel, Iron, and Steel. These products are often seen as a cross between a safe haven from inflation and cyclical investments during economic expansion. Moreover, there are many strong companies that are based outside of the United States, and have extensive operations all over the world. So, if things like wage inflation, fuel costs, etc. start to get out of hand in the United States in the future, by investing in foreign mining companies investors will be able to mitigate some of this risk. Overall, I believe most mining companies will have a strong tail wind in the inflationary environment.

In conclusion, should investors be buying shares in mining companies and other natural resource companies without paying attention to price or careful analysis of a company's strategic goals and financial statements? Of course they shouldn't. But, like several of these companies which are making modest strategic capital investments while the sale is on, investors should think long and hard about their own long term outlook on the global economy and consider nibbling away, making strategic purchases of shares in mining companies and other natural resource companies over the next year or two. After all, the real PhDs in Economics might be accurately forecasting things to come in the global economy. Currently, values are great and there are catalysts for valuation expansions in the future, if you take a 2-5 year time horizon.

Disclosure: Author is long RIO, PCU, PAAS, TRN, GLD