Since the 2007 market crash, treasury yields have fallen significantly and currently the 10 year treasury yield is 2%, as shown below. In such low yield environment, PPL Corp. (NYSE:PPL) offers a high forward dividend yield of 4.85%. Also, PPL has a cheap forward P/E of 14x as compared to its peers. Moreover, recently PPL reported full year, 2012 and 4Q'12 financial results in which it was able to beat the earnings consensus. Earnings per share for the 4Q'12 came out to be $0.49, beating the analysts' estimates of $0.47. I recommend income seeking investors to buy the stock as it offers an attractive forward dividend yield of 4.85%.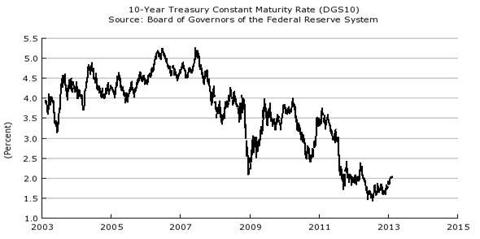 Click to enlarge
Source: learnbonds.com
PPL delivered better than expected results in the recent earnings release. It was able to beat the revenues and earnings per share consensus. Revenues reported for the year, 2012, were $12.3 billion, beating the analysts' consensus by almost 8%. It was also able to beat quarterly revenues estimates by $0.75 billion and posted recent quarter revenues of $3.22 billion.
Bottom line analysis from the recent earnings release also favors PPL. Despite the fact that the full year, 2012 and 4Q'12 earnings per share were down on year to year basis, reported earnings were better than analysts' consensus. PPL was able to beat full year and 4Q'12 EPS consensus by 2% and 4% respectively. The following table shows the earnings break down and year on year EPS comparison of different reporting divisions of PPL.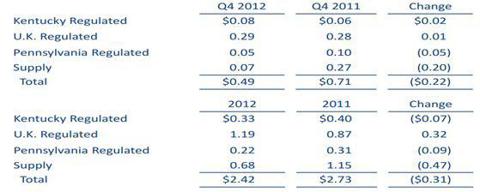 Click to enlarge
Source: Company Presentation
PPL Electric Utilities received new rates under an electric plan with an ROE of 10.4%, along with an annual rate increase of $71 million. Louisville Gas & Electric (LGE) earlier requested an electric rate increase of $62.1 million and gas rate increase of 16 million, which were accepted and are effective now. Kentucky Utilities electric rate case increase request of almost $82 million was also approved and new rates were put into effect since January, 2013. I believe rate base growth is an important earnings growth driver for the company in future. PPL is anticipating rate base growth of 7.7% annually from 2013 through 2017.

Click to enlarge
Source: Company Presentation
PPL offers an attractive forward dividend yield of 4.85%. Dividends were raised by 2.1% to annualized rate of $1.47 per share. New quarterly dividend of $0.3675 per share, is payable on April 1st, 2013. The recent dividend increase was the 11th dividend increase in last 12 years. Also, the company has been paying quarterly dividends for more than 260 consecutive quarters. Couple it with decent dividend coverage (as shown in the table below), I believe dividends offered by the company are safe. The following table displays payout ratio, dividend coverage and CAPEX as a percentage of sales for PPL from 2008 till 2012.
*(Dividend Coverage= CFO/Dividends Paid)
| | | | | | |
| --- | --- | --- | --- | --- | --- |
| | 2008 | 2009 | 2010 | 2011 | 2012 |
| Payout Ratio | 55% | - | 63% | 51% | 60% |
| Dividend Coverage | 3.2x | 3.6x | 3.6x | 3.3x | 3.4x |
| Capex as % of Sales | 17% | 16% | 18% | 19% | 24% |
Source: Company Reports
Outlook
PPL provided 2013 EPS guidance range of $2.25 - $2.5. Analysts are expecting EPS for the current year, 2013, to be $2.40. EPS for 2013 will be down 11 cents (dilution) due to issuance of new common stock. Also, 2013 EPS will take a hit of 5 cents due to two outages planned at their nuclear facility. Susquehanna nuclear plant, unit 1 and 2, are scheduled to be taken out of service in spring 2013 due to modification and maintenance issues.
Valuation
PPL is attractive based on its forward P/E of 14x, which is on the lower end as compared to its competitors. Also, PPL has the highest forward dividend yield of 4.85%, which makes it an attractive stock for income seeking investors.
| | | | | |
| --- | --- | --- | --- | --- |
| | PPL | Ameren Corporation (NYSE:AEE) | Southern Company (NYSE:SO) | The AES Corporation (NYSE:AES) |
| Forward P/E | 14x | 16x | 15.1x | - |
| Forward Dividend Yield | 4.85% | 4.8% | 4.4% | 1.4% |
Source: Yahoo Finance
Disclosure: I have no positions in any stocks mentioned, and no plans to initiate any positions within the next 72 hours. I wrote this article myself, and it expresses my own opinions. I am not receiving compensation for it (other than from Seeking Alpha). I have no business relationship with any company whose stock is mentioned in this article.