Shares of Walgreen (WAG) have returned 18.8% over the past 12 months. At $41.15, the stock is trading near its 52-week high of $42.00 just achieved recently and offers a 2.7% dividend yield. Should investors participate in the price uptrend or take a pause? In this article, I will elaborate on the stock valuation analysis which may assist you in formulating an appropriate investment decision.
Sell-side analysts on average predict Walgreen's revenue, EBITDA, and EPS to grow at solid CAGRs of 4.0%, 13.0%, and 17.4%, respectively, over the current and next calendar years (see chart below). The consensus estimates are considerably above the averages of just 1.8%, 6.3%, and 13.2%, respectively, for a group consisting of Walgreen's primary peers in the drug retailing sector. Similarly, Walgreen's EBITDA margin is forecasted to expand by 1.2% over the same period, outperforming the peer average estimate of only 0.5%. On the profit side, Walgreen also demonstrates a superior performance as all of the firm's margin metrics are notable above the par. The company's capital return measures including ROE and ROIC, however, lag the group averages, though the difference is only subtle. Walgreen carries a relatively lower level of debt as reflected by its below-average debt to capitalization and debt to EBITDA ratios. In terms of liquidity, the firm's trailing free cash flow margin is markedly above the peer average. Due to the strong profitability and the below-average leverage, Walgreen was able to maintain a healthy interest coverage ratio. Both its current and quick ratios are fairly comparable to the peer averages, showing a healthy balance sheet condition.

As such, given Walgreen's superior financial performance in almost every aspect, I believe the stock's fair value should reasonably command a concrete premium over the peer-average valuation level. Nevertheless, the stock's current valuations at 7.6x forward (next 12 months) EBITDA, 12.0x forward (next 12 months) EPS, as well as 0.9x PEG together represent an average discount of 9.9% to the same peer-average trading multiples, suggesting that Walgreen shares are modestly undervalued on a relative basis (see chart above).
To confirm the conclusion, let's take a broader market perspective. Walgreen's forward P/E ratio at 12.0x is currently trading at a 16.0% discount to the same multiple of the S&P 500 Index, which stands at 14.3x at present (see chart below). In my view, the below-market valuation indicates an attractive price level based on the facts that 1) Walgreen has a sector leading growth potential and its long-term earnings growth rate is estimated to be 12.8%, which is substantially above the average long-term estimate of 8.2% for the S&P 500 companies; 2) the company also possesses a solid market share and is able to sustain a stable and industry leading profitability level; 3) the stock offers a 2.7% dividend yield, which is modestly above the 2.2% average yield for the S&P 500 Index.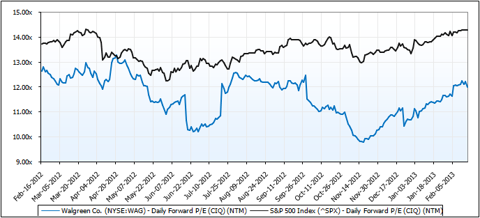 Alternatively, from a historical valuation perspective, Walgreen's both forward EV/EBITDA and P/E multiples (currently at 9.6x and 18.6x, respectively) are trading at a somewhat large premium over their 5-year historical averages (7.3x and 14.9x, respectively) (see chart below). I believe the comparison implies a reasonable valuation level as the current premium valuation appears to be warranted by the company's solid fundamentals: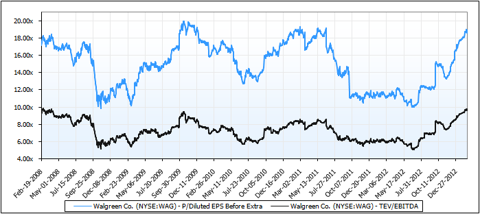 1) Walgreen has been able to sustain stable profitability margins over the past 5 years (see chart below); and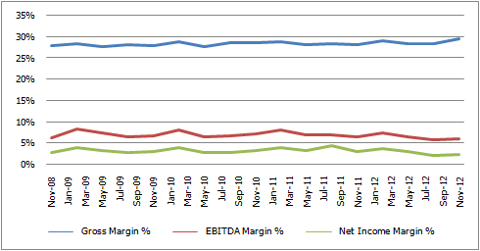 2) Despite negative growth rates experienced recently, the market's consensus revenue, EBITDA, and EPS growth estimates suggest a strong recovery trajectory in 2013 and a stabilizing trend going forward (see chart below).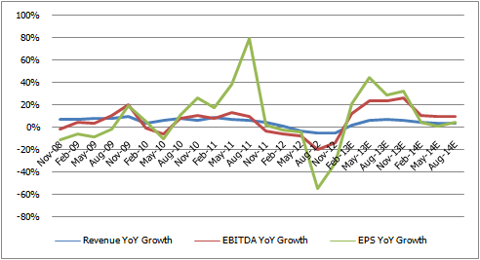 In addition to the tempting valuation level, Walgreen's industry-leading dividend growth prospect and dividend yield would likely offer a strong downside support to the share price. The company has a track record of raising dividend. Since 2010, Walgreen has raised the dividend per share 3 times by 26.8%, 28.6%, and 22.2%, consecutively. Given the fact that the company's annual dividend payment only occupied a small portion of the annual free cash flow generated in the past few years, it is completely reasonable to expect the current pace of the dividend growth can be sustained by Walgreen's ample cash flow capacity (see chart below).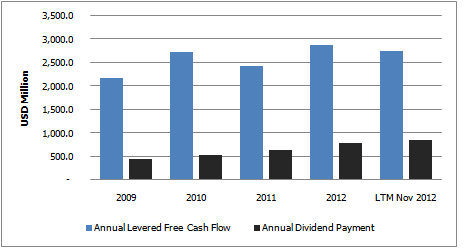 Further, since Walgreen offers the highest dividend yield among its primary competitors and there remains a strong investor demand for high-yield assets under the current low-interest market environment, I believe a further upside for Walgreen's yield would appear to be somewhat limited. As such, assuming a target dividend yield range from 2.5% to 3.3% (Walgreen's dividend yield rarely reached this level in the past), and supposing that the annualized dividend per share would be raised by just 10.0% from the current level at $1.10 to $1.21 in August 2013 payment period, this conservative scenario would imply a target share price range from $36.67 to $48.40, or a favorable target return from -8.2% to 20.3% after considering the 2.7% dividend income.
In terms of qualitative fundamentals, Charley Jones, a research analyst at Barrington Research, wrote in a recent research note dated January 28, 2013 (sourced from Thomson One, Equity Research):
"In general, we view WAG as an asset that presents a very favorable risk/reward opportunity for investors seeking large, high quality blue chip companies that have a secular growth trend underlying the business but are also well positioned for both good and bad economic scenarios. Given WAG's size and real estate portfolio, there is no doubt that the company is much better positioned than other companies for an environment of economic growth and inflation versus contraction or deflation. However, given the secular trends underlying its market, we believe WAG is well positioned to ride out most any storm that our country experiences. In our opinion, WAG is a wonderful brand that generates a spread on selling products in an extremely convenient location to its customers and will significantly benefit from the massively improving demographics in the U.S. In our opinion, the combination of a very solid blue chip consumer brand (corner store/pharmacy), 75-year leases on the best properties in the country and a historically low P/E multiple that is below WAG's current ROE and ROIC, creates a solid risk/reward for investors."
Bottom line, in the light of the strong financial performance and the supportive industry tailwinds, Walgreen is well poised for a healthy long-term growth. Given the attractive valuation level and the solid margin of safety offered by the healthy dividend yield and its robust growth potential, Walgreen shares should deserve a buy rating and worth your consideration.
All charts are created by the author and all financial data used in the article and the charts is sourced from Capital IQ unless otherwise noted.
Disclosure: I am long WAG. I wrote this article myself, and it expresses my own opinions. I am not receiving compensation for it (other than from Seeking Alpha). I have no business relationship with any company whose stock is mentioned in this article.