Friday's trading in Herbalife (NYSE:HLF) after Carl Icahn filed SEC documents announcing his 13% stake was a microcosm of how to trade the HLF drama: play the extremes. On Friday, February 15th, HLF opened up just under its 200-day moving average (DMA). Even better, and more fortuitous, the stock opened right at the high of where the stock stood the day Ackman and Icahn went billion versus billion on CNBC on January 25th. If you are a HLF bear that was your opportunity to go short with a tight stop.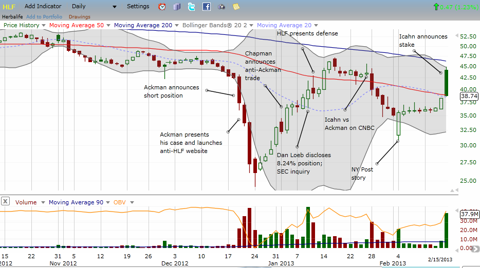 Click to enlarge
The Herbalife drama in a chart
Source: FreeStockCharts.com
By the end of the day, HLF settled neatly on top of its 50DMA, a perfect point for shorts to close out positions. Both 50 and 200DMAs are slowly trending downward so shorts and bears still have the overall upper-hand even after a veritable club of big traders have lined up against Bill Ackman. For HLF bulls this means that the buying opportunities come when some story or event causes the bearish pressure to reach downward extremes (my preference). The last such event was on February 4th when the NY Post printed a story claiming HLF was the subject of a law enforcement investigation. HLF immediately and vigorously disputed the claims and demanded a correction:
"Other than the voluntary dialogue with regulators, which we communicated on our January investor day, we are unaware of any other regulatory interest and/or investigation. We are demanding a correction from the NY Post.

Since its founding in 1980, Herbalife has positively impacted the lives and health of consumers. For a direct selling company of our size, we have had a relatively low number of complaints to the FTC. However, we take every one of them seriously and stand by our record of doing right by our distributors and all consumers of our products."
Up went the stock on the way to a nice recovery. A quick 12% loss turned into a small gain.
Unlike the big sell-off in December, there was no sharp increase in the open interest put/call ratio or a spike in implied volatility to signal something was brewing. Similarly, nothing particularly unusual showed up in the options trading to indicate that an announcement as big as Icahn's was on its way. (Note Icahn's timing during a major options expiration week was an interesting analogue to Ackman's options expiration week timing in December). Instead, it was a break in seven days of sleepy stock action that provided a signal. HLF jumped 5.1% on February 14th with trading volume increasing to average levels.
The open interest put/call ratio on HLF is now 1.19. This is a 4-month low after soaring as high as 2.75 in late November. I now think this is less an indicator of bullishness and more representative of a strong desire of HLF shorts to remain hedged. Short interest has only dropped about 10% this year since reaching a peak of 37.3M shares to start the year. As shorts weather headline risks, a likely HLF buyback, and now the prospect that HLF could be taken out at much higher prices by the likes of Icahn, they are also paying a quarterly dividend yield of 3.1% at current prices. Short interest is now 34.8% of the float. The apparent preference to use options to hedge means that the long-term options (LEAPS) show no indication of a bet that HLF will eventually go to zero: the open interest put/call ratio is 1.0 for January, 2014 expiration. Open interest is extremely small for January, 2015 expiration; these are too expensive for now to buy for a hedge.
The next big event for HLF should be earnings this coming week. Earnings will be released on February 19th after hours and a conference call will follow the next morning. Analysts are still lined up firmly with HLF with seven strong buys and just two holds. In announcing preliminary fourth quarter results, HLF maintained the high expectations for revenues and earnings laid out in its third quarter earnings conference call. For example, for 2012, fully diluted EPS grew about 22% to $4.02 - 4.05, and net sales grew 20%.
HLF guided the following for 2013: "…volume points and net sales growth of 8.5% to 10.5%, and 10% to 12%, respectively…full year EPS to be in the range of $4.40 to $4.55 per share." Since the earnings growth rate is significantly below 2012′s rate, I suspect expectations are set for HLF to spend the year guiding upward just as it did in the previous quarter. High analyst and investor expectations for 2013 are now aligned against strong short interest: another explosive recipe for a trading extreme. It is no surprise then that the weekly options expiring February 22nd are extremely expensive: the implied volatility on the $37 strike is a whopping 105% versus a theoretical volatility of 45% (data from Etrade.com).
I still think that HLF is fundamentally a stock that is converging upon some kind of trading range once the headlines cool down. Ultimately though, this is a stock that can only be played for extremes: boom or bust and/or the short-term extremes in between.
(For HLF bulls, check out macro-economic bear Kyle Bass answering a question about HLF on CNBC on February 1st where Bass simply states that he knows everyone involved and would never bet against Dan Loeb, one of the big guns lined up against Ackman. "Ackman has a tough road to hoe." You can fast forward to the 5:30 point in the video).
Be careful out there!
Disclosure: I am long HLF. I wrote this article myself, and it expresses my own opinions. I am not receiving compensation for it (other than from Seeking Alpha). I have no business relationship with any company whose stock is mentioned in this article.